Mother Nature will welcome visitors to its womb at this 90-year-old Durga puja in north Kolkata's Hatibagan. My Kolkata is the digital media partner for the Nalin Sarkar Street Sarbojanin Durgotsab.
Theme and decorations
This year's Gorbodharini theme will inspire visitors to be grateful to Mother Nature. "Gorbodharini is another name for a mother who carries the child in her womb for nine months. She breathes life into all living things on earth. Like our mothers, Mother Nature provides us with abundant resources," said Siddhartha Sanyal, secretary of the Nalin Sarkar Street Sarbojanin Durgotsab Committee.
"The entrance to the pandal resembles a womb. The pandal will have various props that will represent what we find in nature," he said.
This year, the puja committee has handed over the pandal to a young artist, Manas Das.
"We have mostly young people on board, including the pandal artist and the idol-maker. And it's a challenge for them to portray this beautiful theme within the limited space we have. Work has progressed well and we are sure that the final outcome will be quite overwhelming," said Sanyal.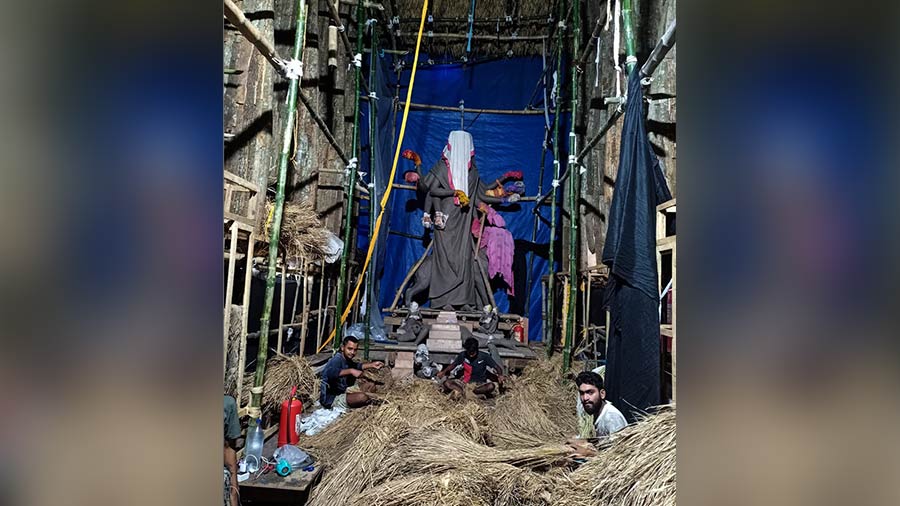 Durga Idol in an aatpoure sari
Nalin Sarkar Street Sarbojanin Durgotsab Committee
The idol
Idol-maker Subrata Mridha has synced goddess Durga with the theme. She will adorn an aatpoure sari (traditional Bengali sari). "Durga here will signify all mothers, especially the mothers of Bengal. She will be seen in the aashirbadi (blessing) form," explained Sanyal.
The idol will be placed inside crossing through the huge womb-like structure with various props surrounding her from animals to trees and birds.
Looking back
Nalin Sarkar Street Sarbojanin Durgotsab ventured into theme pujas from 2000 with Baaro Maashe Tero Parbon (13 festivals in 12 months). In 2020 and 2021, the pandal was not open to visitors because of the pandemic. People could catch a glance from a distance. "This year, visitors can take a short tour from the entrance to the main mandap. We are expecting people to turn up in masses," Sanyal said.
Countdown
Delayed by erratic rain, work is still in progress at Nalin Sarkar Street. However, the committee plans to open the pandal to visitors soon after Mahalaya.
Theme music
A composition by Dipomoy Das will be played inside the pandal from the inaugural day.
How to reach
Buses from different parts of the city connect Hatibagan, where the puja pandal is located. The nearest Metro station is Sovabazar-Sutanuti. Autos are also easily available.