With a handful of fixtures left before the playoff places are sealed, the tension is approaching boiling point in the IPL. Some are using the additional pressure to raise their performances while others are desperate for anything that keeps them relevant during the last laps, be it words, more words or antics. As is the case every Wednesday, we are all set to unveil our winners of Wrong 'Uns, our IPL weekly awards that promises to honour the brilliant and the bizarre and most things in between.
Another new award is up for grabs this week along with the return of two old favourites. Additionally, our White Cap has finally found some stability. Without further ado, here is presenting the eighth edition of Wrong 'Uns.
The Socrates Award for Best On-Field Dialogue
Wriddhiman Saha and Mohammed Shami were both instrumental in the Gujarat Titans's (GT) convincing win against the Chennai Super Kings (CSK) on Sunday. Shami's two for 19 with the ball helped restrict CSK to a modest total of 133, before Saha scored a composed 67 not out to round off a simple chase. After the game, the two veterans, who have also been teammates at the club level and for Bengal, discussed each other's attitudes to dominating their respective powerplays. But the most interesting part of the conversation, which clinched this award, involved Shami's insights on badminton and how it can assist cricketers in being more decisive with their movements and instincts.
The Yudhisthir Award for Unfiltered Honesty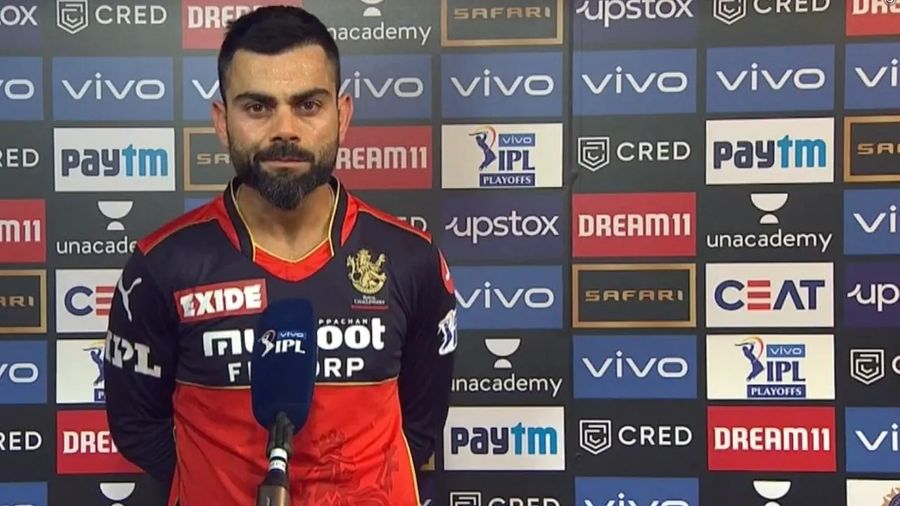 Virat Kohli's form continues to plummet, but RCB's skipper and coach refuse to fret
As Virat Kohli's lean patch in the IPL continues, both coach and captain from the Royal Challengers Bangalore (RCB) camp weighed in on what is going wrong with their star player. Speaking after a painful defeat against the Punjab Kings (PBKS), skipper Faf du Plessis explained how "Kohli is seeing the lighter side" of his poor form. Du Plessis added that "sometimes when you are under pressure, the game finds ways to keep you under pressure". RCB coach Mike Hesson was equally honest but more optimistic in his outlook on Kohli: "He's the best we've ever had in terms of RCB…. He hasn't scored the volume of runs we would have liked… [but] we know that an epic one is around the corner. We have got a huge game coming up (against GT on Thursday). So there is no reason why it won't be in a few days' time."
The Jai-Veeru Award for Enduring Friendship
While Punjab and Bangalore were slugging it out in the sweltering heat of Mumbai on Friday, two old friends were reunited in the stands. V.V.S. Laxman, the director of the National Cricket Academy (NCA), and Rahul Dravid, the current coach of the Indian men's cricket team, were spotted chatting with each other as the action proceeded at breakneck pace at the Brabourne Stadium. For a generation, Dravid and Laxman were not only two of India's finest batters but also two of the most remarkable gentlemen in Indian cricket whose friendship remained as solid as their partnerships in the middle. Seeing the two back in the public eye together made for a sweet dose of nostalgia, enough for the Jai-Veeru Award to be reinstated this week.
The Virat Kohli Award for Misplaced Swanger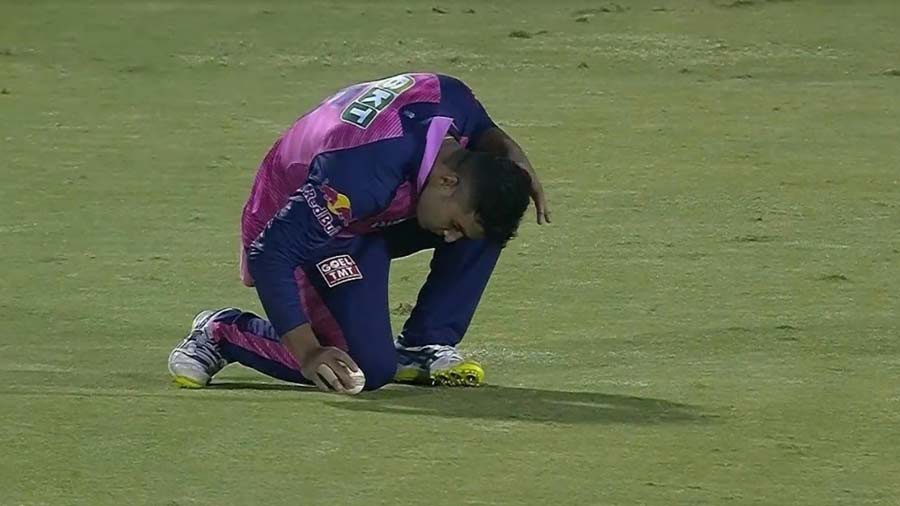 Riyan Parag's gesture received its fair share of comments from fans on social media, most of whom condemned the arrogance it implied
Remember the days when Virat Kohli used to grab headlines for outrageous celebrations that proved little else other than the petulance of his youth? Well, it looks like Riyan Parag from the Rajasthan Royals (RR) has taken over that mantle from Kohli. Against the Lucknow Super Giants (LSG), Parag took a catch at long-on in the penultimate over of the LSG innings to get rid of Marcus Stoinis, before the third umpire ruled it not out as the ball had bounced before Parag grasped it. In the next over, Parag had another chance to send Stoinis packing, and made no mistake this time around, pocketing an easy catch. An upset Parag decided to make a moment out of the dismissal by stooping and pointing the ball as close to the ground as possible without it touching the grass. This rather naive display of swanger (yes, we coined that out of swagger and anger!) was blasted by commentators and fans alike, with Matthew Hayden urging Parag "not to tempt fate".
Best Almost-Drop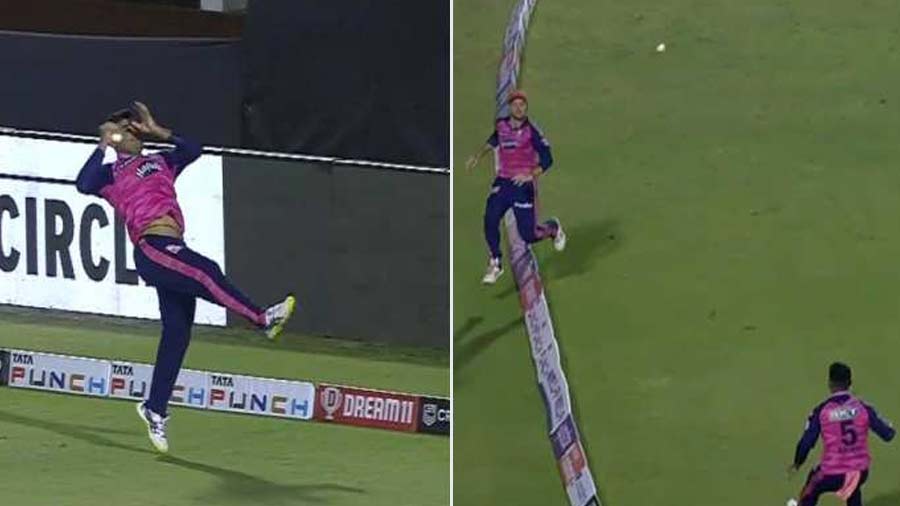 Jos Buttler and Parag combine to take one of the best catches of IPL 2022
Parag was at it again near the boundary against LSG, this time in tandem with Jos Buttler, completing a delightful double act to get rid of Krunal Pandya. A half-tracker from Ravichandran Ashwin was given the treatment by Pandya who smashed it straight down the ground. Just as the ball looked set to crash into the sidescreen, Buttler pounced like Superman and took the catch, before nimble footwork and impeccable balance helped him toss the ball up to Parag so as to avoid making contact with the boundary ropes. Parag, who was a couple of yards closer than he should have been to Buttler, jumped back and held onto the ball, wrapping up yet another fabulous piece of fielding from Rajasthan.
Hardest Hitting 'It's Time to Move On' Moment
If this award were to be launched four years ago, there is every chance that Andre Russell would have staked a claim for the naming rights. Against the Sunrisers Hyderabad (SRH) on Saturday, Russell showed just why, with a swashbuckling 49 not out off just 28 balls. Hitting in his preferred arc between mid-wicket and long-on, Russell hammered four sixes, taking KKR from 94 for five to a competitive total of 177. SRH's Washington Sundar and T. Natarajan felt the full force of Russell's firepower, before KKR's champion all-rounder returned to haunt the Orange Army with the ball, picking three wickets for 22 runs.
Back with a Bang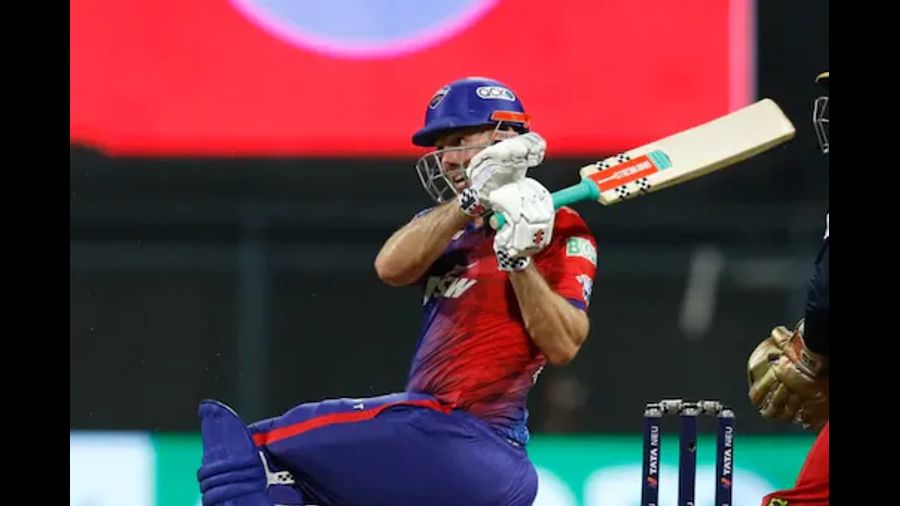 Mitchell Marsh played arguably his finest IPL knock against Rajasthan
Prior to the Delhi Capitals's (DC) game against RR on Wednesday, Mitchell Marsh had only managed 99 runs in five appearances this season, with his yo-yo form one of the factors behind DC's inability to control the middle overs with the bat. With 161 to chase, DC lost Srikar Bharat off the second ball of the innings, putting immediate pressure on new man Marsh, who also had a run-in with Covid-19 earlier this season. But the Australian, who was key to his country becoming T20 world champions last year, played arguably his finest IPL knock by stepping up to the challenge and cruising through the chase with compatriot David Warner. Marsh's 89 off just 62 not only saw him outscore Warner, it also demonstrated the mixture of aggression and responsibility that used to characterise his elder brother Shaun in the early years of the IPL.
The White Cap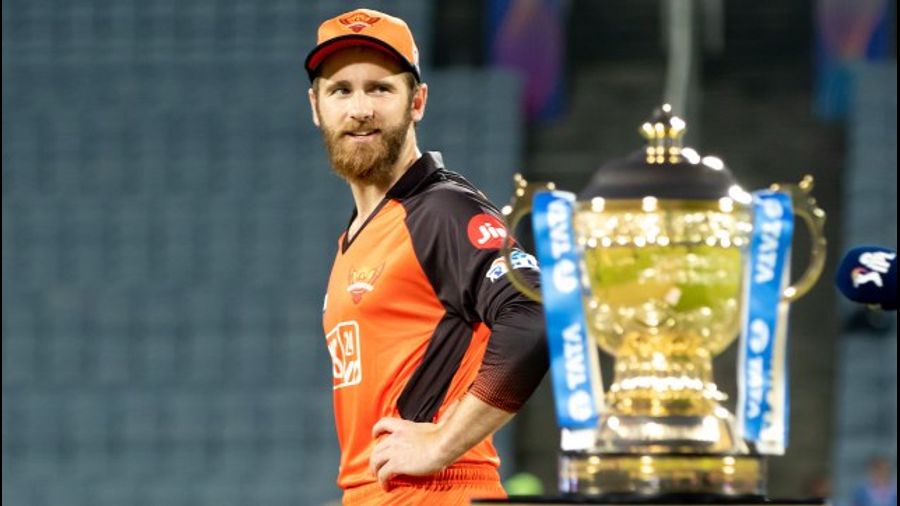 The White Cap has found some stability – much to the dismay of SRH and Kane Williamson
After several weeks of a revolving-door policy with its wearers, the White Cap has found some stability at last, much to the dismay of SRH and their beleaguered skipper, Kane Williamson. Against KKR, SRH slumped to their fifth loss on the trot with Williamson looking anything but smooth during his 17-ball stay at the crease, which yielded just nine runs. In an act of selflessness, Williamson demoted himself to number six in the next game against the Mumbai Indians, staying unbeaten but adding only eight runs in the process. While SRH still have one more game to play and a playoff berth is not yet out of reach, Williamson's lacklustre run is bound to be a major cause for concern. No player in the ignoble history of the White Cap has retained it for three weeks running, but should Williamson become the first to achieve that unwanted feat, it is more likely than not that SRH would be kissing their playoff hopes goodbye.