"On the 75th year of India's Independence from British rule, we can still feel the repercussions of that particular border which was drawn. Love it or hate it, depending on which side of the border you are on, you cannot ignore it."
Vishnupriya Sengupta, member of the Library Sub-Committee at Tollygunge Club, summed up the very essence of the event, titled Reminiscences@75: Moving Beyond the Radcliffe Line, hosted by the club. The event discussed the impact of India's Partition on the lives of the people in our country.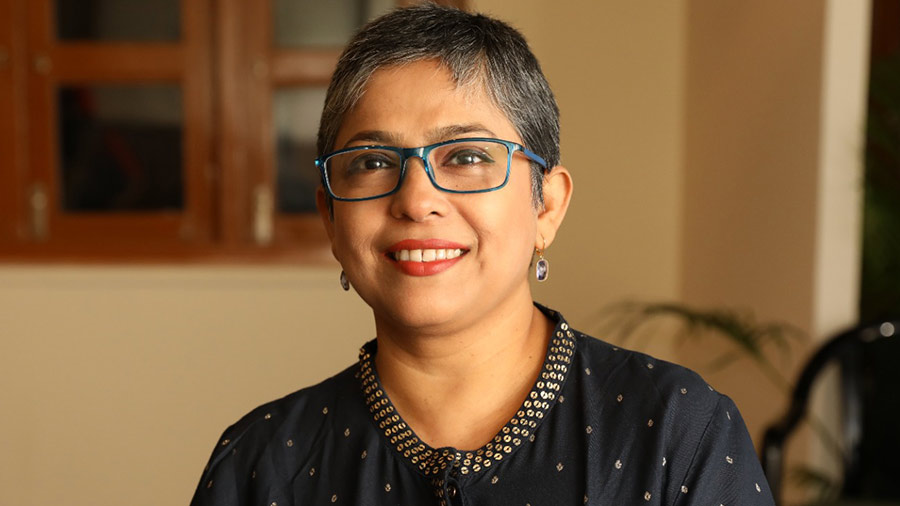 Rituparna Roy, the managing trustee and founder of the Kolkata Partition Museum
The guest for the evening was Rituparna Roy, the managing trustee and founder of the Kolkata Partition Museum, and on the panel were the club's members recounting stories and experiences of the Partition.
The power of objects in preserving memory
Talking about how she came up with the idea for the Kolkata Partition Museum, Roy reminisced how a visit to the Memorial to the Murdered Jews of Europe in Berlin, Germany, filled her with an "unspeakable grief and rage", the like of which she had never experienced before. A literary scholar of the Partition herself, that was when she realised the power of art and objects in preserving memory.
Roy's visits to the Holocaust memorials, especially, Stadtmuseum, Jewish Museum and the Topography of Terror Museums in Berlin made her feel that the installation of art was so much more powerful than literature. "For the first time I felt that literature is inadequate," she admitted. That is what reaffirmed her resolve to create a museum that would remind people of the horrors of Partition, especially the ones that people of Bengal had suffered.
Registered as a trust in 2018, the Kolkata Partition Museum has been on a mission to memorialise the rupture and continuity caused by the Partition.
Speaking of the Bengal side of the Partition, Sujata Saha, the former chairperson of the Library Sub-Committee at Tolly Club and one of the panelists, recalled how her parents never spoke of their experience of the Partition. "I had a very strange family. My thakurdada (paternal grandfather) came from Noakhali and my dadu (maternal grandfather) came from Sirajganj in Bangladesh. Very strangely, the Partition was never discussed in my family, which made me wonder why. There was a total blanket over what happened in 1946 and 1947," Saha said. However, unlike most who had to suffer because of the Partition, they never had to because her grandparents were foresighted enough to have houses in Kolkata from before.
But even if there weren't any material losses, the Partition did cause irreparable damage to personal bonds. "The only thing that made us different from other Bengali families in India was that the families on this side of the border had friends. But my family had no one other than relatives and, of course, themselves. And I thought that was normal until I realised that the relationships that they forged in Bangladesh were gone and they did not want to revisit the pain," Saha said.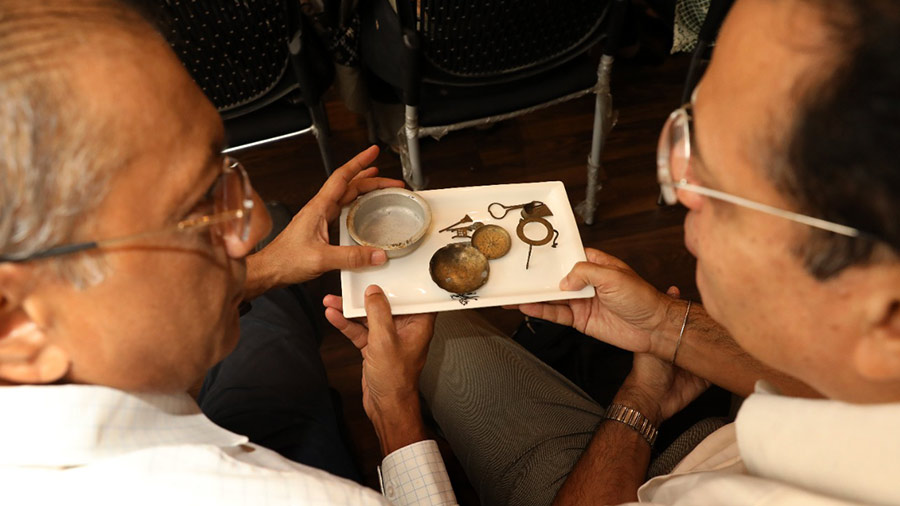 A child's kitchen set that Sujata Saha, the former chairperson of the Library Subcommittee at Tolly Club, recovered from her mother's cupboard
But objects did play a significant role in holding onto the memories of homeland. When her mother passed away, Saha recovered from her mother's cupboard a child's rannabati (kitchen set) wrapped carefully in a piece of cloth and a completely transparent bowl made of stone in which her great-grandfather used to have milk every night.
When she went to Bangladesh in 2013, Saha's mother asked her to bring her some soil from around their house in Sirajganj. "The only time I saw my mother weeping was when I handed over the soil to her and I think it's important to keep these memories alive to remember how terrible immigration, migration and forced displacement can be," Saha said.
Beyond religious differences
"Some of our Muslim neighbours used to bring food for us because we were scared to go out," said Neena Puri, a senior member of the club, while talking about how the Partition had turned her family's life upside down. Born in Sargodha in Pakistan, Puri, the youngest of four brothers and three sisters was only a child when she heard people chanting "Chale jao, chale jao! Pakistan chhor do (Go away, go away, leave Pakistan)!" outside her house. Not knowing what Pakistan was and why they were being asked to leave their home, Puri accompanied her family and travelled by train to Amritsar where they ended up in a flour mill with no roof over their heads. But she did remember the kindness of her Muslim neighbours who helped her family when their lives were at risk. "I didn't know what trauma was, because I never experienced trauma. All the local Muslim people were extremely friendly to us," said Puri.
Similarly, for Gitanjali Jolly, her father was saved by his Pakistani friends in Lahore and sent to Delhi when he happened to reach Pakistan exactly on the day Mahatma Gandhi was assassinated.
Having lost everything, Jolly's father built his wealth from scratch and never brought up his children to think they were different. But even during his last few days, he couldn't stop thinking about his beloved Pakistan and the friends he left behind. "Take care of your mother, my friend Omi is calling me," were his words to Jolly before passing away.
When Jagpal Singh's father arrived in Kolkata with his wife and him as a toddler, he didn't have anything. But they, too, could get a roof over their heads when a stranger in Barrackpore gave them a room to live in. Gradually reconstructing his life, he left his business to his son, always reminding him that they would not have been  alive had it not been for the kindness of their Muslim friends.
Friendships which transcend political borders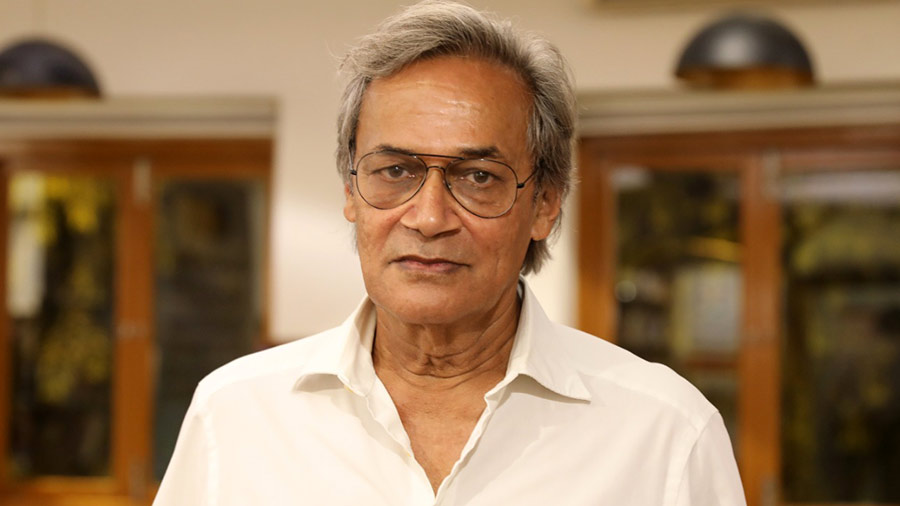 Anil Mukerji, managing member of Tollygunge Club
Anil Mukerji, managing member of Tollygunge Club, started his story by reminding the audience that the story wasn't his but that of his parents, who were forced to live through the Partition.
"My mother was born in northwest Pakistan and studied in Lahore throughout her life. My father joined the air force and his commander was Asgar Khan, who served as an officer in the Indian Army before being deputed to the Royal Indian Air Force (IAF) as a military adviser in 1941. Later, he was drafted into the IAF as its commanding officer on the Asian front of World War II. After the Partition of India in 1947, Khan chose to join the Pakistan Air Force (PAF). Before Partition, my father was his wingman. They fought together during the retreat of the Allies and only six of the 18 pilots who were deputed to fight came back. The bonding between them, therefore, was something different," said Mukerji.
But the bond never weakened over the course of the years and over several political and military altercations between the two countries. After the 1962 India-China War, Khan came to India for official work but still made time to visit his 'wingman' with whom he had fought several battles as comrades. "I remember how both my father and Asgar Khan embraced each other, like old friends reunited after a long time. Thereafter, he hugged my mother and said "Raj (my mother's name was Raj) qayamat aa gayi hai (it is the end of the world).  And I hope that these wounds are healed and people find their closure over time," Mukerji said.
The event drew to a close with some members of the audience relating their own stories of the Partition and with Joydeep Datta Gupta, president, Tollygunge Club, felicitating Roy.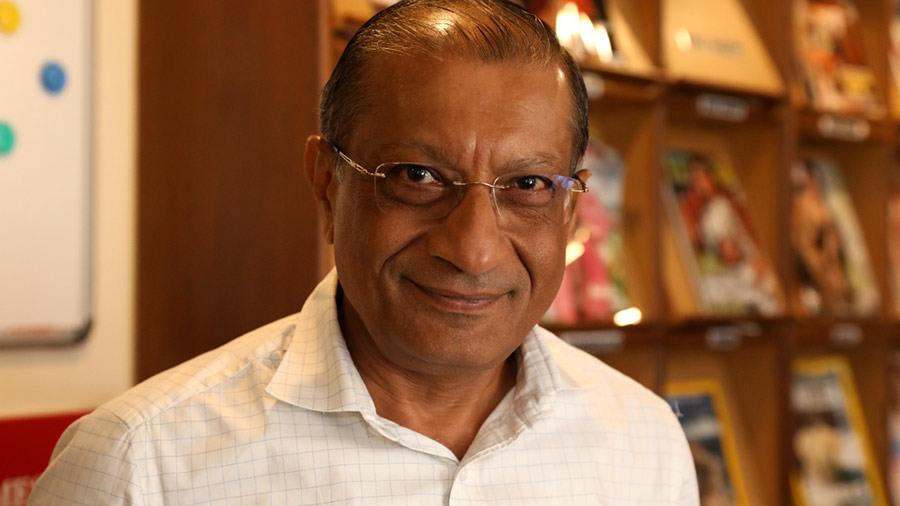 Joydeep Datta Gupta, president, Tollygunge Club
"The evening was full of stories and it felt like a lovely fireside chat. The tales that were told reminded me of John Lennon's Imagine there's no countries."
— Joydeep Datta Gupta, president, Tollygunge Club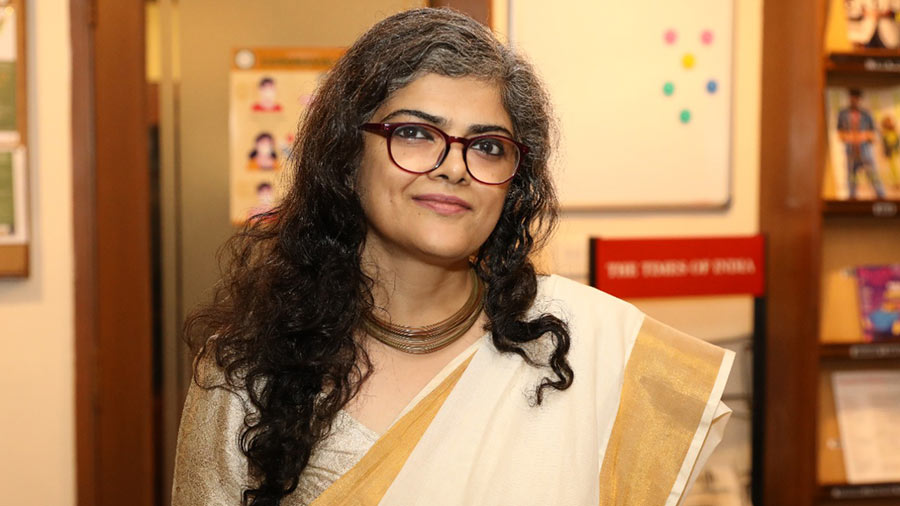 Mohua Majumdar, Chairperson of the Library Sub-Committee, Tollygunge Club
"We wanted to do something keeping the 75th year of Independence in mind. Community is a big thing for us and this was a way to connect. We have had members sharing their memories, even if they aren't their own, they have inherited these memories. But these memories mean a lot and they influence your life and how you connect with others and I am glad we could create that sense of community".
— Mohua Majumdar, Chairperson of the Library Sub-Committee, Tollygunge Club