The excitement was palpable as guests wearing various shades of saffron, green and white started streaming into Tollygunge Club. The occasion — Jashn-e-Azadi, a concert by musicians Sourendro Soumyojit to celebrate 75 years of India's Independence.
The duo, along with their band, performed familiar songs with a twist at the concert on August 20. From patriotic tunes such as Aye mere watan ke logon and Sandese aate hain to the soulful melody of Meri aawaaz hi pehchaan hai and ad jingles, it was a musical evening to remember.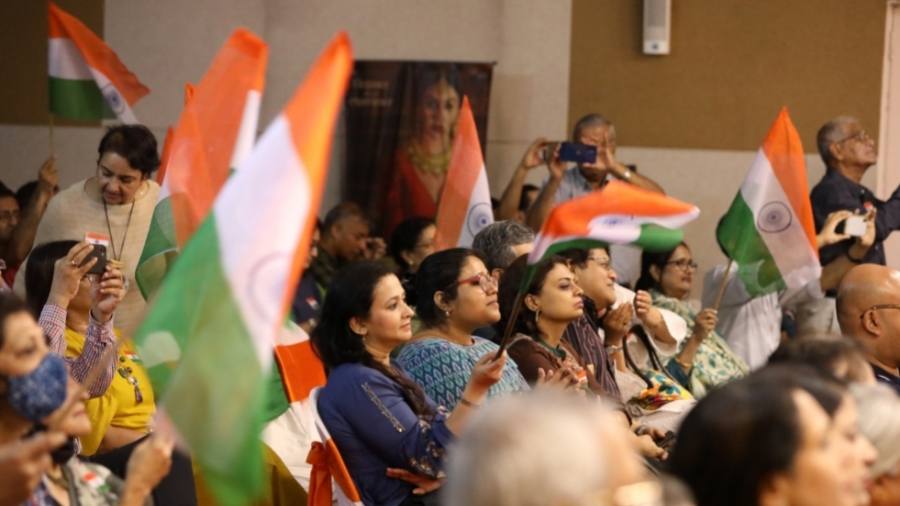 The audience waves the Tricolour during the concert
"We are going to start with a song which united India for the first time," said Soumyojit Das as the venue reverberated with a fusion of Vande Mataram and Ekla cholo re with interpolations of classical music. 
With Sourendro Mullick on the piano, Soumyojit sang soulful renditions of Aaoge jab tum, Jaane kya baat hai, Meri aawaaz hi pehchaan hai and more. 
"We are lucky to  have been born in West Bengal, which boasts of such a rich cultural heritage. And over the course of time we have been enriched by the influence of other cultures as well," said Soumyojit, who also sang Manna Dey's Lalita go oke aaj chole jete bol na, the tune of  which had been inspired by the Rajasthani folk tune Maand. 
The duo sent the audience down memory lane with a medley of popular ad jingles and TV serial tunes. The medley began with Washing Powder Nirma and ended with Cadbury's iconic jingle Kya swad hai zindagi mein! 
Captain Sanjeev Dheer, vice-president of Tolly and a member of the club for over three decades, came looking for "some lovely music to reignite patriotic feelings" and was not disappointed. "Tolly is special to all of us and for some of us Tolly is our first home," he said.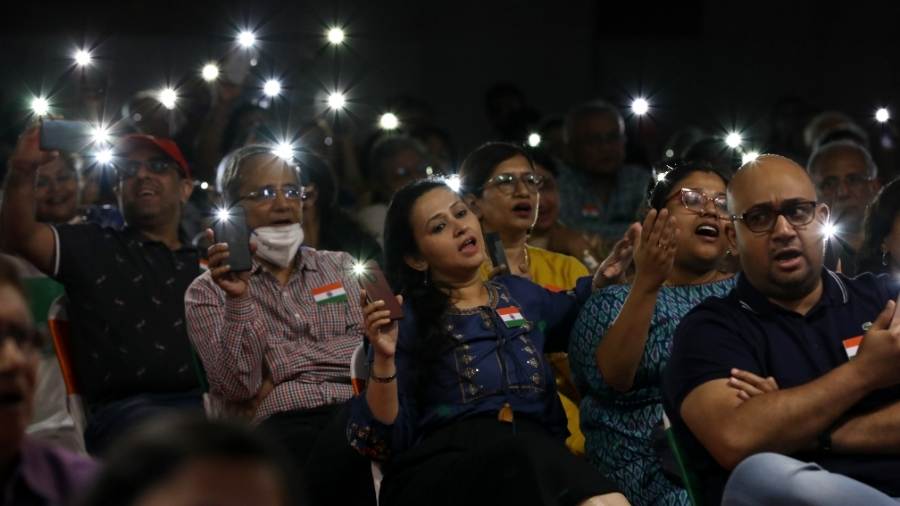 The audience holds up mobile phone torchlights and sings along to 'Dhono dhanyo pushpe bhora'
The high point of the evening came when the audience raised their torchilights and sang along with the duo – Dhono dhanyo pushpe bhora. The performance ended with Mile sur mera tumhara and the audience waving the National Flag to its tune followed by a screening of the Jaya Hey 2.0 video featuring 75 artistes from all over India. The video, a rendition of the full five verses of Jana Gana Mana, is conceptualised and directed by Sourendro-Soumyojit.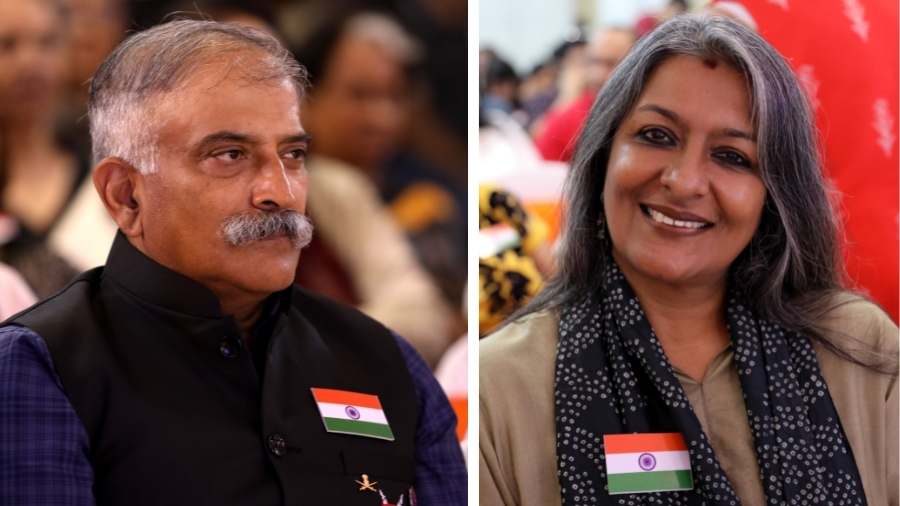 Lieutenant General Rana Pratap Kalita, GOC-in-C of the Indian Army's Eastern Command, and (right) social entrepreneur Nandita Palchoudhuri were in the audience
"Tolly Club organises such beautiful events which teaches us about our culture. Music expresses the idea of India, which is what I liked the most today. I had goosebumps hearing them perform Aye mere watan ke logon," said Lieutenant General Rana Pratap Kalita, UYSM, AVSM, SM, VSM, General Officer Commanding-in-Chief (GOC-in-C) of the Indian Army's Eastern Command.
Nandita Palchoudhuri, curator of Indian folk art, craft and performances, declared she was there for the love of music. "I have come here because I am very fond of their music. I have been following their music for many years and I know that it will be a very exciting evening," she said.
Sourendra-Soumyojit were glad to be back at the club to perform. "We always get to perform amid nature at Tolly. What really inspires us is that this is a cosmopolitan gathering and the audience is always fond of diverse forms of music, which challenges us to create and curate shows that are a confluence of several songs originating across various parts of India. Whenever we perform, we always try to come up with new concepts which align with the vision of the organising committee of Tolly Club," said Sourendro.
"Every time we are invited to perform at Tolly Club, we are absolutely elated to come back to what feels like our home. And the audience at Tolly is so musical, it's always a pleasure performing for them," said Soumyojit.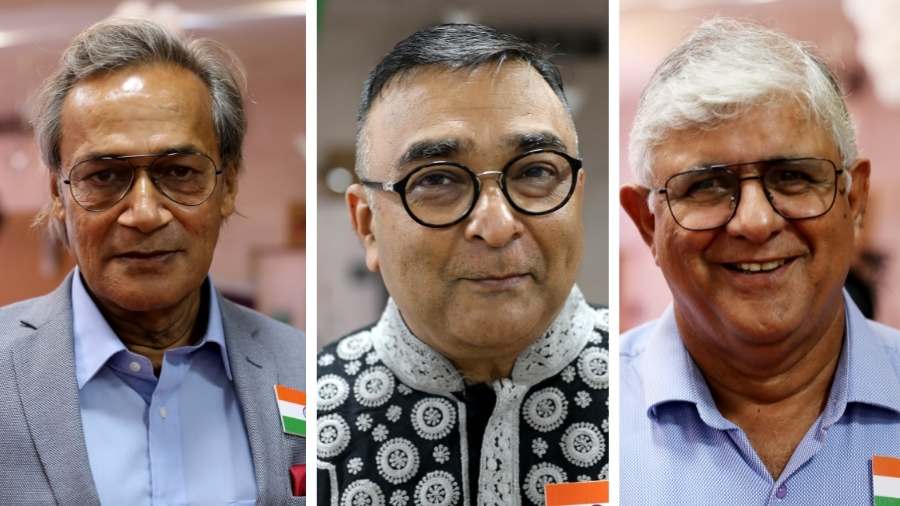 Anil Mukerji, Captain Sanjeev Dheer, Sujoy Banerjee of the Tollygunge Club
Sujoy Banerjee, member of the general committee and chairperson of the entertainment committee at Tolly, said: "We expected people to have a good time together celebrating 75 years of India's Independence and I am glad we could organise a successful event."
"It was truly destiny how the evening turned out today. If you want to be a great nation, you have to be able to laugh. And they made us laugh and cry at the same time today," signed off Anil Mukerji, CEO and managing member of Tollygunge Club.