The folks at The Saturday Club welcomed 2023 in full swing at the Chivas Glassware presents The Telegraph The Saturday Club 31st Nite, with a mix of rock tracks from yesteryears, Bolly tunes by Abhijeet Sawant of Indian Idol fame, and some stellar beats by DJ Nikhil Lakhwani to end the night.
The club was decked up in pretty lights, with tables lining the lawn and an extensive food and beverage arrangement for party goers to keep their spirits high.
The Telegraph was there to get you snapshots from the night.
Moods and moments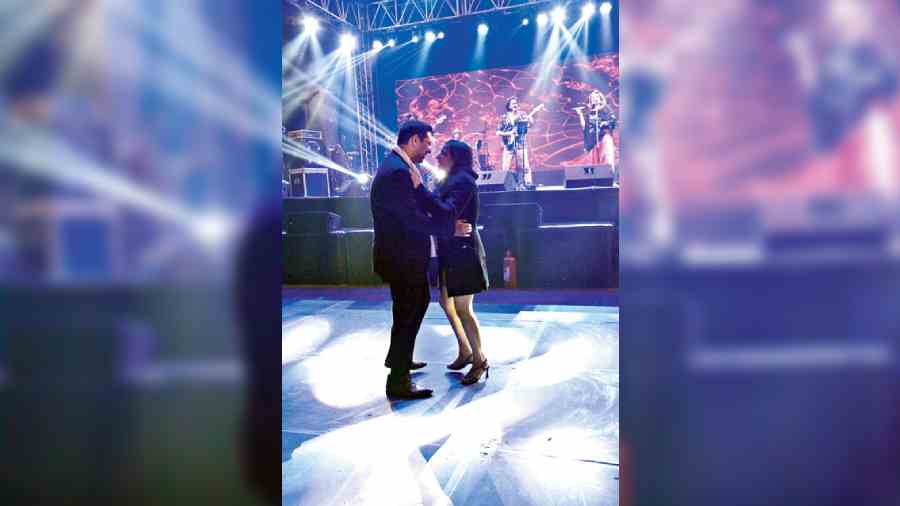 Nothing says romance more than some close dancing and what better way to start off the year than with some cosy dancing with bae on the dance floor?! We heart!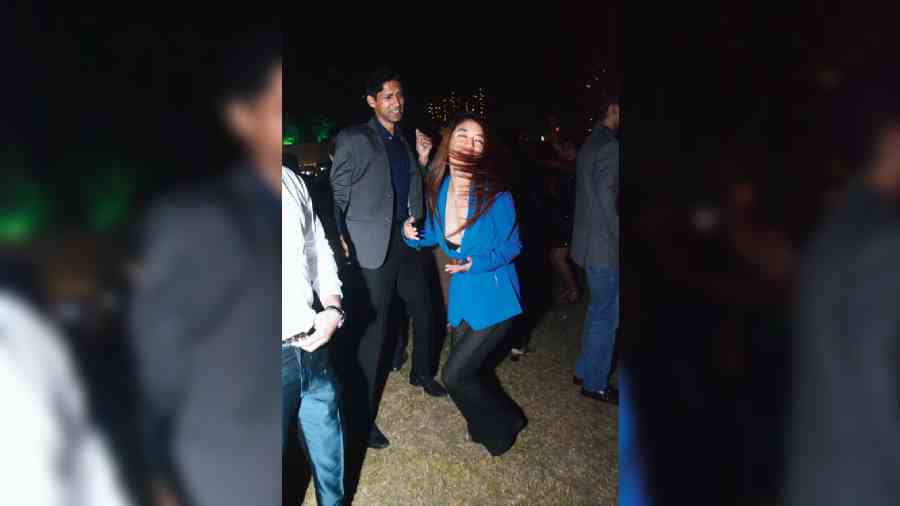 Eliza (in blue) made it a point to make the most of the evening with her moves on the dance floor. Her plan for the new year? "Let's make this a fun year."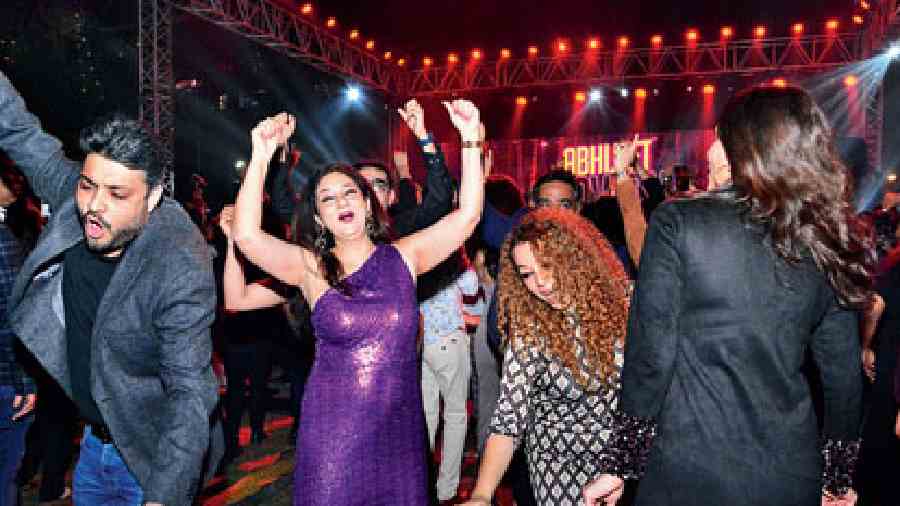 As the night progressed, there was no stopping this gang that began dancing by their table itself. Badtameez dil was the track that got this group of friends shaking a leg on the dance floor.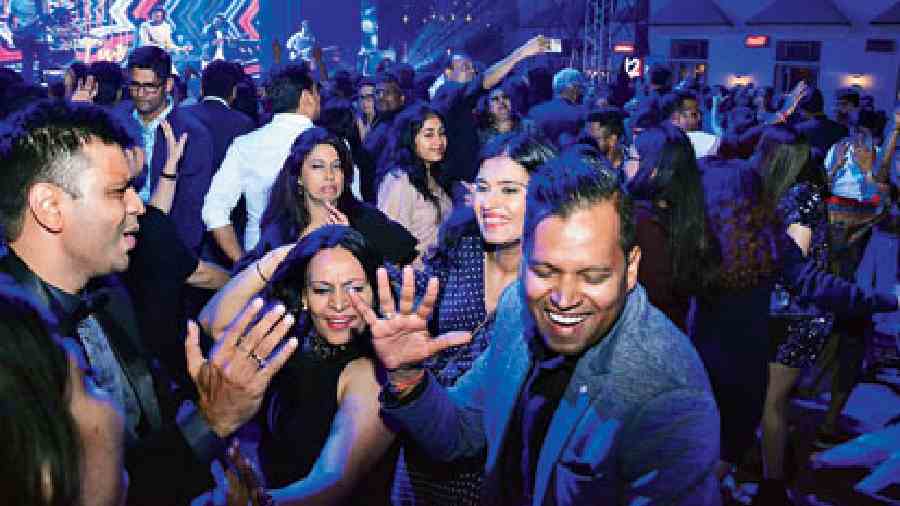 From jive to ballroom, hip-hop, belly dancing and even some bhangra, the dance floor saw it all as the party rockers brought on their A-game, just like this group that was busy dancing to Sau tarah ke.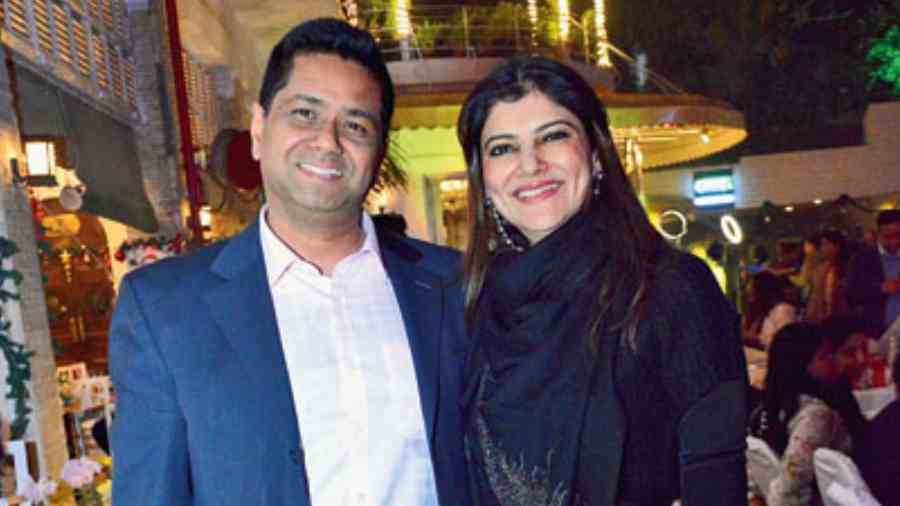 Dubai-based Rukmini Sen's new year resolution is to "be more beautiful", whereas for friend John Biswas it's all about "being more kind this year".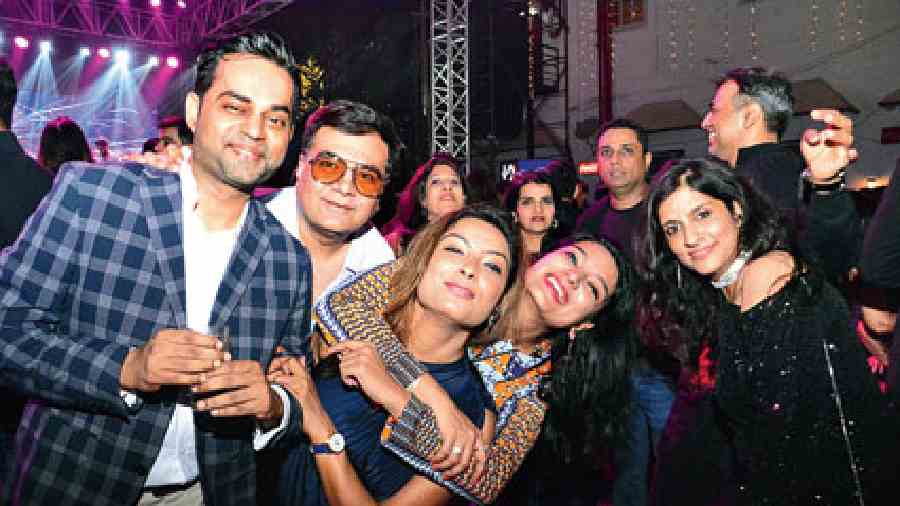 For home-maker Bhavisha Shah (third from left)it was a night for merry-making with her close ones. "This is my party gang always, and we make it a point to always bring in the new year together. One thing that I want to leave behind in 2022 is all sorts of health problems. The goal for this year is to stay fit and healthy," said the lady.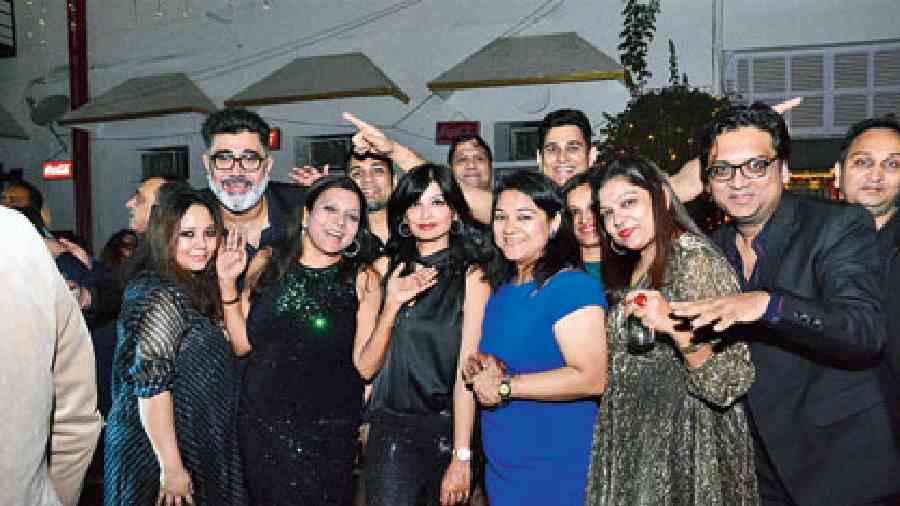 For practising CS, Shilpi Agarwal (second from right) the evening was about celebrating with friends and family. "Abhijeet's performance was the highlight of the evening. He did a great job of pulling the crowds to the dance floor, which soon became packed. The table arrangements were also very good, so was the food. Overall it was a fab event," said the lady in a gold shimmering dress.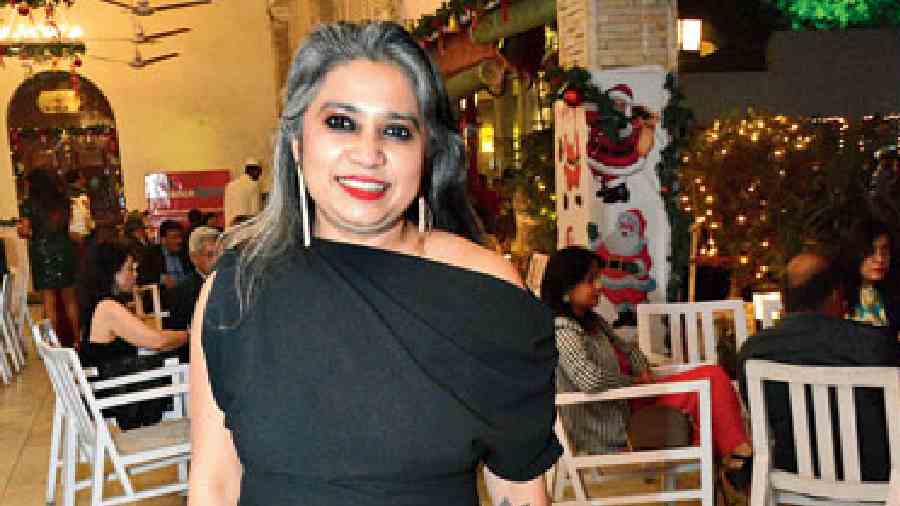 Chef Tonoya Chaudhuri, who works at The Orrey, a 3 rosette French restaurant in London was back in the city that is her home for new year. "This is my second time at Sat C and I must say, the arrangements are stellar. There is no place like home and I am glad to be celebrating with my loved ones," said the lady who donned her greys and a black leather skirt #LikeABoss
Vibes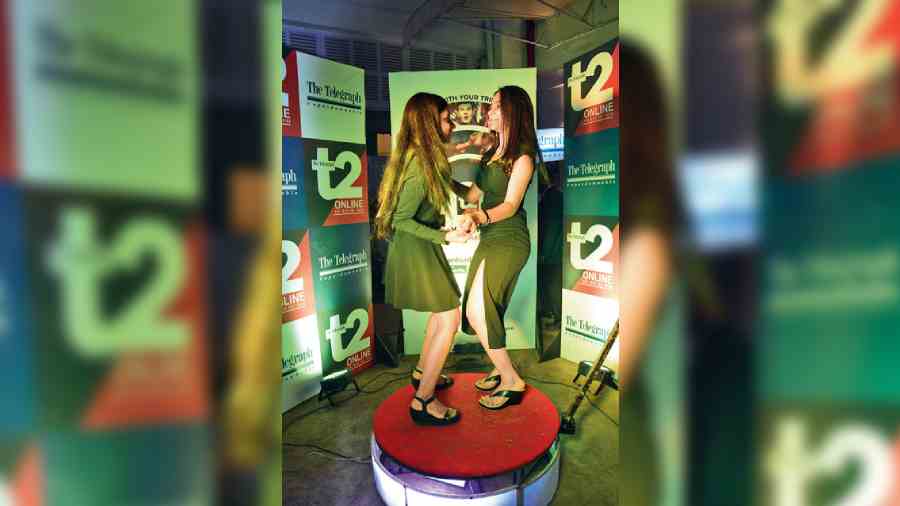 The Telegraph ONLINE video booth was a major hit and we saw party peeps flocking in big numbers to create their NYE memory in style, just like these ladies in black.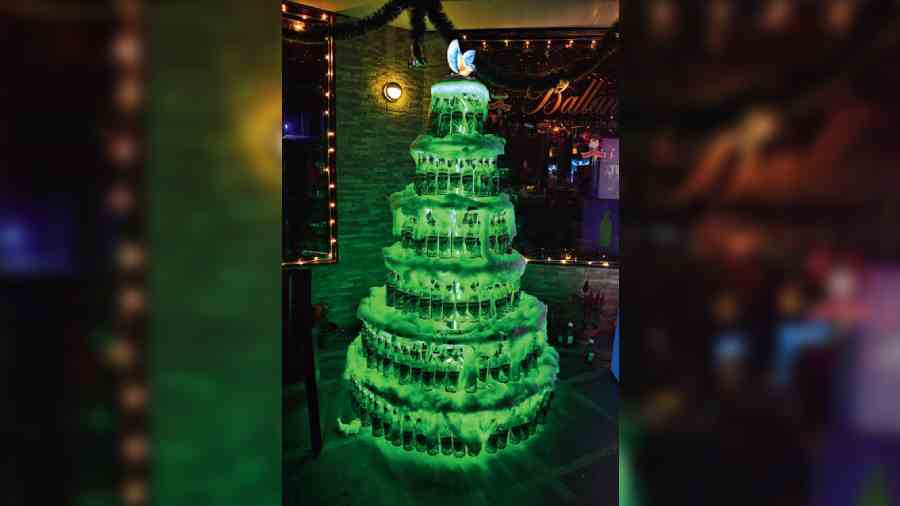 A decor highlight was this Christmas tree made using beer bottles and cotton. Once lit up from the inside, this gave quite the bright and shiny Instagrammable feel, and we saw many snapping this.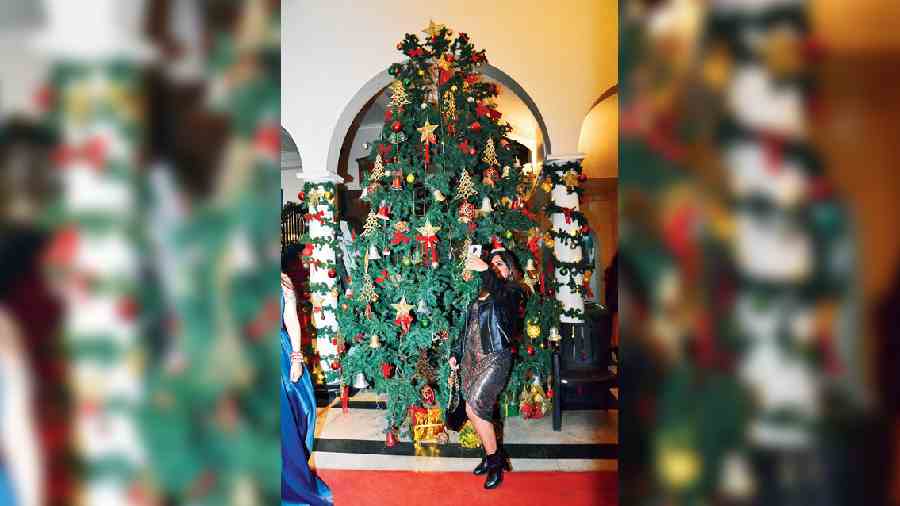 There's nothing more beautiful in terms of festive decor than a giant Christmas tree. The one at The Saturday Club is huge and was a popular selfie spot for many. We spotted this lady in bling doing just the same.
The music makers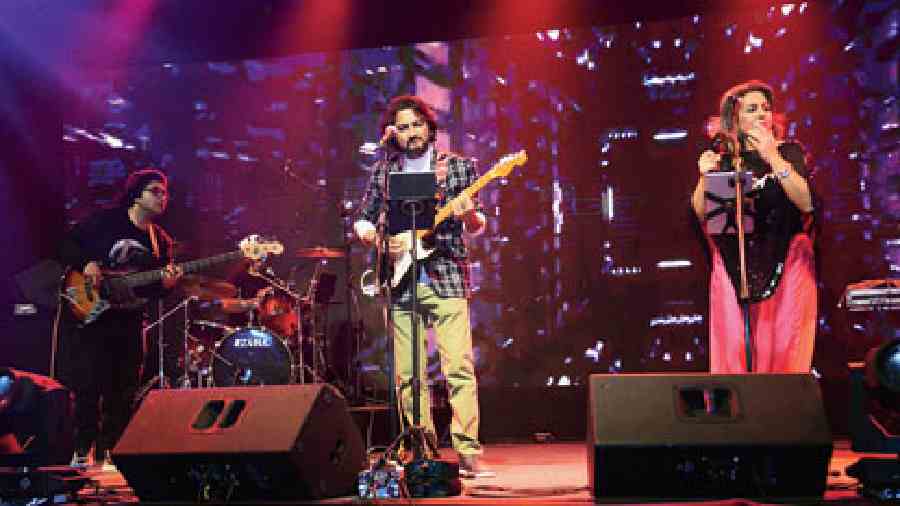 The evening began with a performance by the band Akasavani that belted out retro hits for the night, and played for over an hour and a half. They regaled the crowd with tracks like Summer of 69, Daddy Cool, Mamma Mia, There Goes My Love, By the Rivers of Babylon and I Want to Break Free, among others.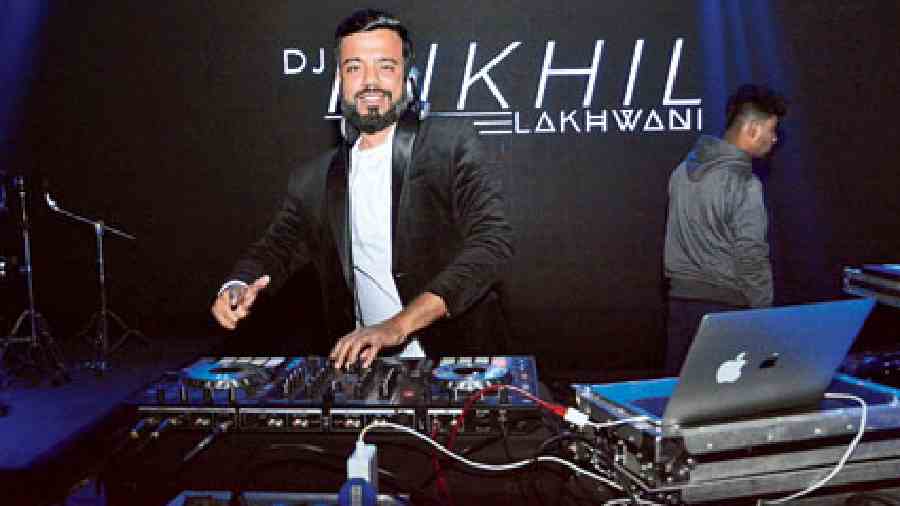 City DJ Nikhil Lakhwani was the last in the series of three performers for the night and took over the stage from Abhijeet Sawant. He raised them party temps with tracks such as Dus bahane, Udd gaye, Lat lag gayee, Kar gayi chull, Cheap thrills, Udta punjab and many more.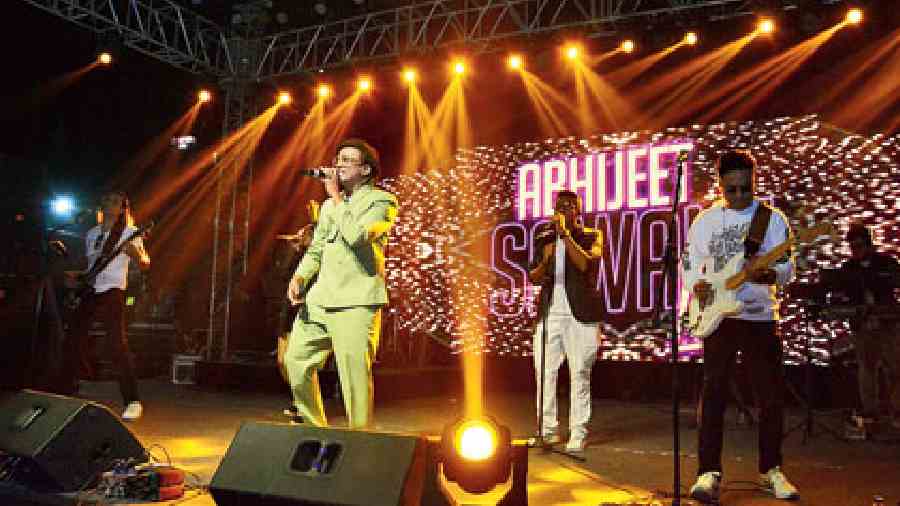 Abhijeet Sawant rang in the new year with his tunes and the crowd echoed a happy new year greeting. He began with his famous track Mohabbatein lutaoonga, and went on to sing famous ones such as Kesariya, Pal, among others. "Kolkata is always a great place to come and perform because the audience here is very learned when it comes to music. Moreover, it is the first city I performed in after winning Indian Idol and hence will always remain close to my heart," said the singer who performed for over one-and-a-half hours and rang in the new year.
Style Picks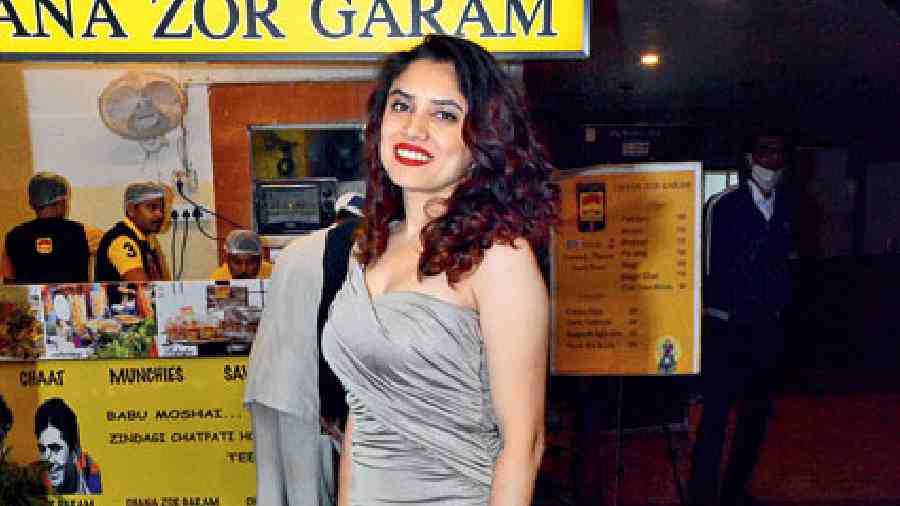 Air-hostess Smita Banerjee was dressed in a gold bandage mini dress that was a gift from her husband. Her red lips and nude accessories were the perfect balance to the dress.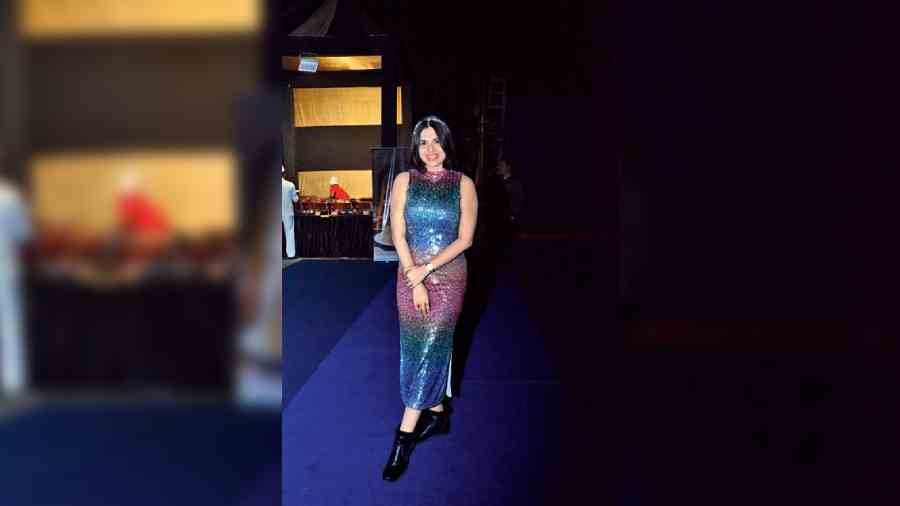 Soma Roy clad in an ombre sequinned dress made a strong case for sequins. We love the studded hair band.
Bling fever was on in full swing as we spotted event planner and baker Rita Murjchandani in a white-and-silver sequinned midi dress.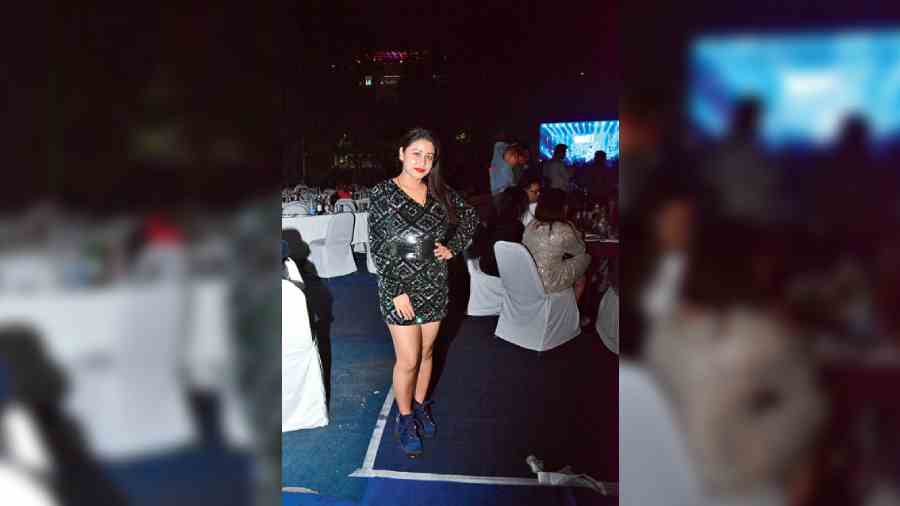 More bling came into the scene with Manisha Das sporting a black and silver sequinned mini dress that she teamed with a broad buckeld leather belt.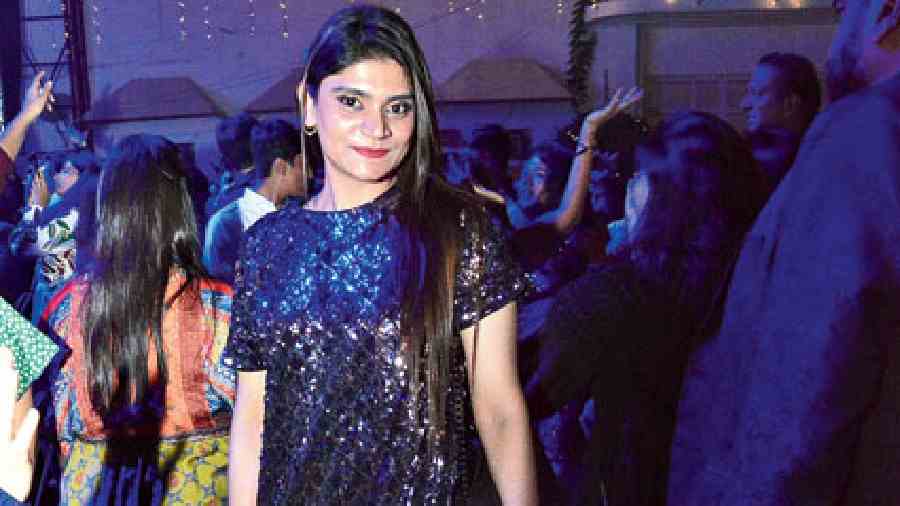 Donning a black sequinned dress, our cameras snapped Nida Nehal, who was busy partying with her gang. We love the easy hair and ankle-length boots pairing.
Club speak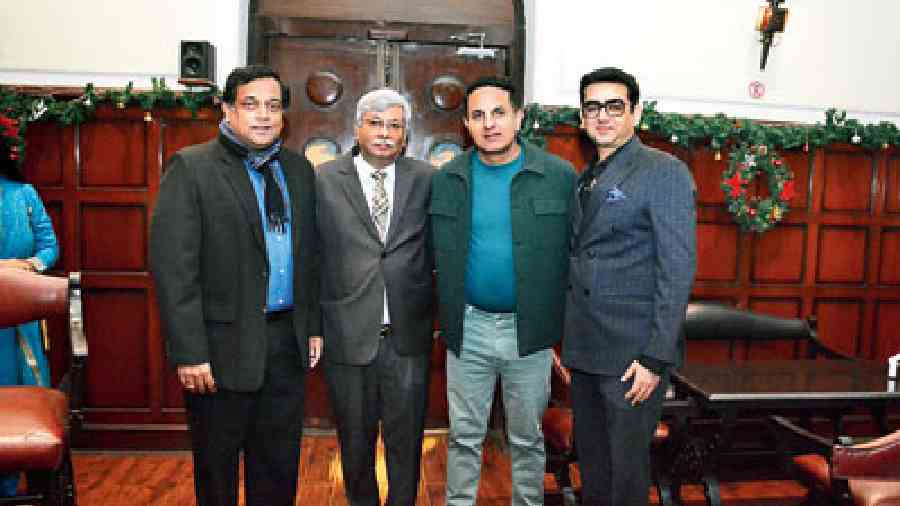 (L-R) The Saturday Club vice-president Shayak Gupta, president Rahul Johri, entertainment convenor Sanish Magon, and sports convenor Mohit Madan. "I want to wish all the members a very happy, proseprous, successful new year. This year was the first one where we had underpriviledged kids from SICW come to our Christmas carnival and play with the members' kids, and received gifts," said Rahul Johri. "We are very happy to be presenting a complete range of entertainment to the members, one that ranges from Western classical to Bollywood and instrumental. I wish 2023 to be a great year for everyone," said Shayak Gupta. "I think my president and vice-president have said it all. From the entire entertainment team at The Saturday Club, I wish everyone a happy, healthy, and prosperous 2023," said Sanish Magon.
Sip and bite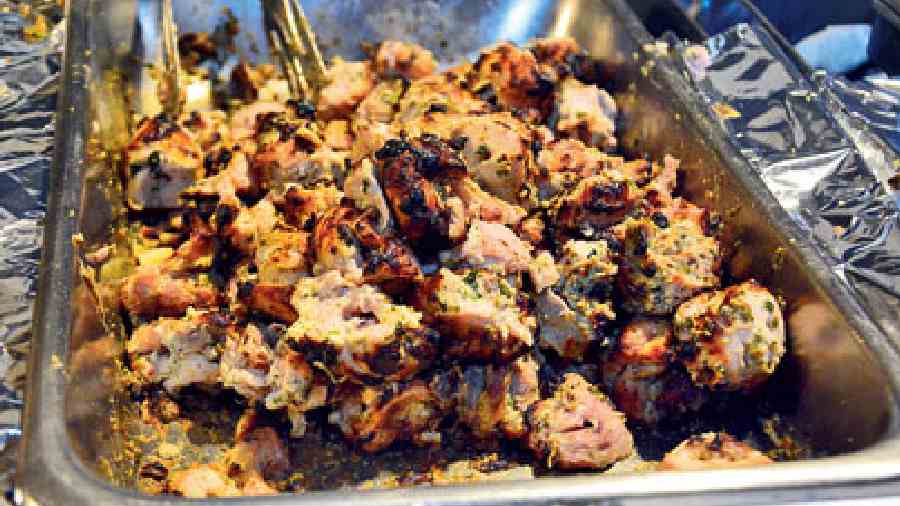 Kebabs were spotted on almost all the tables and were flying off the counter like no tomorrow. Our fave were these melt-in-the-mouth Reshmi Kebabs.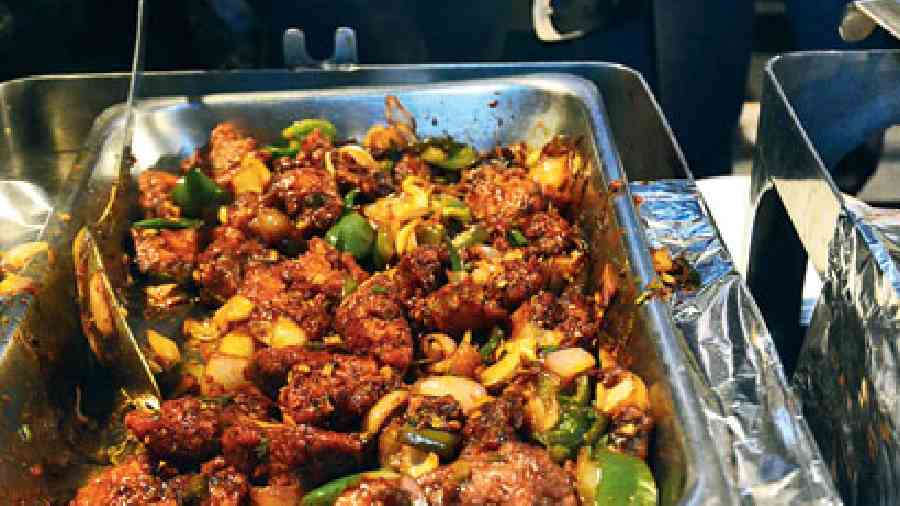 Chinese starters were another go-to snack for most. This spicy Chilli Garlic Pepper Chicken was a hit item.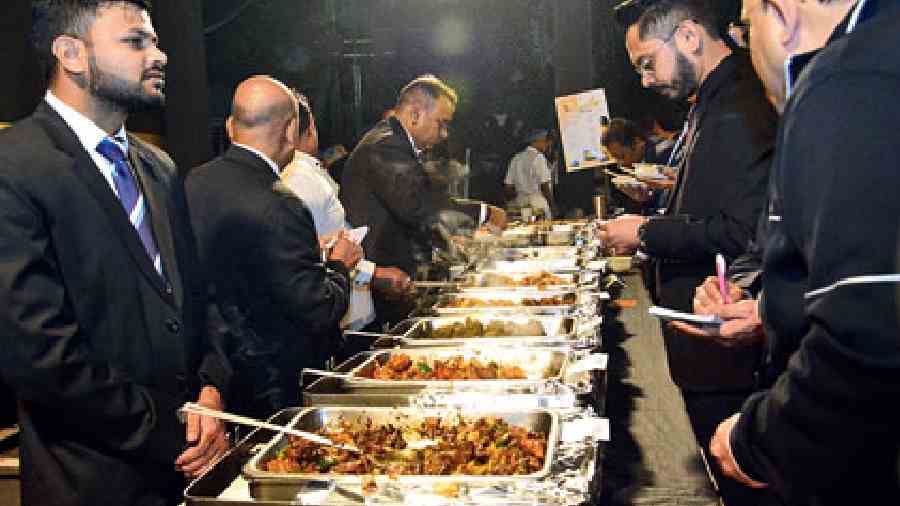 Mughlai, South Indian, Continental, Italian and bar food, the food and beverage section was a hit. Some of the popular stalls were by outlets such as The Saturday Club's in-house kitchen, Aminia, Caramelle, The Food Lab, and Noodle Me.