On a cool November evening, the Consulate General of France in Kolkata hosted a wine-tasting event at the Consulate Gardens. The Friday, November 11, event was hosted along with the Parsan Brothers, who curated the wine-tasting. The wines were specially imported from the vineyards of Marie-Pierre Lallez, owner of Vignobles Raguenot. French sommelier Julie Ollier was also present on the occasion.
Welcoming the audience, Consul General of France in Kolkata, Didier Talpain, said, "Today, we experience one of those days which are different from ordinary ones, for a few reasons. We have a joyful and graceful evening. I can't forget that 11th of November is a special day in Europe. This day, we celebrate the ending of World War I, the first world tragedy of the 20th century. But, we should also rejoice for another good reason, the simple pleasure of being together after two difficult years."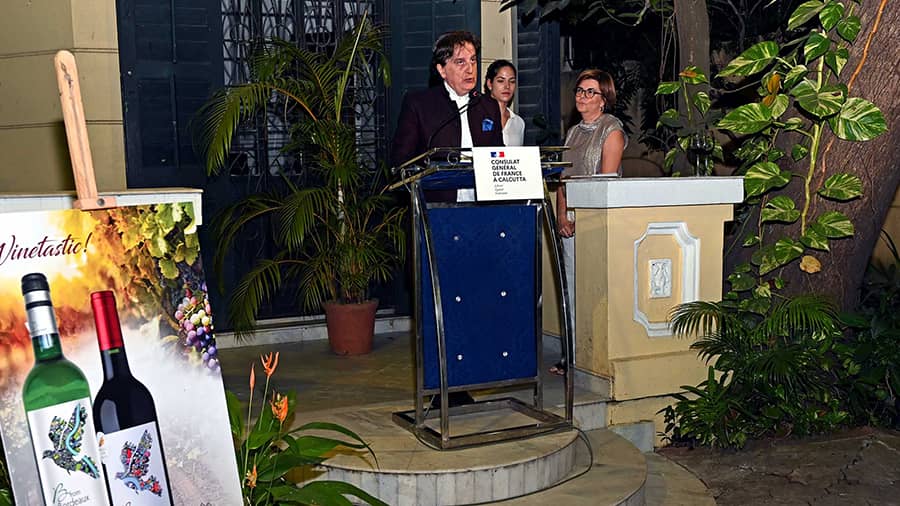 Consul General of France in Kolkata, Didier Talpain, addresses the guests
The wines and their pairings
Taking time out from greeting the guests, Pierre Lallez spoke to My Kolkata and explained the different types of wines that were up for tasting. She said, "We have the B from Bordeaux White and Red, and the Chateau Haut Beyzac - Cru Bourgeois. The three wines are different because of their color, structure, and aromas." 
She continued, "The B from Bordeaux White is a blend of Sauvignon Blanc, Semillon and Muscadelle. This wine ages in stainless steel vats. I must add that this is a dry white wine without residual sugar. It is well appreciated with fish, chicken etc."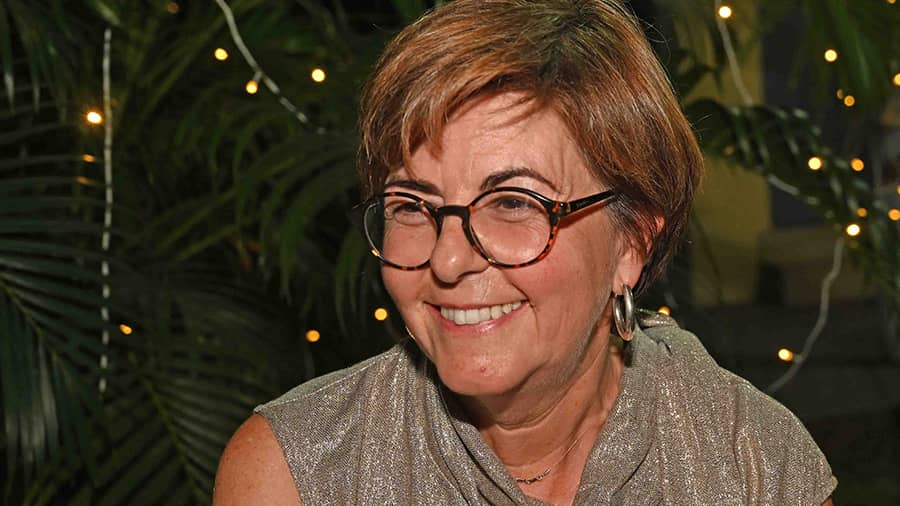 The wines were specially imported from the vineyards of Marie-Pierre Lallez
For the B from Bordeaux Red Wine "is an easy red wine to drink on any occasion. It is a blend of mainly Merlot, which is the fruitiest grape that we have. It is blended with Cabernet Sauvignon. This one is also aged in stainless steel vats to get a very aromatic red wine. The food pairing is so easy. It's not a complicated red wine. So, it can be paired with beef, barbeque, pizza or noodles. This is a wine to enjoy and share."
"As for Chateau Haut Beyzac - Cru Bourgeois, it is a really premium wine in the sense that it is a classic and traditional red wine. We are certified Cru Bourgeois, which is a quality guarantee. This is a blend of Merlot mainly, then Cabernet Sauvignon and another grape, which is Petit Verdot. It's really interesting because it brings a blackcurrant flavour. The wine is aged for 12 months in oak barrels. This is a more serious wine. You need to think about something tastier like lamb, a piece of beef or a classic French meal to pair it with," wrapped up Pierre Lallez
Exploring the market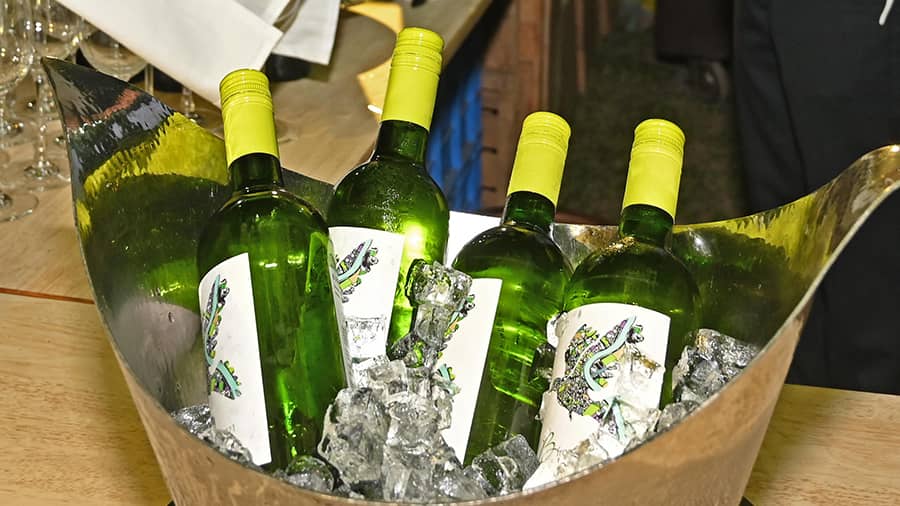 Bottles of B from Bordeaux White Wine on ice
Sarat Kumar Parsan of the Parsan Brothers shed light on the origins of the wines "Bordeaux is a place where one of the best French wine-making traditions exists. I am very close to Bordeaux. I have been travelling to Bordeaux for a long time, but never got an opportunity to get some decent Bordeaux wines. I met Marie a couple of years ago and then we tasted her wines. We had requested her to make something pertinent to India."
Speaking about their availability in the Kolkata market, he commented, "These wines will be available in the markets in West Bengal by the third week or end of this month. They will be very affordable and very approachable. They will definitely be available in premium restaurants. But retail is a big focus for us. We will be there in Spencer's and other premium retailers across the city."
Guests Speak
The guests enjoyed tasting the wines along with some sweet and savoury finger foods like ham and melon, eclairs, thyme and lemon grilled chicken in barbecue sauce and more. My Kolkata spoke to a few guests on their take on the wines.
Melinda Pavek, US consul general in Kolkata, said, "France is known for its delightful wines. So, it's an honour to be here this evening to enjoy French Bordeaux and have an opportunity to learn more about the wines from this region."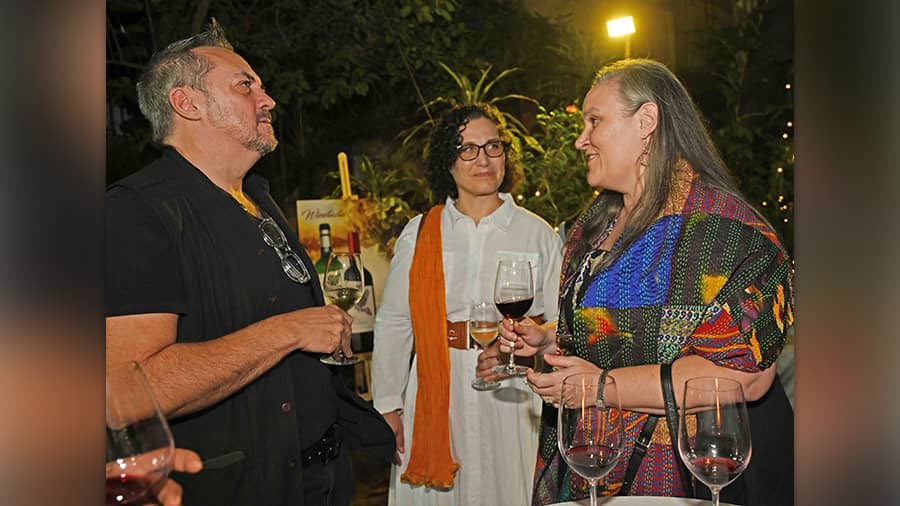 (R) Melinda Pavek, US consul general in Kolkata, in conversation with celebrity chef Shaun Kenworthy (L)
Poorna Banerjee, writer, consultant and content creator, said, "This evening has been a blast. I'm enjoying my second glass of white [wine] and this tastes phenomenal."
Indrajit Lahiri, food blogger and co-founder of FOODKA, commented, "It's always good to spend a nice evening with friends and if some Bordeaux wines come along, nothing can be better than that. Personally, I liked the white wine. First because of its taste and second, it's still mid-November and the 'Calcutta cold' hasn't set in yet. So, white wine is the one for me."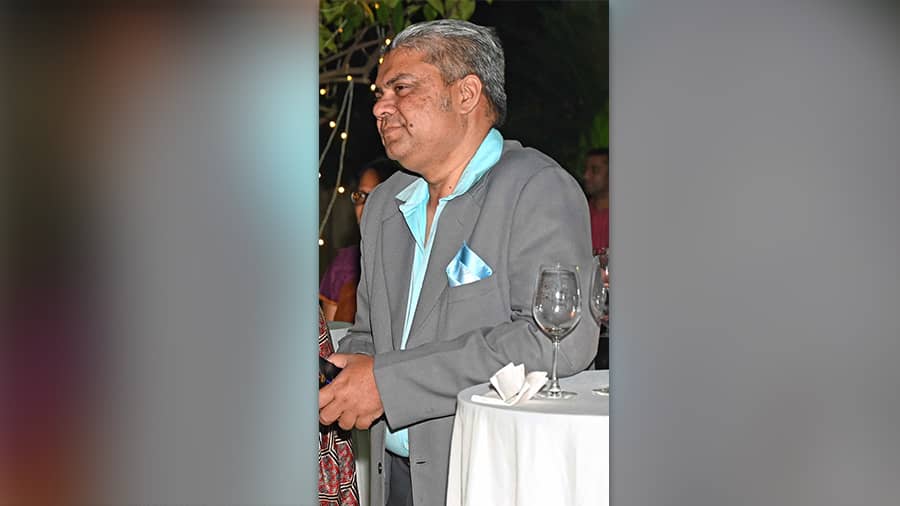 Indrajit Lahiri, food blogger and co-founder of FOODKA
Subhasis Ganguli, wine consultant said, "I tasted both the red and white. Of the three, the Cru Bourgeois is obviously the best wine. So, I liked it more."