Hola Spain! The 46th International Kolkata Book Fair (IKBF) has Spain as its theme country.
My Kolkata took a walk-through around the Spanish pavilion at the Book Fair to find out what's in store for visitors.
Discussion and activities
The golden-hued pavilion near Hall 1 on the Book Fair cannot be missed. On entering the pavilion, one would be directed to a discussion area, where discussions will be held every day to promote the inter-cultural exchanges between literature, cinema, poetry, theatre and more of the two countries. My Kolkata caught a sneak peek of a discussion on the impact of OTT platforms, especially with Money Heist, on the Indian audience.
Interest in Spanish
María José Gálvez, general director of Books and Promotion of Reading (Spanish Ministry of Culture and Sport), is happy to see the interest in Spanish literature and language interest in the people here.
"Our tables are full of people wanting to know more about Spanish literature. We are very happy. The Guild of Publishers from Spain is being represented here along with poetry publishers and independent publishers. We have brought here the biblio-diversity in books. We have brought novels and also poetry, essays and comics. We have brought Spanish translations that we have printed in Hindi, Bengali, Sanskrit, and Tamil. Being in the fair is an opportunity to be seen," Gálvez said.
Asked where one can find Spanish books in Kolkata, she said, "Public libraries should have small sections on Latin American literature because Spain is a country but Spanish is a shared language. In Instituto Cervantes, New Delhi, books are available for lending. Some publishers in India are also publishing in Spanish; you can buy these books at Indian bookstores. Also, our embassy can figure out ways in order to offer books in Spanish if there is a demand to promote learning in our language.''
The country has also officially invited the Publishers and Booksellers Guild to participate in the Madrid International Book Fair.
Display of books
Moving further in is a display of Spanish books in various categories. From fiction to non-fiction, essays, languages, cinema, travel, poetry, art, children and young adults, comics and graphic novels, theatre and more are on display. The delegation also donated almost 500 books to various institutes in Kolkata that work on the development of Spanish language and literature. Some of the institutes include The Neotia University, Amity University, Sister Nivedita University and Ballygunge Shiksha Sadan.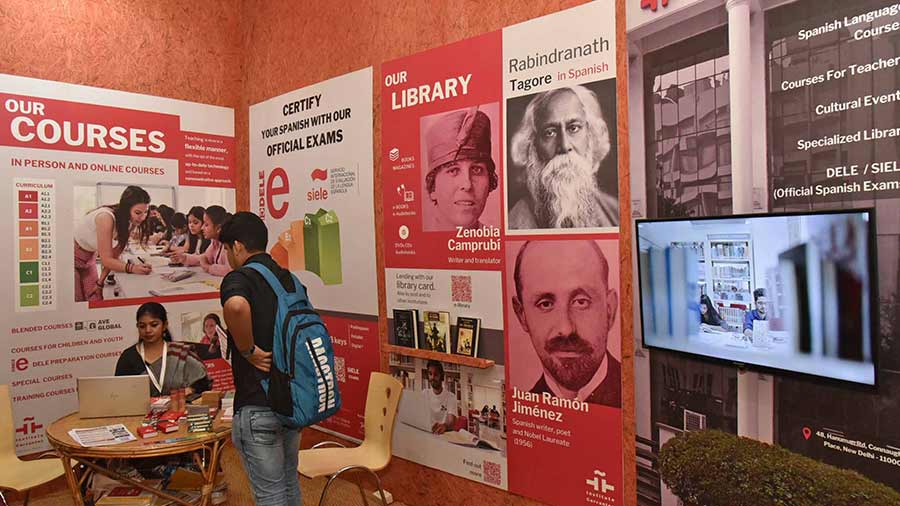 Instituto Cervantes
The Instituto Cervantes and its expansion
Instituto Cervantes, which guides interested candidates in learning the Spanish, has a corner in the pavilion. One can find out about the class structure, fees, enrolment, examinations and online courses at the pavilion or mail to to cenndel@cervantes.es
Luis Garcia Montero, general director of Instituto Cervantes, shared expansion plans. "We, at Instituto Cervantes, want a presence in cities like Kolkata, Mumbai and Bengaluru. We expect to open in (Kolkata) about a year or two. It depends on a lot of factors like government approval, which takes time. But we are involved in several activities like this Book Fair and you can also study with us online."
"Even as the main objective of Instituto Cervantes is to teach Spanish, we also aim to disseminate the culture of Spanish speaking countries which goes beyond Spain and includes Latin American Countries as well. We will present books and release translations both from Spanish to English and vice-versa. In Kolkata, we conduct the diploma for Spanish Language examinations," Montero said.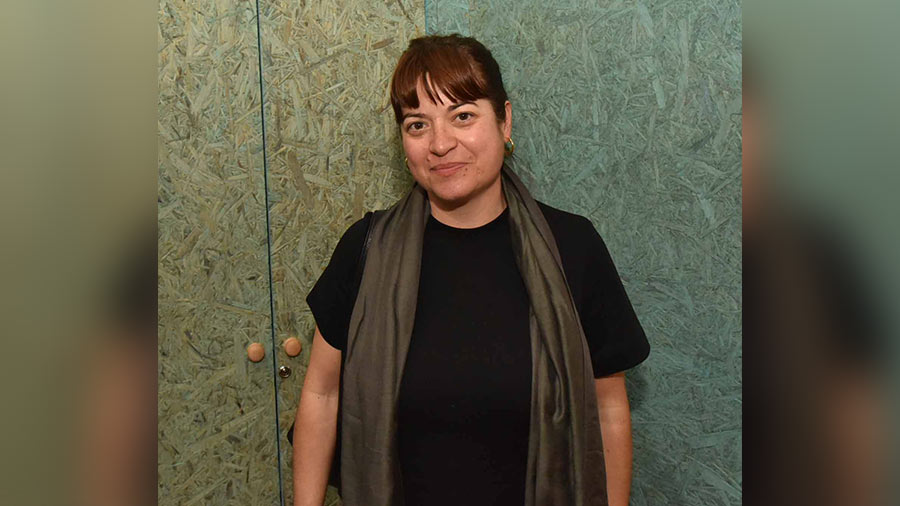 Maria Jose Galvez Salvador
Travel to Spain
Planning a holiday in Spain? The Turespana is the best fun spot of the pavilion where tourism representatives present a variety of vacation options. They will help you with maps, leaflets, packages and more. Video recordings of the beautiful places in Spain are played on loop to give you a feel of the country sitting in Kolkata.