Kunal Basu, author and professor, shared his personal tryst with Bengal's traditional art and craft at Agomoni 2022, an exhibition organised by the Crafts Council of West Bengal.
The exhibition was aimed at reviving indigenous arts and offering a platform to entrepreneurs to showcase their products. 
Basu has directed and produced The Magic Loom, a short film on the Baluchari sari weavers of West Bengal. His writer mother and publisher father introduced him to the world of books at a young age. Snuggled in between the many books on the shelves in their home were pieces of traditional crafts. ''Our discussion today will largely be anecdotal and personal. Alongside the books were pieces of crafts like masks from Dinajpur or Bankurar Teracotta and paintings by Jamini Roy. My senses were tuned towards crafts from a very early stage in life,'' said Basu, before going on to discuss the four elements of crafts through personal experiences.
My Kolkata caught up with Basu on his lesser-known passion:
Craft as trophy
''If you go back to the colonial period, the administrators would travel to barbaric nations and having conquered them, they would bring back trophies. The Spanish brought gold, but alongside that, they also brought Inca masks. Does craft as a trophy exist today? Actually, it does. There are many antique collectors and one can also go to auction houses,'' Basu said.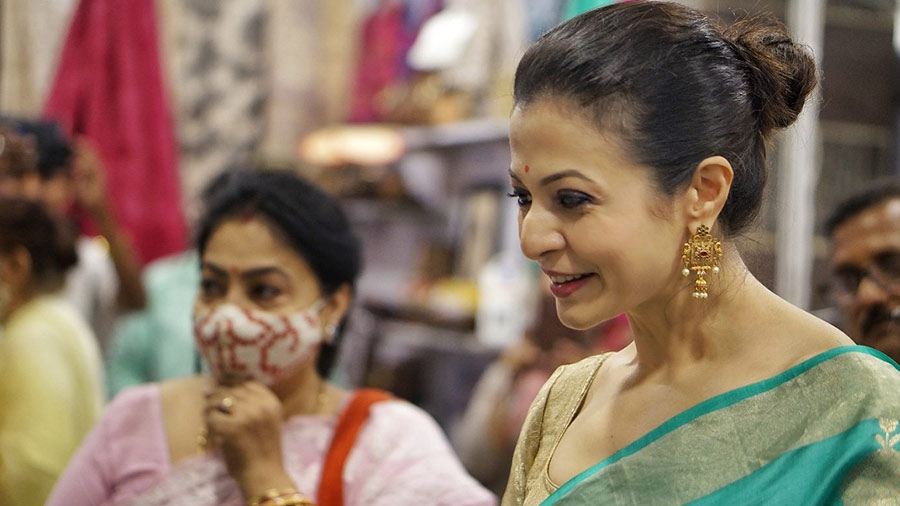 Actor Koel Mallick inaugurated Agomoni 2022 at Keshari Devi Kanoria Hall.
The author went on to narrate an incident from his life around the mid '80s. ''Many decades back, I was walking around Chowringhee and saw a truck was being unloaded at the Indian Museum. From one of the crates came out a huge piece of 'Tushur Jhaar' made out of terracotta. Every year, the President's Gold Medal is awarded to the best craftsman in the country. That year, this piece of art was the winner. It was made by Buddhadeb Kumbhakar in Bankura. I met Kumbhakar, who said the piece would cost around Rs 1,500. I told him (in those days), he should charge no less than Rs 30,000. He thought I was mad. I bought the piece and the entire village had gathered and it was like sending off a bride. This is my craft as a trophy. If today, I go back and ask him to make me another one, chances are that he would say no. There were not many takers of it and he has probably lost most of the skill, he doesn't have the support system too.''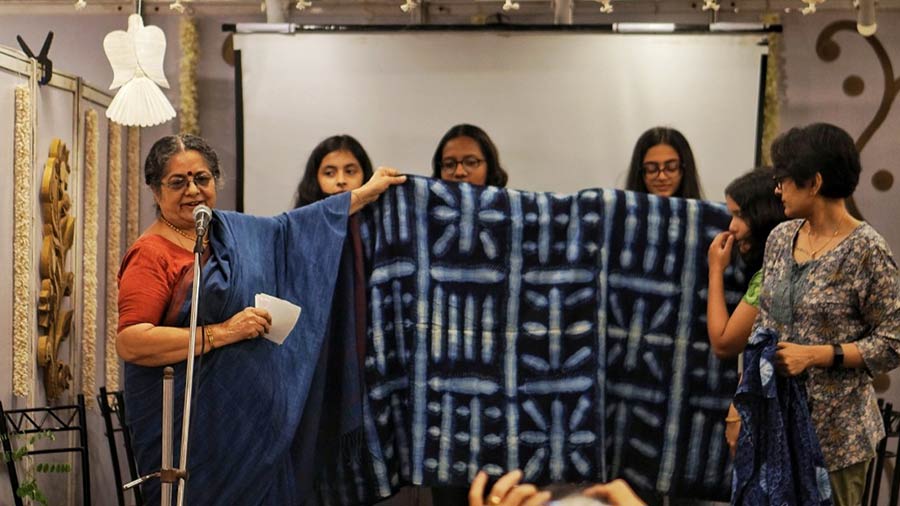 Amrita Mukherjee of Sutra gave a live presentation on September 2 titled 'Nature's Magic: Indigo' where she spoke about working with Indigo dyes.
Craft as Identity
Craft becomes a way of identifying oneself. The author commented, "prevalent particularly among researchers and those who document craft as identity. I am a Bengali and what do I relate to? Among others, I relate to certain types of Bengal crafts which I think tries to define my personality. The generation of my parents and their collection of crafts was a way of expressing that Bengal is not simply Kolkata. It exists in the villages, in rural communities, and in historic artisanship.''
Craft as Lifestyle
Today, local and home-grown brands are increasingly trying to revive age-old craftsmanship in their own way. "Some entrepreneurs and practitioners offer very high-quality crafts for day-to-day use. It can be placemats which are made from madur kathi from North Bengal. It could be terracotta pieces which you can use as planters. These are instances of very sensitive and very appropriate use of crafts as a lifestyle item.''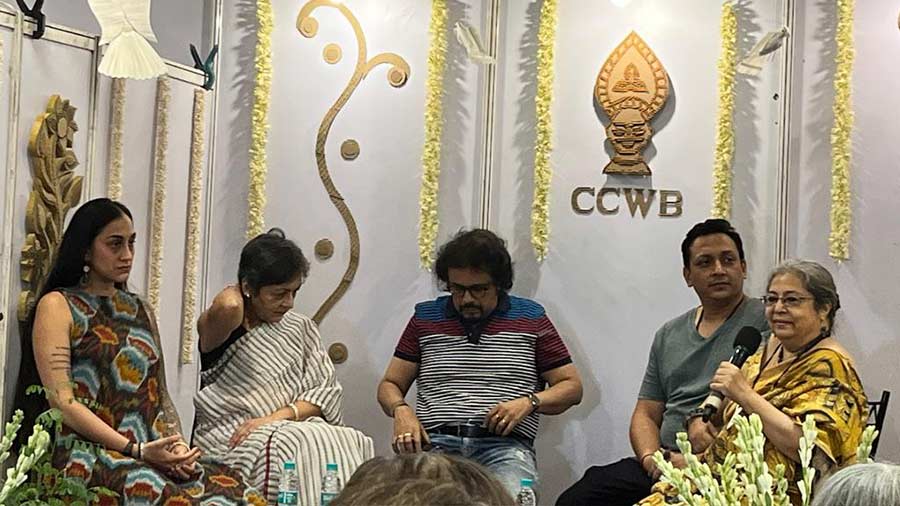 Panelists (L-R) Karuna Ezara Parekh, founder The Burlap People; writer and activist Bashobi Tiwari from GreenEarth; Bickram Ghosh, music maestro and Swarup Dutta, artist and designer in conversation with Anjum Katyal on the topic 'One of a Kind: The Value of the Handmade' on September 3.
Craft as Memory
''By far, the largest volume of craft that you see around you is craft as memory. We all go on holidays and return with trinkets which remind us of where we went. This tends to be a mass-produced item.''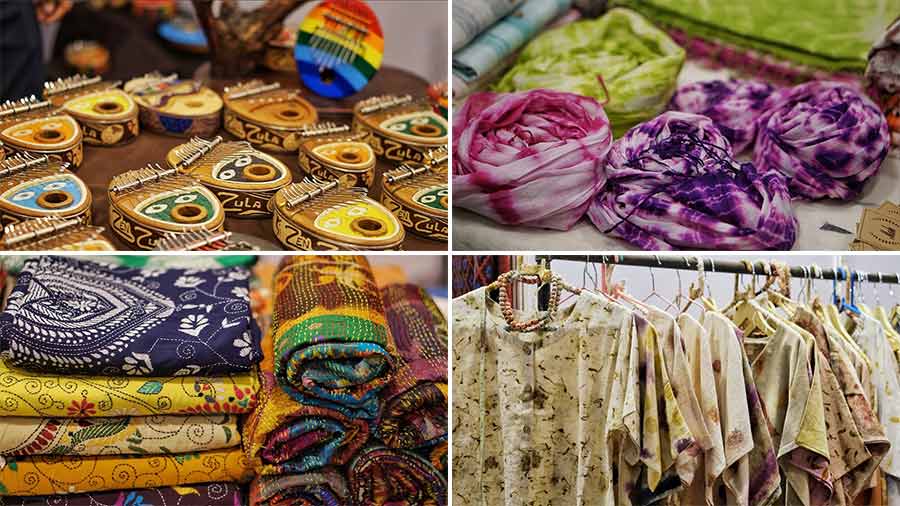 Around 30 stalls showcased traditional and innovative art and crafts from across India. On offer were saris, stoles, dupattas, accessories, jewellery, home decor and wellness items and more
Apart from talks and presentations, around 30 stalls showcased the traditional and innovative art and crafts of India through accessories, jewellery, saris, stoles, dupattas, craft items, wellness items and more. Brands included Gita's Circle, Roopkatha, Koza, Indigo and others.