Every year during the autumn-winter months, the City of Joy gets decked out with rainbow-coloured flags at various places, and this year is no different. Various queer collectives and organisations of Kolkata and kolkatapride.org have come together to organise a series of independent events to celebrate Kolkata Pride Month 2022, starting November 17. Collating the events, kolkatapride.org has recently released the Pride Calendar to inform Kolkatans about the various community events planned as a part of this month-long celebration.
"The artwork for this poster is inspired by the idea of the inclusive canopy born out of solidarity among our LGBTQIA++ communities and its allies. This rainbow canopy is born out of our ever-growing demands for rights of intersectional equity and equality: the imagination for the empowerment of those amongst us who face the most oppression and the belief in the power of collective resistance. We hope the germination of this solidarity will be possible through the encouragement of diverse viewpoints to coexist, mutual respect, cooperation and the building of an understanding beyond the privileges some of us enjoy," said Navonil Das, one of the team members of Kolkata Pride.
The celebrations will start on November 17 with a four-day film festival called DIALOGUES Kolkata Int'l. LGBTQIA+ Film and Video Festival. The films will be screened at Indira Cinema in Bhawanipore. The walk-in festival will screen independent films from all over the world, and host conversations and panel discussions on various topics. "DIALOGUES is India's oldest LGBTQ film and video festival. This is the 16th edition of the festival, hosted by Sappho for Equality, Protoy Gender Collective, and Goethe Institut Max Mueller Bhavan. This year we wanted to make the festival more inclusive and have kept no tickets. The idea is to not only show queer films but also films made from a queer lens. This is an annual event that we all look forward to. We are trying to create a more inclusive space this year. We are committed to creating more conversations and dialogues. We have films like Joyland, Trans Kashmir and a whole section of German films curated by Toby Ashraf. It is a space where we reclaim the cinematic legacy of the city. We will have panel discussions on queerness and nationalism, reassignment and gender transformation, limits of desire and mental health and disability," said Anindya Hazra, co-organiser of DIALOGUES.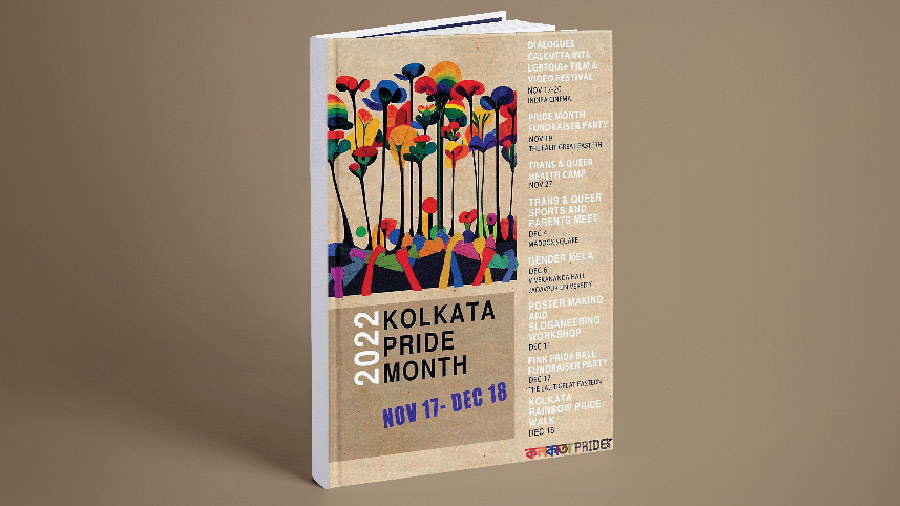 The Pride Month Fundraiser Party will take place at The Lalit Great Eastern on November 19. This will bring the much-loved Kitty Su Pop's Up at Wilson's featuring drag artistes Zeesh, Lush Monsoon and Naaz B. DJ Vishal and Antara will be on the console. The Trans and Queer Health Camp will be held on November 27. The camp will have several doctors setting up their chambers for health check-ups and for answering health queries. Seminars and discussions are part of the event and will spread awareness on topics such as HIV and mental health.
The annual pride event, The Trans and Queer Sports and Parents Meet will be held at Maddox Square on December 4. "Trans and queer people's parents don't get an opportunity to interact or network with each other. This event allows them to interact with each other and find a space for discussing how they are dealing with their children or their own mental health. We celebrate their annual meet-up through this sports event. We have many races where they participate and win prizes. We also ask them to bring anything that they make at home and display it on the grounds. It is a carnival sort of a thing and we call it Queernival," said Navonil.
This will be followed by Gender Mela on December 6 at Vivekananda Hall, Jadavpur University. "This event is focussed on the student community. We will also put up stalls by our community people belonging to the grassroots and those who are underprivileged. They will sell their handicraft products. We will also have two panel discussions and the entire thing will be hosted by Kolkata Anandam for Equality and Justice," said Sintu Bagui.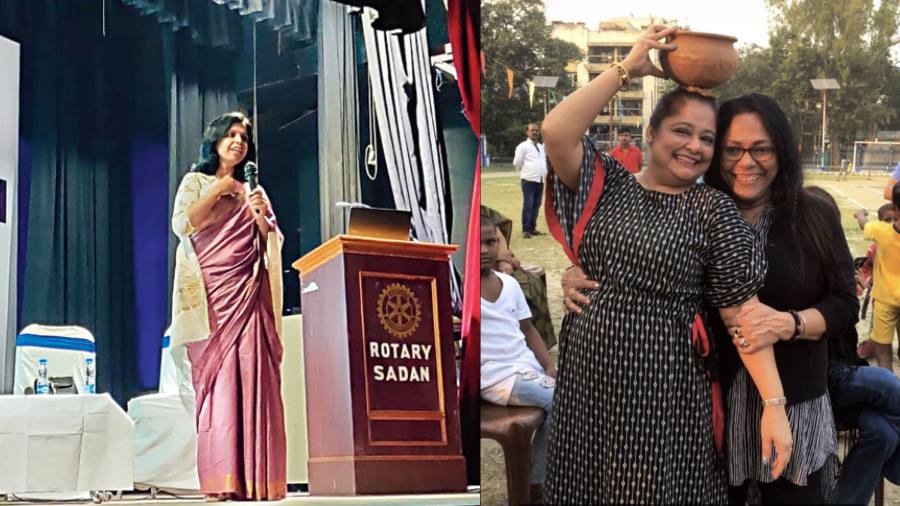 Snapshots from the various events organised during the Kolkata Pride Month in the past.
School children and people belonging to different age groups will participate in the poster-making and sloganeering workshop on December 11. "Closer to our final event The Pride Walk, we host this event. Posters are prepared and slogans are raised based on the issues that we consider taking up for the Pride march. We announce the issues and venue for the event on our website kolkatapride.org and our social media handles," said Navonil.
The second fundraiser party will be the Pink Pride Ball at The Lalit Great Eastern on December 17. The event will present an interesting lineup of entertaining performances by dancers, singers, drag artistes and DJs. The lineup includes Divvya Eshwaran's dance, Bidisha Mohanta's music, trans belly dancer Arna, Jhon's dance, drag artistes Dame Imphala, Betra and Aavya; dancer Bhaskar and DJs Nekid and Markus.
The final event on the calendar is the Kolkata Rainbow Pride Walk on December 18. "It has been our dream to put together a month-long series of events that can lead up to the Pride Walk. Over the last two years, we have successfully managed to do that and this year also, we have a series of events. This year we have some sub-events also, including addas and discussions at various cafes in the city. These queer-friendly places will display memorabilia and flags at their properties throughout the month. The aim is to raise awareness for Pride Month and to raise a kitty fund so that we can do community events as and when required.This is all about visibility. People get to see what we are doing. We are not an invisible community, hidden and tucked away. It is also about doing things within the community. There are young, energetic people. It is about channelising the energy towards something creative and a platform for everyone to display their talents and network," added Navonil.