The state capital's youngsters continued their spirited protests against the recent gang rapes near their city and Hyderabad on Tuesday.
Around 11.30am at Albert Ekka Chowk, roughly 200 boys and girls from Marwari College observed a two-minute silence for the soul of the Hyderabad vet who was raped, murdered and her body burnt.
The students, under the aegis of Marwari College unit of Jharkhand Chatra Morcha (JCM), a student wing of JMM, also spoke out against the recent gang-rape at Ring Road.
"Rapists should be hanged. It's a brutal crime and trials against them should be held as fast as possible and capital punishment awarded so that it proves a deterrents," Kasif Ahmed, former vice-president of the Marwari College unit of JCM said.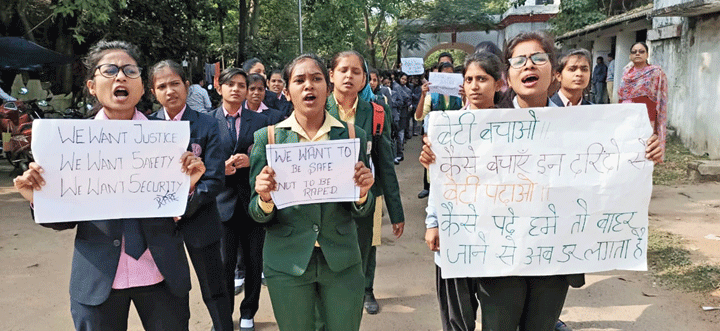 Girls protest at the district collectorate in Hazaribagh on Tuesday. Picture by Manob Chowdhury and Vishvendu Jaipuriar
Current JCM president of the college unit, Md Kasif Hussain echoed Ahmed, saying men needed to change their attitudes towards women.
"A society that respects women prospers. While the government should formulate strict laws against assault, society and homes need to bring up boys in such a way where respecting girls automatically become a matter of habit," he said.
Earlier in the day, students assembled on the campus of Marwari College and walked 2km across Upper Bazar and Hindpiri with anti-rape placards and slogans to reach Albert Ekka Chowk.
Bystanders appreciated their protest.
"Such protests are important. People start thinking, yes, what happened was bad, the culprits must be punished. Public opinion against rape and rapists will go a long way in curbing the crime," observed Santosh Jaiswal, a glass shop owner.
4000 girls hit streets
Hazaribagh: Around 4,000-students of KB Women's College marched on Tuesday here to demand death penalty for those who gang-raped the vet before killing her in Hyderabad. It was first time in the town's recent history that 4,000 girls rallied on the streets.