Woman branded 'witch', villagers force her to do sit-ups
Hazaribagh police file FIR against 15 people, including neighbours, for assualt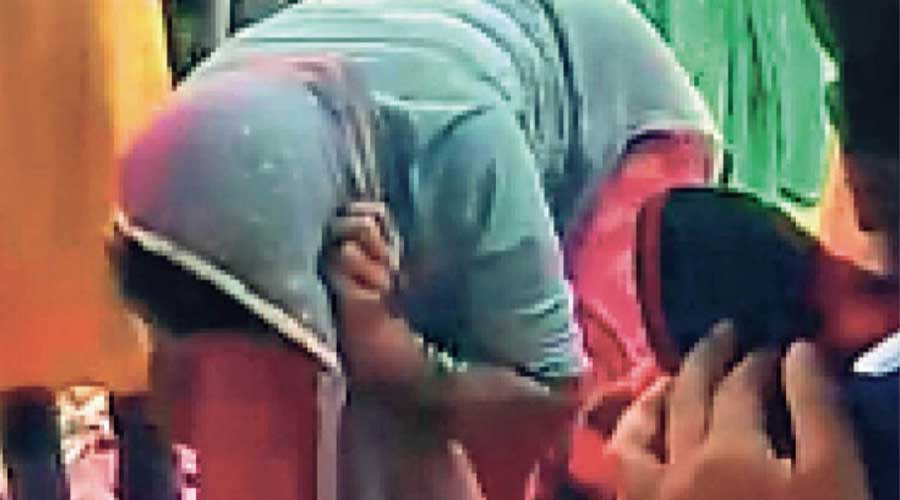 The woman was forced to do situps in front of villlagers in Hazaribagh on Wednesday.
Picture sourced by the correspondent
---
Hazaribagh
|
Published 18.06.21, 06:38 PM
|
---
A 33-year-old woman, branded as a witch, was beaten, dragged from her house and produced in a village mahapanchayat where she was forced to do sit-ups in front of a gathering.
The incident came to light after a video of the punishment went viral, following which, Katkamsandi police in Hazaribagh lodged an FIR on Friday.
The woman has been identified by police, but The Telegraph Online is not publishing her name to protect her identity.
 She has told police that she was not given the opportunity to speak and branded a witch before being forced to do the sit-ups. 
She said on Wednesday, she was taken out of the house forcefully and taken to an open field where villagers were present. She named her neighbours Shakil Akhtar, his wife Arzu Khatoon, Shakeela Khatoon, Sakeena Khatoon, Kanti Devi, Poonam Devi, Jasma Devi and few others for branding her a "dian(witch)".
"They fined me Rs 10,000 and when I refused to pay, I was forced to do 100 sit-ups in front of all," she said.
Recalling the horror, she said perpetrators were shouting that she deserves punishment if she failed to pay the fine.
Two youths, Naushad Alam and Taufiq Akhtar, recorded the entire incident and posted it on social media. The video went viral on Thursday evening.
Police have filed an FIR against 15 people involved in the case.
The FIR has been registered under sections three and four of the Prevention of Witch-hunting (Dayan Pratha) Act 2001, with a punishment of imprisonment of up to six months or a fine of Rs 2,000 or both.
Officer-in-charge of Katkamdag police station Arun Kumar said, "What happened was against the law and those involved will not be spared. We have lodged an FIR against the persons involved and efforts are on to nab them."