Wild tuskers kill domesticated elephant in Betla National Park
Kaal Bhairav's belly was punctured several times before his intestines fell out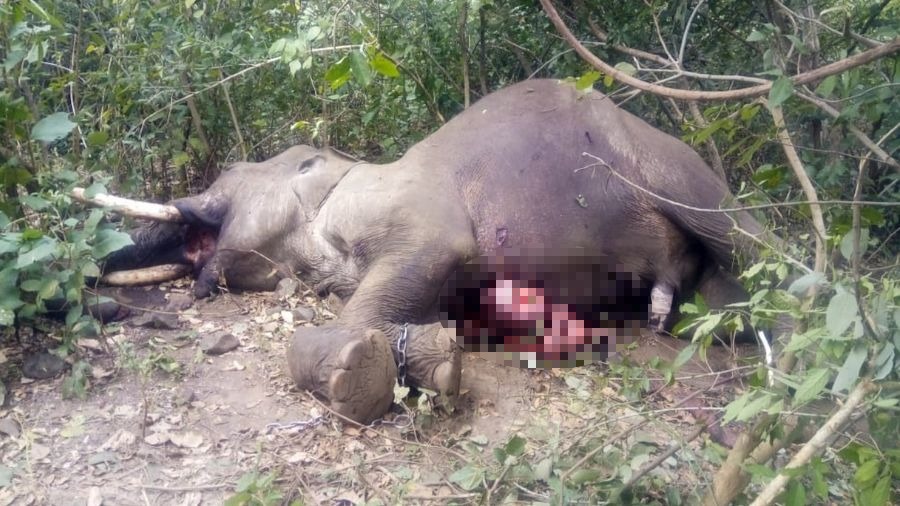 The dead body of the domesticated elephant in Betla National Park on Tuesday.
Telegraph Picture
---
Daltonganj
|
Published 19.01.21, 07:07 PM
|
---
A 25-year-old domesticated elephant of the Betla National Park named Kaal Bhairav was killed by two wild tuskers of the same park late Monday night, Deputy Director of the North division of Palamau Tiger Reserve Kumar Ashish said.
The fight, which broke out at 9:30 pm on Monday, was fierce and lasted for half an hour where the wild elephants used their tusks to puncture holes on Kaal Bhairav's stomach.
The severity of the attack resulted in the domesticated elephant's intestines falling out, and he succumbed to the injuries and profuse bleeding.
The domesticated elephant was in chains at the elephants' shed in the Palamu Quila. 
Asked if any human help could reach Kaal Bhairav, Ashish said there were eight people of the elephant contingent readying their food in the two watch towers close to the Palamu Quila. 
He said that these men as well as the elephant's mahout Lal Bihari Singh also cried for his help. 
The men also exploded crackers to chase the wild elephants away but that had no impact, and after killing Kaal Bhairav, they went on their way.
The tusks of the elephants are intact, Ashish said.
They have been removed from the corpse and preserved in the Nature Interpretation Centre, Betla. 
Sources said internecine war among the wild life is common but said such a fight between elephants had never taken place in the national park in forty years.
Betla national park has five captive elephants. Kaal Bhairav was one of them, brought in from Karnataka for patrol.
Government veterinary surgeon Chandon De conducted his post mortem on Tuesday and viscera has been preserved for forensic examination. 
The elephant was bui=ried where he died, as per the standard procedure.
Sources said had Kaal Bhairav not been in the chains then he too would have fought to save himself.
Ashish said the elephant was fit and healthy but the attack was sudden and fierce, which resulted in his death.
D.S Srivastava, an expert, said they fought to establish supremacy. 
"Had there been a trench along the elephant shed these marauders would not have reached Bhairav," he said.