Why is Ranchi's Hatia dam drying up during monsoon?
Minister visits site, forms committee to probe reasons behind low water level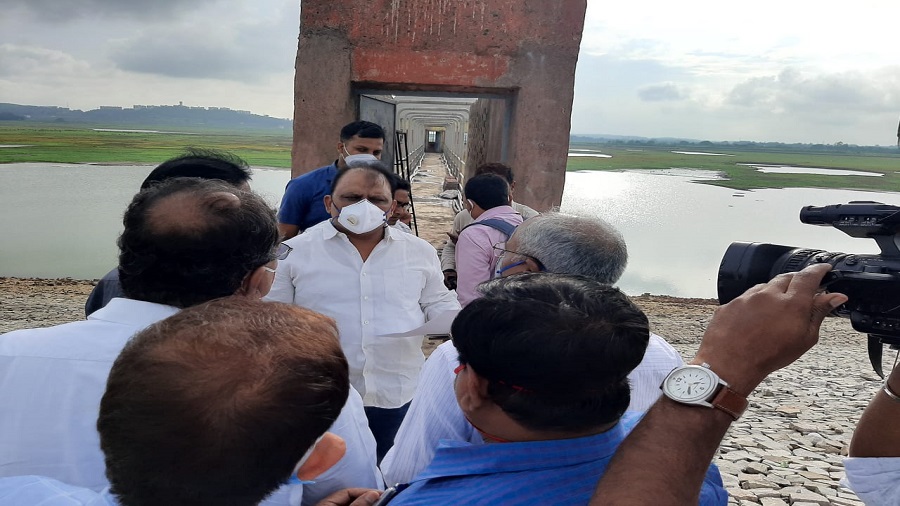 ---
|
Ranchi
|
Published 06.07.20, 09:19 PM
---
Ranchi's Hatia dam, a key water source for over two lakh residents of several city areas, is drying up in the middle of the monsoon, officials have warned, the bizarre development prompting the state water resources the minister to conduct an inspection of the site on Monday .
Spread over 49 sq km, the dam caters to the water needs of those living in areas like Hatia, Dhurwa and Hinoo, among others. But water is being supplied to these areas only two days a week, Mondays and Thursday, even though there has been ample rain from mid-June.
Hatia dam executive engineer Md Reyaz Alam said the dam currently had 4 feet of water against a storage capacity of 39 feet. "Ideally, it should be 20 feet during this period, but ironically the water level is receding by 2 inches almost every day. Going by this trend, we can only supply water for another 18 days maximum," he said.
Another official said the scenario at the dam, with catchment areas in Nagri and Ratu blocks, was getting worse every year. "Interestingly, we have discovered that vis-à-vis rainfall in other parts of Ranchi, the catchment areas are receiving less rain. This was the trend last year too," he said.
Among the reasons for this, sources said, was the construction of the Ranchi Ring Road in 2011 which led to several inlet points of the dam being diverted, resulting in its choking.
Alam, however, disagreed, saying that in 2017, the dam was totally full. "If the Ring Road was the villain, then in 2017, the dam shouldn't have got filled. But we are seeing a drastic fall of water levels since 2018," he said.
Water resources minister Mithilesh Thakur said that he had formed committee comprising officials from road, water resources and drinking water departments to find out the root cause of the problem and suggest alternative ways to source water.
"I have asked the committee to furnish a report in three days so that we can act on time to tide over the crisis," he said.