Veil off ration racket, 8 in net
As many as 438 SIM cards, 13 mobile phones, a laptop and a tablet have been seized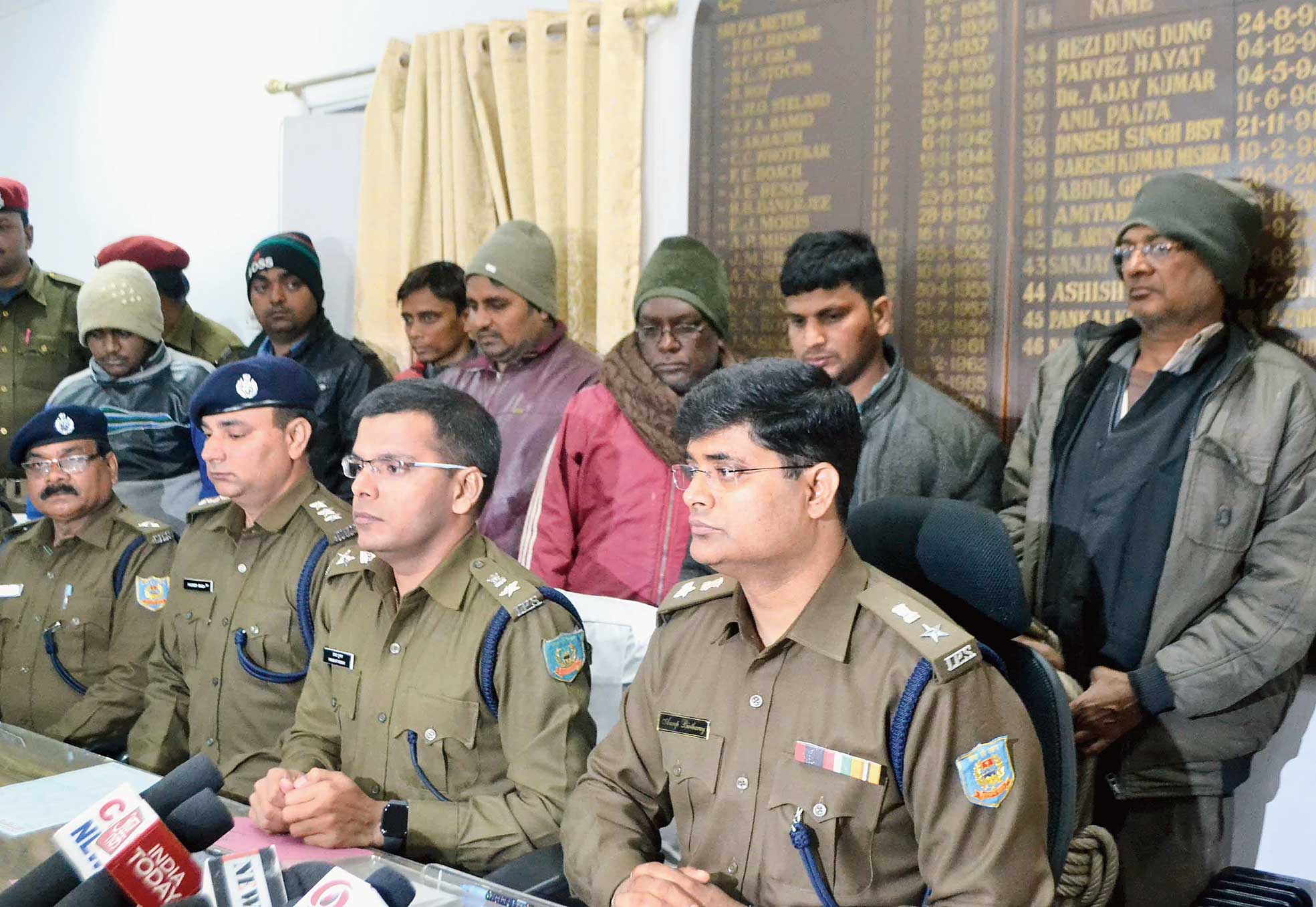 Seven of the accused after their arrest in Jamshedpur on Sunday.
Picture by Animesh Sengupta
---
Jamshedpur
|
Published 30.12.18, 06:32 PM
|
---
Eight persons, including seven PDS dealers, were arrested on Sunday for allegedly forging accounts of bona fide beneficiaries to siphon off food grains to the grey market.
The gang, police said, harvested Aadhaar details from unsuspecting villagers living on the fringes of the steel city, submitted the same to procure SIM cards from an aide and later used the phone numbers to confirm one-time passwords. The accused apparently maintained a list of beneficiaries who didn't collect ration on a regular basis and stole their quota of grains.
Those arrested have been identified as Sachin Kumar Das, Rohit Gupta, Mohammed Monahir, Mohammed Modassar, Mohammed Tanvir, Suresh Ravidas, Ashok Chakraborty and Rajendra Prasad. Das, a resident of Sidhgora, runs a SIM card shop and the rest have PDS stores in city areas like Sonari, Jugsalai, Bagbera, Sitaramdera and Ulidih (in Mango).
As many as 438 SIM cards, 13 mobile phones, a laptop and a tablet have been seized.
East Singhbhum SSP Anoop Birtharay, addressing reporters here on Sunday, said the racket was being run for a year if not more.
"Since the accused are involved in the public distribution system on a daily basis, it was easy for them to procure details such as Aadhaar card number from naïve beneficiaries. The unique IDs were used to buy SIM cards so that OTP generated during ration collection could be confirmed," the SSP said.
The senior officer, however, could not explain how the biometric system mandatory for distribution of ration was bypassed by the PDS dealers.
"All we know so far is that Sachin Das sold the SIM cards to the others. The SIMs belonged to various service providers. He charged Rs 120 for each. We will interrogate the accused for more details on how the racket was run," Birtharay added.