Vegetable prices soar as rain damages crops, disrupt supplies
'Potatoes Rs 40 a kg, while tomatoes were going for Rs 80 a kg'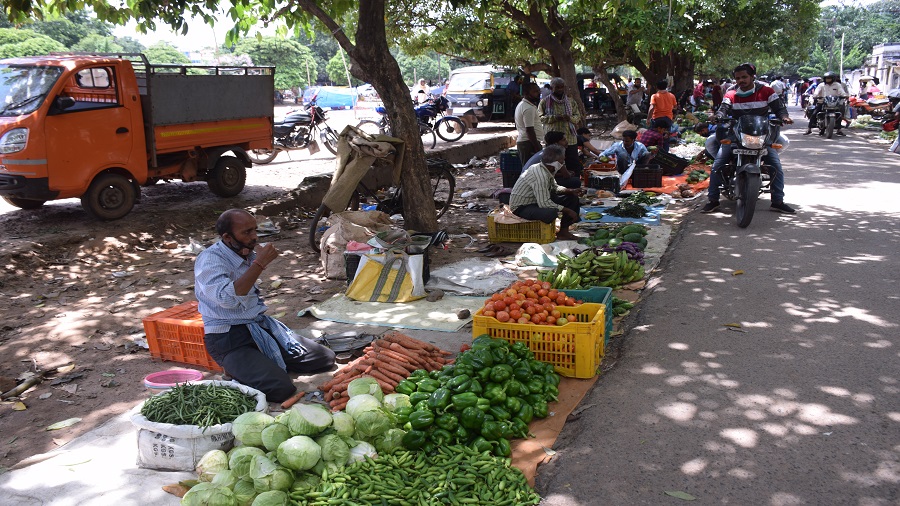 ---
---
Prices of vegetables, including potato, have increased sharply over the last couple of days, upsetting domestic budgets at a time when household earnings have seen a hit.
While potato prices have increased to Rs 35 per kg from Rs 30 a kg, coriander leaves, tomato, cabbage, beans and brinjal have gone up substantially, between Rs 20 and Rs 30 in the retail markets in Ranchi, Jamshedpur and elsewhere.
Retailers attribute the trend to supply restrictions as a result of damage to crops in the recent spell of heavy rain. In Ranchi, potato was selling between Rs 32 and Rs 35 in the capital against Rs 28.
"Supply has been affected due to the current spell of rain and flash floods in different parts of the state," said Tulsi Kumbhkar, a vegetable vendor at Lalpur Chowk in Ranchi.
He said prices of almost all vegetables, like tomato, beans, cabbage, gourd and chillies, have witnessed an increase of Rs15 per kg to Rs 25 per kg in the last two days.
Homemakers, who said they were already facing a crisis in managing household budgets due to the pandemic, explained that the current hike in vegetable prices had aggravated things.
"Tomatoes, which we used to purchase at anything between Rs 40 and Rs 50 per kg till two days ago, is being sold at Rs 80 per kg now," said Smita Das, a resident of Sakchi in Jamshedpur.
Potato prices have shot up as fewer trucks were coming to the Sakchi vegetable mandi from neighbouring Bengal and elsewhere. The staple, which was selling for Rs 30 per kg two days back, was being sold at Rs 35 per kg on Sunday.
Prices of other vegetables had gone up considerably. Cauliflower was selling at Rs 40 per piece — double of what it was available at last week _ while bitter gourd was being sold at Rs 40 per kg against Rs 20 per kg a few days ago.
Carrots were also sold at Rs 40 per kg against Rs 20 per kg a couple of days back.
There was no change in prices of onions which continued to sell between Rs 20 and Rs 25 per kg. However, prices of green chillies witnessed a rise. Against Rs 100 per kg, green chillies were selling at Rs 150 per kg.
The trend was similar in Hazaribagh, Dhanbad and Bokaro. Beans which were available at Rs 80 per kg touched Rs 100 in Hazaribagh and Dhanbad. In Bokaro, too, beans were selling at premium of Rs 110 per kg.