Tribal villagers plan human chain against Netarhat Field Firing Range
Over 400 tribals had marched for nearly 175km from Latehar to Ranchi spanning over four days to stage a dharna in front of the Raj Bhavan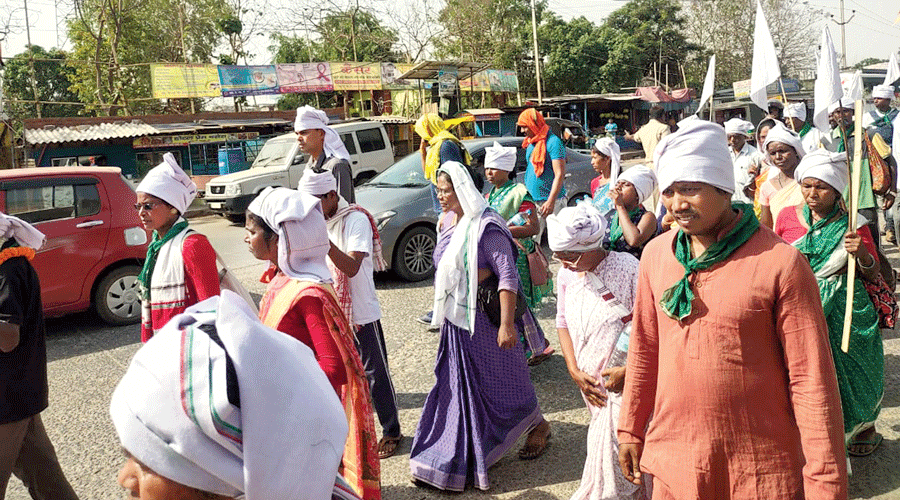 The march to the Raj Bhavan in Ranchi on April 25.
Manob Chowdhury
---
Jamshedpur
|
Published 10.05.22, 03:34 AM
|
---
Thousands of tribal villagers from over 60 revenue villages in Latehar and Gumla districts of Jharkhand will form a human chain for nearly 100km on May 11 demanding cancellation of Netarhat Field Firing Range pilot project notification.
"We had recently submitted a memorandum to Jharkhand governor (Ramesh Bais) who is the custodian of scheduled areas with our demand for cancellation of erstwhile Bihar government notification for cancellation of Netarhat Field firing range pilot project.
"Now we want to pursue that demand with a human chain formation on May 11 to show to the government about the resentment among villagers towards the project," said Kendriya Jan Sangarsh Samity, Latehar-Gumla central secretary Jerome Gerald Kujur.
Over 400 tribals had marched for nearly  175km from Latehar to Ranchi spanning over four days to stage a dharna in front of the Raj Bhavan in Ranchi on April 25 and submitted a memorandum to the governor demanding cancellation of the firing range pilot project.
An eight-member delegation of tribals had submitted a petition to governor Ramesh Bais showing a survey report on army atrocities on women while conducting practice between 1964-1994 and also threat of displacement of 245 villages and adverse impact on ecology.
"Villagers from villages affected in the firing range pilot project will be taking part in the human chain protest between 9am and 11am carrying placards and posters such as 'Save Netarhat', 'cancel Netarhat field firing range' and 'Jaan Denge Jamin Nahi' (We will give life, not land). The protest would start simultaneously along the Netarhat- Ghagra Road, Sisai Main Road (Gumla), Jairagi-Majhitola Road (in Gumla district) and Chatakpur- Mahuadand Road, Mahuadand-Aksi Road, Mahuadand-Netarhat Road," said Kujur.
"The firing range has also raided apprehension of displacement  of lakhs of villagers and adverse impact to the ecology as the area is barely 5km from the Palamau Tiger Reserve and the area has been earmarked as eco-sensitive zone, firing of artilleries would damage the flora and fauna of the region," said Kujur.
Significantly, tribals under the aegis of Kendriya Jan Sangarsh Samity, Latehar-Gumla, have been agitating against the Netarhat Field Firing Range pilot project since the 1990s, when the erstwhile Bihar government had earmarked about 1,471sqkm in Netarhat Hills in Gumla and Latehar for field firing practice by the army, prior to the creation of Jharkhand.
Two state notifications of November and March 25, 1992, under Section 9(1) of the Manoeuvres Field Firing and Artillery Practices Act, 1938, notified this area for periodical field firing and artillery practice for 10 years.
Separate notifications in 1992 and again in 1999, extended the field firing and artillery practice till May 2022, as per samity secretary.
Owing to enormous resistance in March 22, 1994, practice in the range by the Army and the displacement of over 2 lakh tribals across 245 villages was stopped, however, as the deadline for the renewal of the notification nears in May 2022, the adivasi community on the ground is revamping their struggle.
In March, farmer's leader Rakesh Tikait had also visited the Netarhat firing range site and extended support to the tribal villagers' agitation for the cancellation of the notification.