Adivasi Chhatra Sangh (ACS), an independent outfit of tribal students with no political affiliation, won the maiden election at Dr Shyama Prasad Mukherjee University on Wednesday, handing down a 3-1 defeat to RSS-backed Akhil Bharatiya Vidyarthi Parishad (ABVP).

The bitter pill after a thumping win at Ranchi University polls — the results of which were declared on Tuesday — frayed nerves in the right-wing students' camp, leading to clashes that were though "quickly controlled" by security forces.
While Chhatra Sangh member and BA Part III student Amandeep Munda is the new president of the unitary varsity's (upgraded from Ranchi College in 2017) debut union, party-mate and BA Part I girl Sujata Baxala is the vice-president. The outfit has also bagged the joint secretary's post with votes in favour of MA Part I student Ritesh Oraon.
Of the remaining two seats — those of secretary and deputy secretary — the first was won by ABVP candidate Bhagwat Kumar, a BSc Part III student. JMM-backed Jharkhand Chhatra Morcha (JCM), on the other hand, placed BSc Part II student Sujit Kumar Munda in the deputy secretary's chair with outside support from ACS.
Chhatra Sangh president Satish Kumar Bhagat called the results "historic" in the face of a moderate turnout of 32 per cent out of 8,054 students during polling on Tuesday. There were a total of 29 candidates in the fray.
"Our candidates performed very well in three seats. We supported the JCM nominee in a fourth seat because one of our candidates had to withdraw in the eleventh hour. For the post of secretary, too, there was a keen contest between ACS and ABVP. For the joint secretary post, Ritesh defeated ABVP's Shivam Kumar Pandey by a narrow margin of three votes," Bhagat said.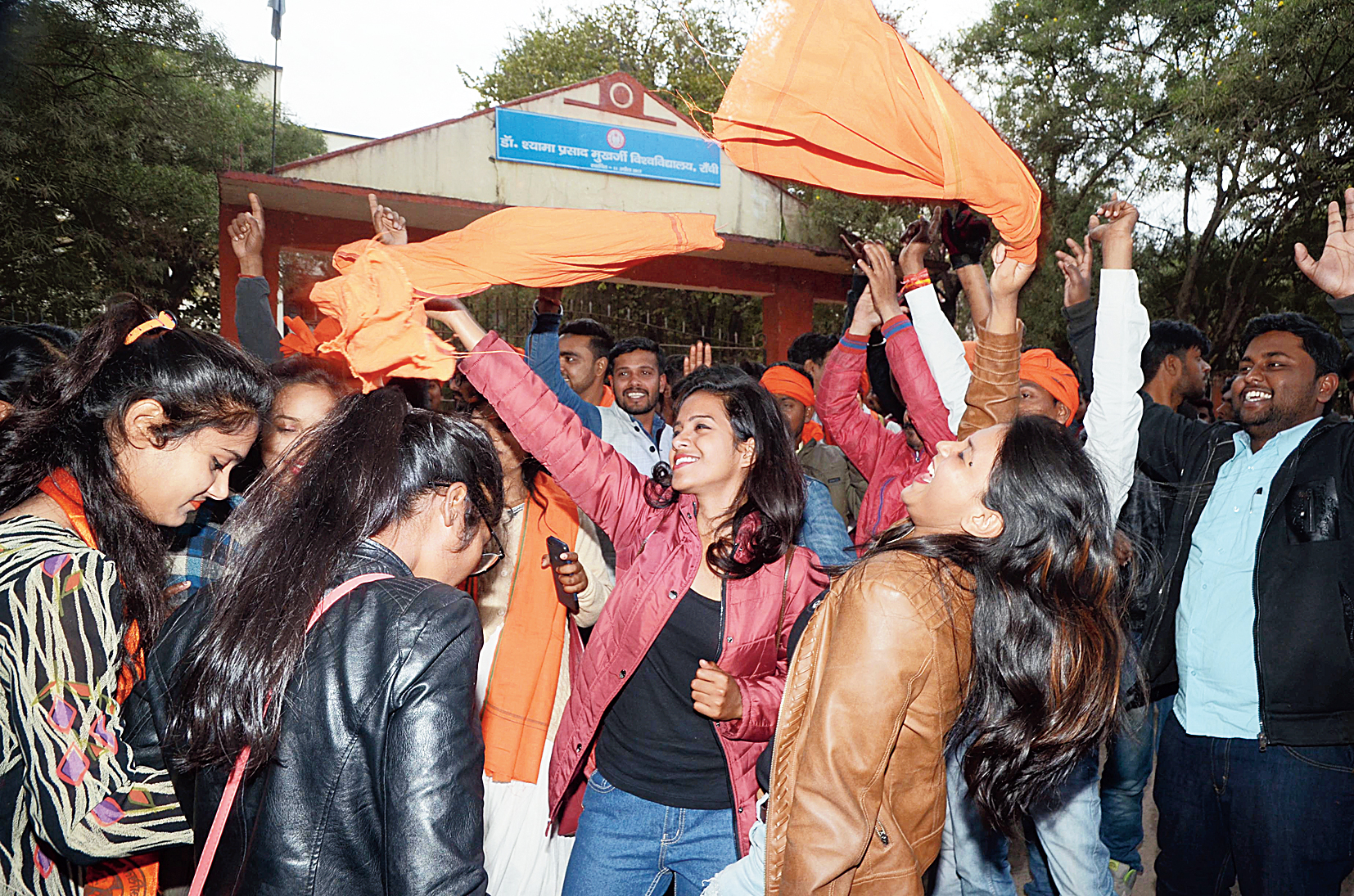 Student members of the right-wing outfit celebrate the victory in a lone seat. Picture by Prashant Mitra
Returning officer Mohammed Ayub confirmed the results. "The winners have been awarded certificates," he said.
Before the results were declared past 5 pm, a ruckus broke out near the Morabadi campus as Chhatra Sangh supporters strung up a banner on the varsity gate. In an act of revenge, an ABVP supporter climbed on top of the gate with a flag. Rival groups scuffled for five-odd minutes before being reined in by lathi-wielding security forces.
"No injuries were reported from the campus. The clash was brief and quickly controlled. Protesters were tactfully dispersed," said city SP Sujata Kumari Veenapani.
Winners of Chhatra Sangh promised to work in the best interest of students. "The battle of ballots is over now. We must unite for all-round development of our varsity," said Baxla, the new vice-president.
In the RU polls, the ABVP had won 41 out of 80 seats in 15 colleges and one PG department to emerge as the undisputed leader. Voting there had been held on Monday.