Tribal march brings a burning issue to Dhanbad
Call for forest rights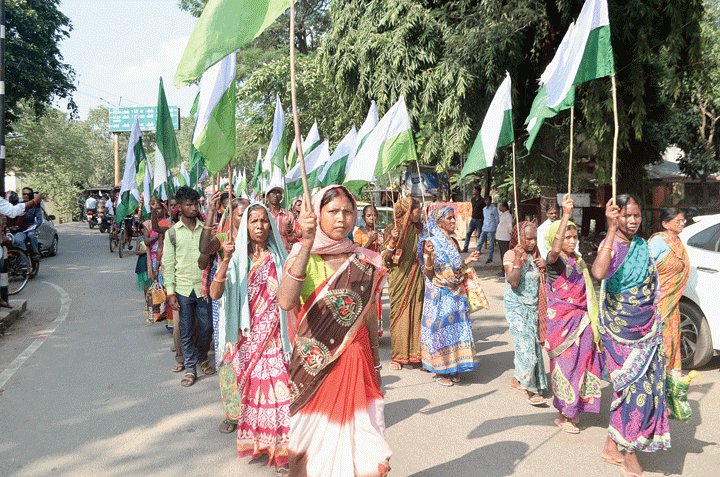 ---
|
Dhanbad
|
Published 11.11.19, 07:03 PM
---
More than 300 residents of Topchanchi and Govindpur block of Dhanbad reached the district headquarters on Monday after a three-day march to demand the speedy allotment of land to forest dwellers under the forest rights law.
The protesters took out the march on November 9 under the banner of Dhanbad district unit of Ekta Parishad that aims to help the poorest people of the country regain their control over resources such as land, forest and water that are important for their survival.
On Monday, they submitted a 17-point charter of demands to Dhanbad deputy commissioner Amit Kumar and sought justice for the tardy process of land allotment.
The demands include speedy execution of the Scheduled Tribes and Other Traditional Forest Dwellers (Recognition of Forest Rights) Act, 2006, withdrawal of false cases lodged against forest dwellers by the forest department, issue of certificates with respect to the claims of community forest property, planting of fruit trees in the barren land across 20 villages of Topchanchi and Govindpur blocks for improving the environment, provision of organic farming and irrigation facilities for the farmers and implementation of land reforms.
The protesters also demanded the constitution of district-level fast-track courts for speedy resolution of forest land issues, development of a check dam on Jhilwa canal on the border of Govindpur and Tundi blocks, a blacktop road between Manaidih village in Govindpur to Palma in Tundi and issue of possession certificates with respect of 304 individual claims and seven community claims on forest land.
Saryu Prasad Rai, district convener of Ekta Parishad, said: "We also demand notification of a government policy to prevent acquisition of multi-crop land for mining and other industrial purposes.
He said there was a sense of fear among forest dwellers with regard to the land bank policy that needed to be addressed.
"Those living in forest areas for several generations had expected that the Scheduled Tribes and Other Traditional Forest Dwellers (Recognition of Forest Rights) Act, 2006 will herald a new era of justice for the them. But their hopes were dashed by the sluggish pace of implementation of the act in Jharkhand. We want the process of allotment of land plots to individuals and community to be accelerated," Ram Dular, one of the protesters, said.
Vimal Lakra, district forest officer of Dhanbad, said an application claiming a plot of land needed to be submitted Gram Sabha first.
"After proper verification, the application reaches the sub-divisional committee, and following its approval, is taken over by the district-level committee. Allotment and possession certificates are only issued in cases where it is proved beyond doubt that land is necessary for the applicant as a means of survival. It takes some time to verify the genuineness of the applications," he added.
Lakra said cases were lodged against people who encroached forest land despite possessing plots in urban areas and villages.