Simdega not only nurtures hockey players, but also their dreams
It was visible when the national junior women's squad for the Hockey World Cup was announced two days ago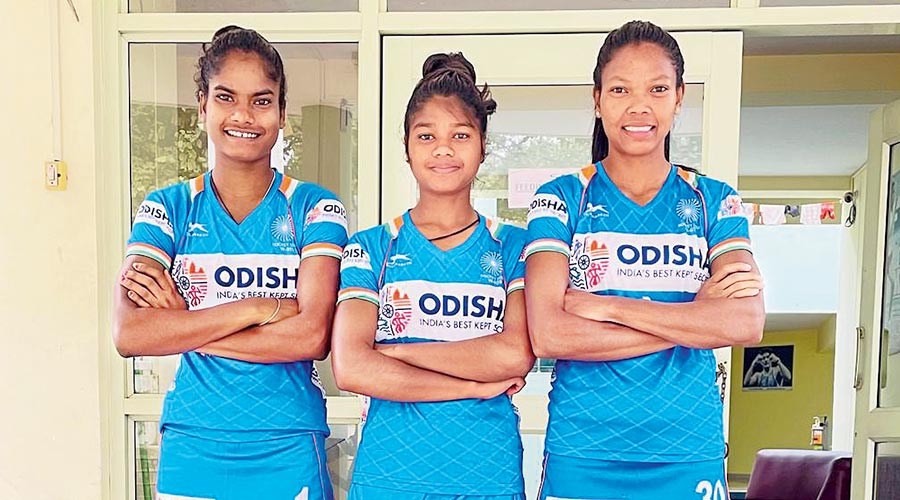 (From left) Sangita Kumari, Beauty Dungdung and Olympian Salima Tete.
Picture by Manob Chowdhary
---
Ranchi
|
Published 18.11.21, 01:08 AM
|
---
Simdega, the tribal infested Jharkhand district known as the nursery of hockey, not only nurtures budding players but also their dreams. 
"Each hockey player who achieves something also motivates others who, in turn, try their best to do so," Hockey Simdega (district hockey association) president Manoj Konbegi said, adding the standard of hockey in the district goes up in the process and the talented players also get rewarded.
It was visible when the national junior women's squad for the Hockey World Cup was announced two days ago, he further said in support of his claim, adding many talented players got berths in prestigious tournaments and even jobs that helped their poor families.
The 18-member junior women's squad that will leave for the World Cup in South Africa on November 28 has three girls — Salima Tete, Sangita Kumari and Beauty Dungdung — from Jharkhand and all of them are from Simdega.
While Salima who represented the country in the recent Tokyo Olympics hails from Barki Chhapar, both Sangita and Beauty who also took part in other international tournaments belong to Karanguri village.
"Salima Didi motivates me a lot and I also dream to represent the country in Olympics in future," Beauty agreed when contacted at the national camp in Bangalore, adding Salima also gives her "useful tips whenever required".
Salima and Sangita (both 20) also work for the railways while Beauty is yet to get a job. When they visited their village during Diwali, Sangita gifted hockey balls to the children of her village.
"Beauty also deserves a job and I'm sure she will get one soon," Konbegi said, adding he was expecting her to perform well in the world cup matches and then get a job soon after.
Beauty, like two others, was a member of the national junior team and toured Belarus, Australia and Ireland in 2019 and also Chile earlier this year.
"That was perhaps because Beauty was then a minor and completed 18 years only in July this year," Konbegi replied when asked why she didn't get a job so far.
"Getting a job would certainly help my family," Beauty said, adding her father, Amrus Dungdung, was a small farmer and was "somehow managing".
Though her grandfather gets a pension as a retired army man, he lives separately but supports one of her three brothers while two others were away at their places of work.
"When I left for a national camp for the first time, my father had to borrow money from others for sending me though I got the fare reimbursed later," Beauty who was staying at a government hostel in Ranchi for studying intermediate informed, adding a job would help her a lot.
"After Salima was chosen for the Olympic squad, the district administration introduced certain government schemes in her village so that it developed," Konbegi informed, adding he was hopeful that the village of Sangita and Beauty would also be taken up in future.
"We wish the children play hockey more seriously, get jobs to help their families and also help develop their villages develop the same way," he added.