A school 'infected' by Corona, by choice
Crown Universal School renamed itself Corona in 2016, with Covid-19 still a few years away from turning the scourge of mankind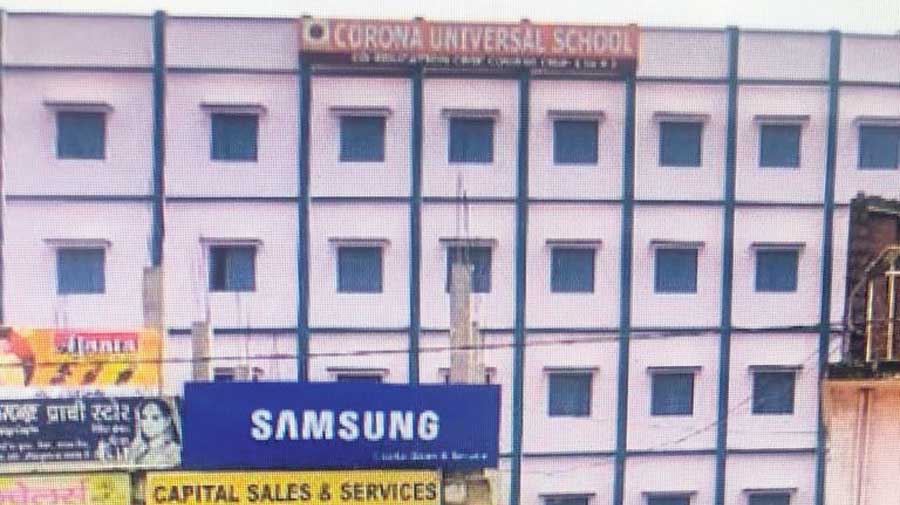 ---
|
Ranchi
|
Published 27.07.20, 03:47 AM
---
Many passers-by stop to take a second look at the four-storey school building. Some click selfies with the signboard in the background. Some look curious, others smirk and move on.
It all makes Corona Universal School in Ranchi feel as though it has itself been "infected" with the virus.
The school at the Pandra locality, which teaches around 1,000 students from nursery section to Class X, is not named after the deadly coronavirus ravaging the planet.
It had indeed started life about a decade ago as Crown Universal School but renamed itself Corona in 2016, with Covid-19 still a few years away from turning the scourge of mankind.
Asked whether the name was chosen because "corona" refers to the gaseous halo seen around the sun during total solar eclipses, principal Chandan Singh said it wasn't.
"It was so named because 'corona' is a synonym for 'crown' (in Latin)," he said.
Indeed, coronaviruses — a group to which the virus causing the Covid-19 pandemic belongs — are so called because of protrusions, or spikes, on their surface that give them the appearance of a crown.
Singh explained that till 2016, the school was managed by the Crown Universal Education Trust, which also ran three other schools in Ranchi, all named "Crown".
Since multiple schools sharing the same name can find it complicated to secure board affiliation, it was decided that two of the four schools would rename themselves as Corona. These two are now run by the Corona Universal Education Trust. (No representative from the other Corona school in Ranchi, located in Argora, was available for comments.)
"Other people may now find our school interesting because of its name, but we feel as though we have been infected with the disease," Singh said in a gloomy tone.
Singh explained that the school's sufferings at the hand of the virus did not end with the shared name; the pandemic had also got in the way of the school securing board affiliation — the reason it had changed its name in the first place.
Singh said the day a team from the Central Board of Secondary Education was to inspect the school, the country observed a Janata Curfew (March 22). The school never reopened after that, with the lockdown starting days later (March 25).
"Nor has the school earned any revenue since then, with the students not paying tuition fees," he said.
Singh explained that the students were mostly from the lower middle classes and their families could not afford to pay school fees in a lockdown-hit economy.
Most of the students lack laptops or Internet connections at home, so the school has formed a WhatsApp group of guardians and is "sending lessons in PDF files", he said.
After all, the school is not just named Corona, it's also named Universal, Singh underlined.
"Universal means 'for all'," he said, appearing to perk up a little at last.