The black phantom of Birsa zoo
Stealthy panther enthrals visitors on Day One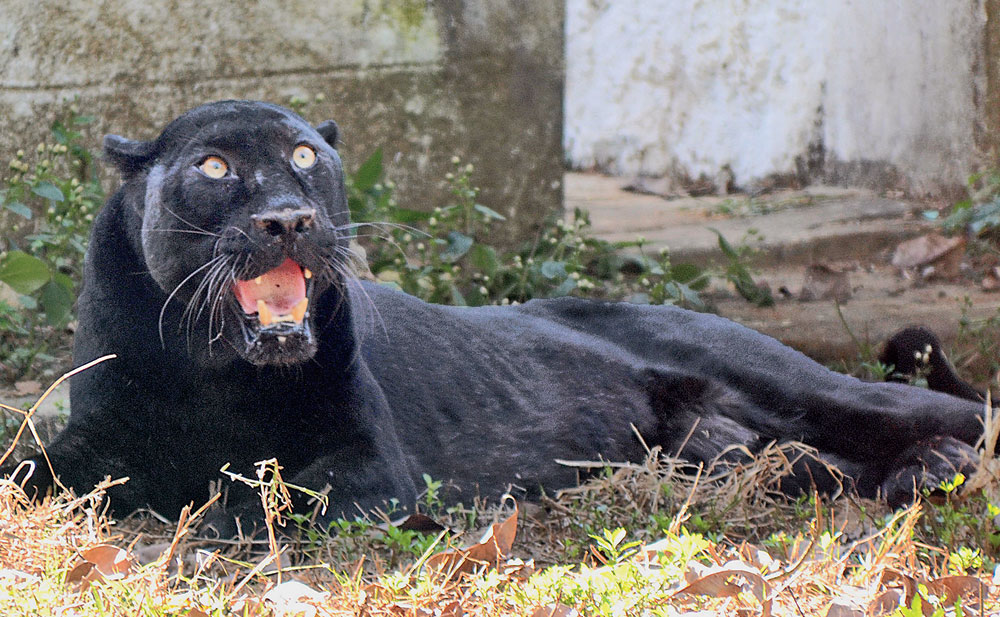 Star Tantrums: The black panther growls inside its enclosure at Birsa zoo in Ormanjhi near capital Ranchi on Tuesday.
Picture by Manob Chowdhary
---
Ranchi
|
Published 25.12.18, 07:13 PM
|
---
He switched between elusive and aggressive. He hid behind walls and chased dry leaves pirouetting in the breeze. And, when he got bored with all the attention, he just lazed in the sun and roared in discontent.
No matter what he did, visitors were pleased as punch with the Christmas debut of Birsa zoo's latest attraction: a black panther, brought all the way from Assam last month.
Technically a leopard, the panther gets its exotic black coat because of a recessive allele (a variant form of the given gene). Nocturnal and intelligent, the animal boasts a stealth mode in the wild that has earned it the sobriquet, "ghost of the forest". No wonder when this phantom creature was let out of its 28-day quarantine, it earned some rave reviews.
Amal Kumar Shah, a visitor from Bengal, was visibly elated. "I have been to Alipore zoo in Calcutta before, but never seen a black panther. This is my first encounter. Clearly, Ranchi zoo has a better collection," he beamed.
Seema Toppo, a student of St Xavier's College in Ranchi, was yet another thrilled visitor. "Till now, I had seen a panther only on the National Geographic channel. Seeing one live is an extraordinary experience, both thrilling and terrifying at the same time. This is one of my best Christmas gifts," she said.
Rohit Kumar, a student from Ramgarh, agreed to the adrenaline rush. "This is my first time to Birsa zoo and I saw a black panther, which can rarely be seen in the wild, people say. I was simply wowed," the student said.
Not everyone got lucky though.
Aishwarya Devangan, a SAIL engineer from the city, missed the coveted glimpse. "By the time I reached his (the panther's) enclosure around 4pm, he had gone into hiding. Zookeepers said he (the panther) had had enough of star treatment for the day and had slipped into solitude. I hope to get lucky next time," Devangan said.
Vet Ajay Kumar said Birsa zoo in Ormanjhi, 20km from the state capital, currently boasted the only black panther in captivity in eastern India.
"He is indeed a rare sight. Black panthers are by nature solitary animals. He didn't take to the sudden attention kindly and was mostly roaring in displeasure. He will need time to warm up to visitors," Kumar said.
The vet, however, added that the new guest was acclimatising well. "He came from cold and hilly climes. The weather and terrain of Ranchi is not very different from that of (Assam State Zoo in) Guwahati. Also, he is feeding well — around 2.5kg meat a day prepped with vitamins — which is a good sign."
Sources at the zoo said there were plans to bring the black panther a beau to promote captive breeding in the future. Fingers crossed for a growing family!