Team Dheeraj Taneja sweeps FJCCI annual election
These office-bearers will run the affairs of the chamber of commerce for one year till another body takes over after elections next year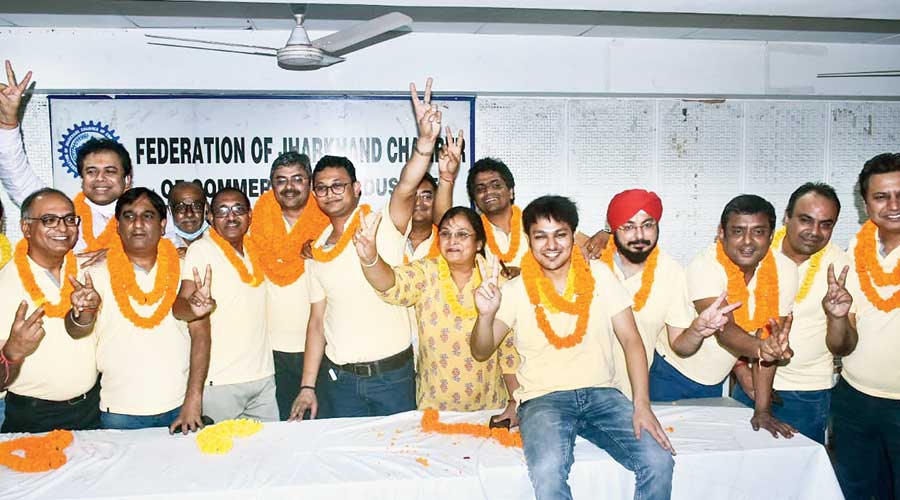 ---
Ranchi
|
Published 30.09.21, 01:19 AM
|
---
The team led by Dheeraj Taneja has swept the annual election of the Federation of Jharkhand Chamber of Commerce and Industries (FJCCI), the apex trade body of the state, and will run the show for next one year.
After the results were declared on Tuesday night, Team Taneja won 18 of the total 21 posts of executive committee members. Those elected will now select from among themselves the office-bearers of the FJCCI.
While Taneja will be formally declared as the next FJCCI president, names of the new general secretary, two vice-presidents, two joint secretaries and a treasurer will be announced when the executive committee meets for the first time a few days later.
Six regional vice-presidents — one each from North and South Chotanagpur, Palamau, Kolhan, Coal Belt and Santhal Pargana — were already declared elected unopposed as they were the only candidates from their respective regions.
These office-bearers will run the affairs of FJCCI for one year till another body takes over after elections next year.
"Now that things are limping back to normal, we expect to carry forward the work taken up and advanced by our predecessors," Taneja replied when asked about his priorities.
He said everything had come to a standstill during the lockdown and then slowly started to return to near normal during the various phases of unlocking.
Taneja said the chamber was active for ensuring ease of doing business by working in close coordination with the government, besides demanding implementation of the single-window system and helping industrial promotion in the state.
The trade body poll had no excitement this time because unlike previous years when two 21-member teams led by two prominent businessmen would take on each other, only one 21-member team led by Taneja was in the fray while 14 others fought individually.
But the election saw something unusual when instead of a traditional single-day poll, the polling exercise continued for three consecutive days from Sunday and counting began after the polling was over on Tuesday evening.
"The polling was held on three days in a staggered manner as we had to maintain Covid protocol," said election committee chairman Lalit Kedia.
He said that 3,480 member-voters were asked to cast their votes during their allotted time slots spread over three days.
At the end of polling, it was found that 1,708 traders comprising 49.08 per cent of the total voters had exercised their voting rights.
More voters would have perhaps turned up if the polling was done on Sunday alone as many found it difficult to come for voting on working days, some said, citing that 789 had voted on Sunday while 511 and 408 voted on the next two days.