Tata Steel climbing contest to push sport
Over 120 young climbers from across the country will compete in the Tata Steel Sport Climbing Championship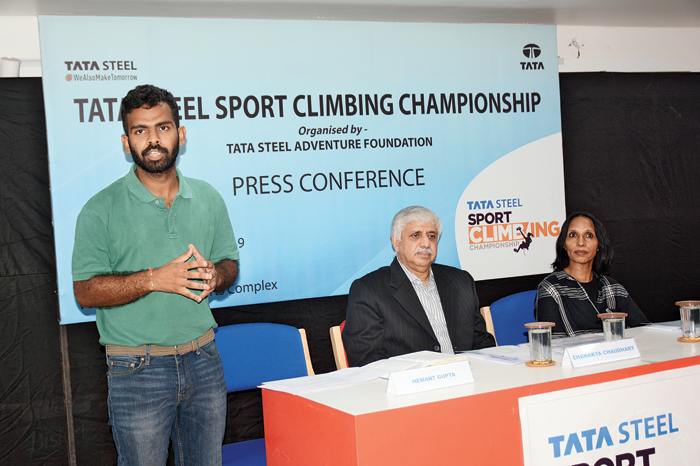 Hemant Gupta addresses the news meet at JRD Tata Sports Complex in Bistupur, Jamshedpur, on Tuesday
(Bhola Prasad)
---
Jamshedpur
|
Published 17.12.19, 06:46 PM
|
---
Tata Steel is keen on taking sport climbing to newer heights.
Over 120 young climbers from across the country will assemble in Jamshedpur to compete in the Tata Steel Sport Climbing Championship to be held at JRD Tata Sports Complex from December 21 to 23. It's an open national event being staged in the steel city for the first time.
Chiara Hanke, a professional rock climber from Germany, would visit the city to share her climbing journey stories and inspire the young participants in the 6-9, 10-13 and 14-16 (boys and girls) age groups.
With sports climbing included as a discipline in the 2020 Olympics in Tokyo, Japan, the steel major is serious in promoting kids in the game with the hope that someone may represent the country in the world's top event in future.
Tata Steel vice-president (corporate services) Chanakya Chaudhary said at a news meet on Tuesday that the championship will provide the much-needed exposure to children and someone could well be a part of Olympics in future.
Tata Steel Adventure Foundation (TSAF) senior manager Hemant Gupta said the championship will be conducted in the combined categories of speed, lead and bouldering.
"It will be conducted in Olympics format," he said.
Everester Gupta said it involves engaging children from the six-12 age group, connect everyone in the community and facilitate wide adoption of sport in different cities and identify kids with the potential, who can represent the country in the 2024 Olympics.