'Swing' pump to fetch water and produce electricity
Invention by BIT alumni has the capacity to send water up to a height of 60ft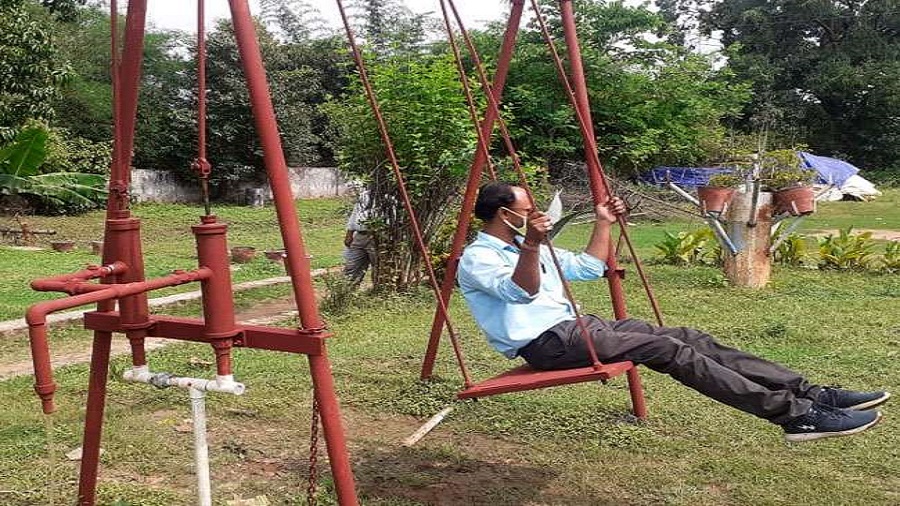 ---
---
An alumnus of BIT-Sindri in Dhanbad, SN Singh and two others invented a unique swing which is used to fill the water tank on the roof as well as to produce electricity by converting mechanical energy into electrical energy.
IIT Kharagpur praised Singh, along with principal of ITI Kalpatru in Patratu, Ramgarh Sanjeet Kumar, and technician Bhagwan Sharma for this invention.
The spring pump, which took the trio one year to make, has been installed at a school in Ranchi where students enjoy swinging, which fills up the school tank without the need for electricity.
Kumar said it cost only Rs.10,000 and can also be used to generate electricity and help farmers irrigate their fields.
Singh said he used the swing mechanism to convert mechanical energy into electrical energy.
The hand pump is a single-piston. We have used a double piston to double the strength to make the spring pump work," added Kumar.
Singh has a degree in mechanical engineering from BIT-Sindri in Dhanbad, whereas Kumar completed his education in the same field from BIT-Mesra in Ranchi.
The trio are testing the invention to make it better.
Talking to The Telegraph Online, Kumar said the spring pump was Singh's brainchild.
"I kept thinking about the hand pump's mechanism to fetch water from within the earth, and soon came up with the idea," said Singh,
"My jhula entertains children as well as people of other age groups who like swinging. But their enjoyment results in productive work like filling of water tanks, lighting of bulbs and running fans," he said, adding that the swing has the capacity to send water up to a height 60 ft without electricity or motor.
It can also be carried easily from house to field and will be convenient for farmers.
Singh said when he was a student, he noticed problems farmers faced due to lack of electricity and irrigation facility.
Singh said to save water, he wanted his spring pump to be installed at schools, colleges and other institutions.
He said he had tested it a number of times and found that it can generate 1 kilowatt of electricity, which can be used to light up a number of bulbs and to run fans.
Kumar said a school named Kislay Vidayalaya in Ranchi has installed the spring pump.
"In the coming days, our plan is to fit gear into the swing to make it more smooth," he added.