Sweet eats & soulful songs
Poush Mela of majlish next weekend; maiden fair in coal Town a huge hit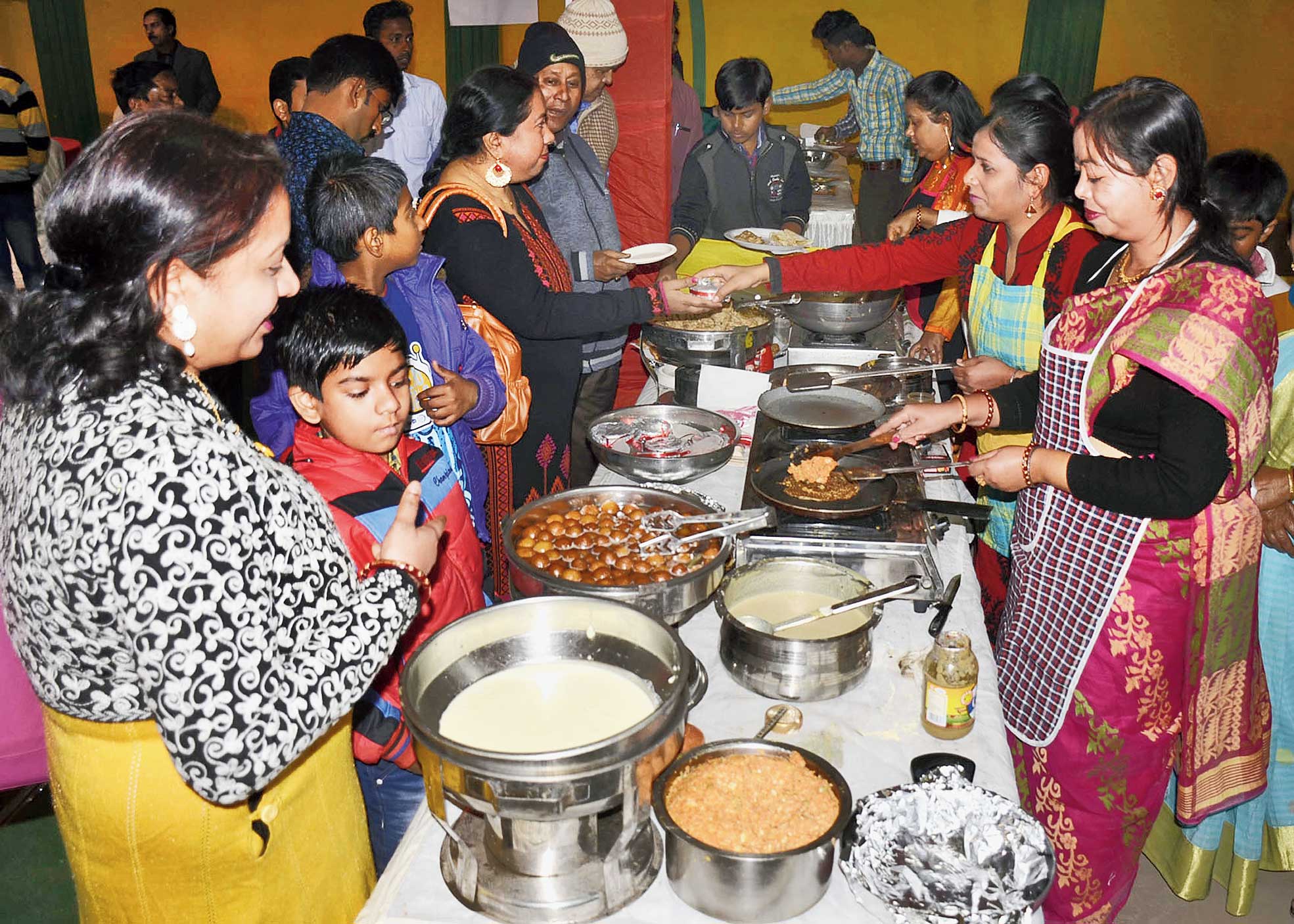 Women serve pithes to visitors at Lindsay Club in Dhanbad on Sunday.
Picture by Gautam Dey
---
Ranchi/Dhanbad
|
Published 06.01.19, 08:04 PM
|
---
Capital residents who couldn't attend the famous Poush Mela at Santinekatan in Bengal can look forward to having a feel of it here itself.
Majlish, a socio-cultural organisation of Bengali speaking employees of Mecon and Ranchi-based SAIL units, will organise a three-day Poush Mela at Mecon Community Hall from January 11 to 13.
Coal town, on the other hand, had its first brush with Poush Mela. The two-day festival, organised by Lindsay Club at its auditorium in Dhanbad on January 5-6, got an overwhelming response.
In Ranchi, the mela may not match the scale of the over 100-year-old fair in Bengal, but captures its essence well.
"We'll bring in a Baul group and a troupe of Santhali dancers from Birbhum in Bengal," said Golap Mohammad Choudhury, cultural secretary of Majlish.
Guest artistes from Calcutta will sing Bengali folk songs.
While Anil Das and his group will present Baul songs, a 14-member troupe led by Dolan Mahali will perform Santhali dance. Raj Kumar Roy and Amit Pahari will regale the audience with folk songs. Members and their kin can take part in song, dance and fancy dress competitions.
Choudhury said around 20 stalls would be put up at the mela site. They will sell boutique items and apparel from Santiniketan, knick-knacks and food items.
"We will also organise an art exhibition at the fair to display works of art by local artists," the cultural secretary of Majlish said.
In Dhanbad, over 9,000 people visited the fair and enjoyed mouth-watering dishes served by 13 food stalls. "The footfall has surpassed our expectation," fest coordinator Shuvashish Paul said.
Such was the rush, that a majority of stalls ran out of food on the first day.
"Most stalls were put up by club members. Therefore, the quality of food was very good. The dishes were also affordable," Paul said.
He said bauls from Bankura and Naihati in Bengal were the major attractions.
Suman Banerjee, who owns an electronics shop at Vinod Market in Hirapur, said, "The fest gave Dhanbad residents the opportunity to enjoy some traditional Bengali dishes."
Chandan Daibagna, a food stall owner, the demand for fish cutlet and fish Fry was so high that they went out of stock within the first three hours itself.
"I sold items worth Rs 16,000 during the inaugural day," he added.