Survey shows alarming impact of air pollution on respiratory systems
Among the different occupation groups, street cleaners and sweepers were the most vulnerable followed by construction workers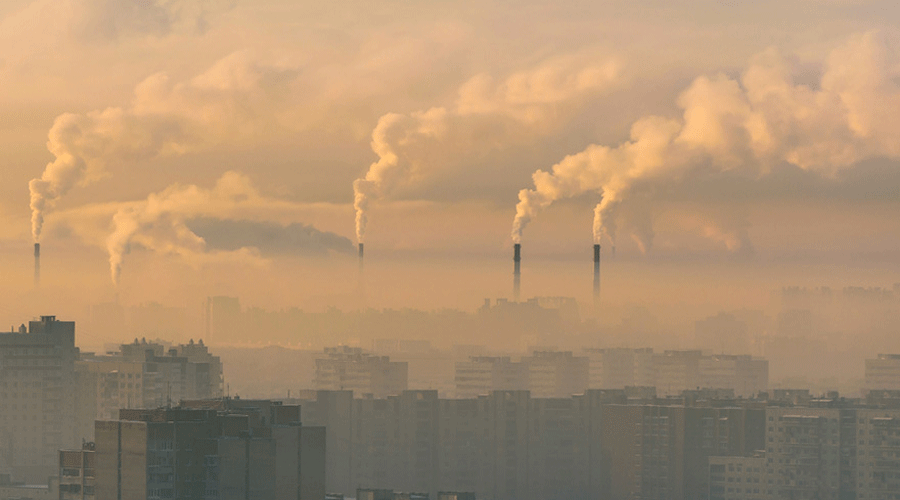 Overall, the proportion of the sample suffering from various air pollution related ailments was higher in Giridih than in Ranchi.
File photo
---
Jamshedpur
|
Published 03.05.22, 01:01 AM
|
---
A survey on outdoor workers between December 2021 and March 2022 in two cities of Jharkhand including capital Ranchi shows alarming impact of ambient air pollution on respiratory systems.
SwitchON Foundation, which works for environment conservation and creating awareness on air pollution impact on health, released the survey carried out on 1,200 respondents from Ranchi and Giridih district, during a discussion on 'air pollution to asthma' held at Ranchi on the eve of World Asthma Day, organised by Asian Medical Student Association (AMSA) and South Asian Medical Student Association (SAMSA) and attended by leading chest physicians of Ranchi.,
The survey found a significant number — approximately 46 per cent of children showed respiratory symptoms of cough and 43 per cent of sore throat. While a large percentage of the approximately 57 per cent elderly population showed both chronic and acute symptoms of respiratory diseases — complaining about chest discomfort and 48 per cent of nasal congestion.
Overall, the proportion of the sample suffering from various air pollution related ailments was higher in Giridih than in Ranchi. Nearly 61 per cent of the respondents from Giridih had identified suffering from sneezing compared to 36 per cent from Ranchi. Among the elderly community, 70 per cent from Giridih and 20 per cent from Ranchi suffered from breathlessness. 78 per cent of the above 61 years of age respondents of Giridih suffered from chest discomfort while only 32 per cent had identified the same from Ranchi.
Among the different occupation groups, street cleaners and sweepers were the most vulnerable followed by construction workers as found in the survey. Nearly 37 per cent among street cleaners and 22 per cent among construction workers complained of breathlessness while walking and 53 percent among street cleaners and 48 per cent among construction workers complained of nasal congestion.
Street vendors and drivers also complained of similar health issues. 
Speaking at the event, Dr. Dewesh Kumar, assistant professor, department of preventive and social Medicine, RIMS, Ranchi, said: "The survey data from the different clusters of population exposed to outdoor air pollution from regions around Ranchi and Giridih establishes an alarming symptomatic trend. Many of these symptoms are highly allergic in nature, such as nasal symptoms, cough and chest discomfort. Such symptoms are predictors of asthma, as air pollution increases allergic sensitisation."
Dr Nishith Kumar, consultant, respiratory medicine and interventional pulmonology, at Chest Care Centre and Orchid Medical Centre, Ranchi, said; "There is a definite correlation between polluted environmental exposure and health status. Looking at the current dismal scenario, opting for frequent lung function testing is advisable, especially for the more vulnerable population among construction/factory workers, drivers, miners and the elderly. It can help detect and treat obstructive; restrictive lung diseases promptly."
Vinay Jaju, managing director of SwitchONE Foundation, said: "Children, elderly population are most vulnerable to air pollution. The writing is on the wall and we have to implement the city clean air action plan with strict action to ensure a proper and healthy atmosphere in the regions.
"There is an urgent need for multiple agencies to work together in promoting pollution control norms and ensuring cleaner air quality for our current and future generation," said Jaju.
World Asthma Day is organised by the Global Initiative for Asthma, (GINA) a World Health Organisation collaborative organisation founded in 1993 to raise awareness of Asthma worldwide. GINA has chosen 'Closing Gaps in Asthma Care' as the theme for the 2022 World Asthma Day.
"These workers and professionals themselves may have little or no control over the sources of outdoor air pollution, particularly given that most of air pollution in Jharkhand is the result of industries, also additional impact from release of hazardous chemical agents, bioaerosols, gasses, and vapours at their workplace," said SwitchON Foundation spokesperson.