Sunday service for Mother Nature in Ranchi
Peepal in hand, chief minister Raghubar Das asks people to save trees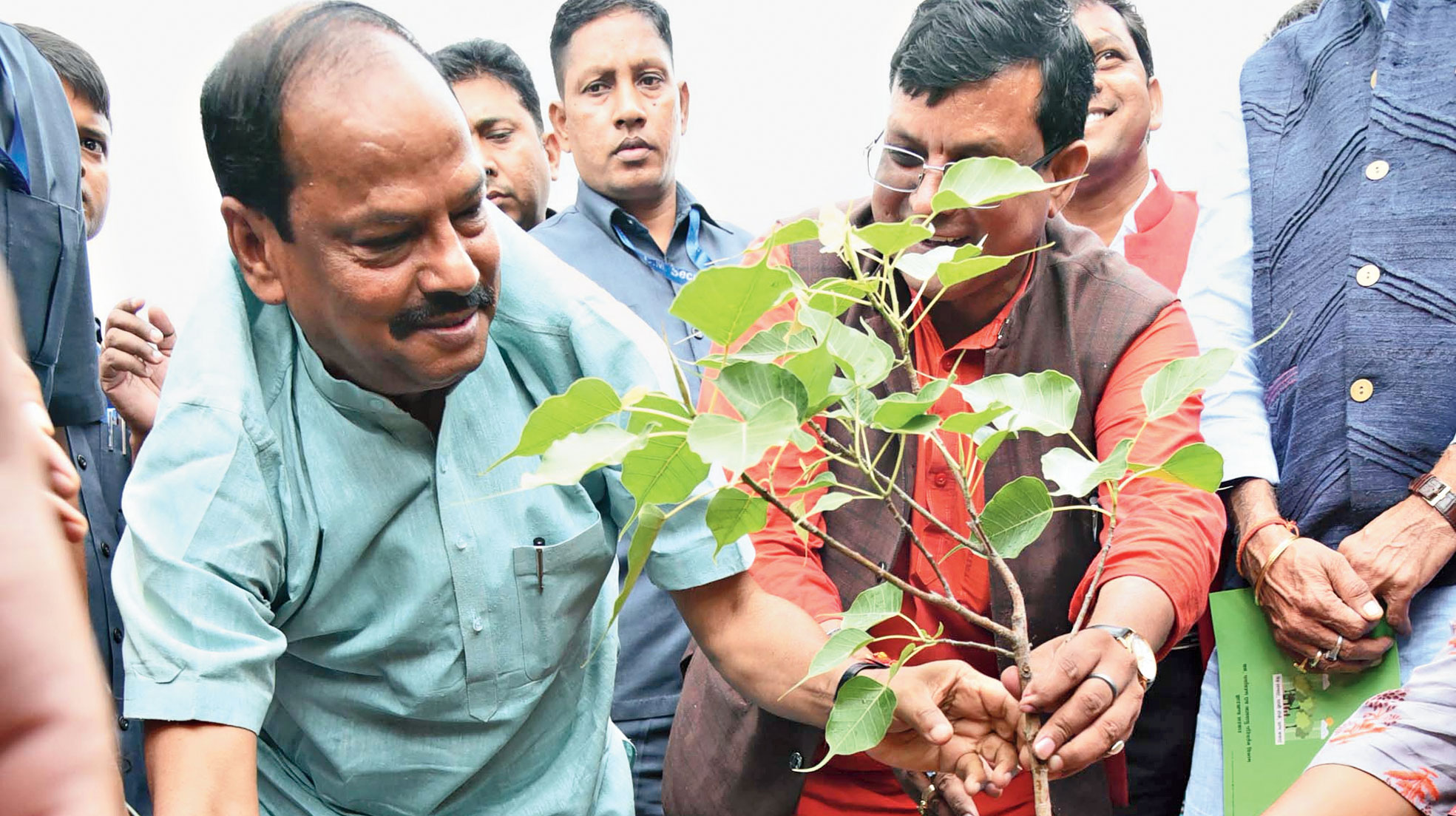 Chief minister Raghubar Das, students and NCC cadets plant saplings at Vammahotsav-cum-Nadi Mahotsav event on the banks of the river Jumar in Boreya, Ranchi, on Sunday.
Picture by Manob Chowdhary
---
Ranchi
|
Published 07.07.19, 06:36 PM
|
---
Chief minister Raghubar Das on Sunday launched a month-long greening drive across the state by planting a peepal sapling on the banks of the Jumar river at Boreya in Kanke block.
On the Vanmahotsav-cum-Nadi Mahotsav, the CM said 8.25 saplings would be planted on 64 locations on the banks of 44 rivers and rivulets spanning a stretch of 244km across all the 24 districts of the state in a month.
The state forest, environment and climate change department annually organises the festival, which this year is also a part of the ongoing water conservation drive, Jal Shakti Abhiyan, announced by the Centre. CM Das, who was all smiles while planting the sapling, said: "The time has come for people to protect trees and regularly plant saplings to protect the environment and make Jharkhand forested. Our traditional festivals such as Karma and Sarhul teach us to respect and protect the environment."
He added this was a state where people worshipped the Karam tree. "The government has decided to plant one lakh Karam trees on occasion of Karma and Sarhul festivals," the CM told the gathering that comprised his party colleagues such as Ranchi MP Sanjay Seth, Khijri and Kanke MLAs Ram Kumar Pahan and Jitu Charan Ram, as well as senior bureaucrats Indu Shekhar Chaturvedi, K.K. Soan, Sunil Kumar Barnwal, Ranchi DC and SSP Rai Mahimapat Ray and Anish Gupta, and Ranchi deputy mayor Sanjeev Vijayvargiya. "Last year, 60,000 Karam saplings were planted by the government," he said.
From Boreya, the CM left for Jamuari village in Kanke block where he as well as the notables, with the addition of chief secretary D.K. Tiwary, state DGP K.N. Choubey and senior bureaucrats Sukhdev Singh and Avinash Kumar, offered their voluntary services to dig trenches as part of the Centre's ongoing water conservation drive. There, the CM said the government would give Rs 5 lakh to each village development committee to start watershed projects.
Chief secretary D.K. Tiwari pointed out that in Jharkhand only 6 per cent of the rainfall was saved.
Ranchi Municipal Corporation (RMC) also launched greening and water conservation drives across all its 53 wards. Ward councillors planted saplings around ponds and visited apartments to ask residents to set up water harvesting structures.
Deputy mayor Vijayvargiya and RMC commissioner Manoj Kumar laid foundation stone of water harvesting structure at an under-construction building of RMC close to Ranchi district collectorate office. Construction of a water harvesting structure started at Lakshmi Narayan Apartment near Kishoreganj.
CRPF to 'arrest' rain
Daltonganj: CRPF personnel will pitch in to conserve rainwater this monsoon along with their offensives against Naxalism, Jharkhand's CRPF inspector-general Sanjay Anand Lathkar has said.
Commandant of CRPF 134 battalion here in Daltonganj A.D. Sharma said on Sunday that Lathkar had directed rainwater conservation efforts to start from the rooftops of all CRPF buildings.
Apart from Daltonganj headquarters, six companies of the 134 battalion of the CRPF are deployed in Palamau, one each at Dagra, Chak, Manatu, Kooh Kooh Kalan, Harihurganj and Taal.
Sharma said it would be easy to conserve rooftop water by arresting and channelising the run-off to a water body or to recharge groundwater.