Students demand cancellation of JPSC prelims citing anomalies
Several aspirants gather at Morhabadi Ground, raising slogans against alleged favouritism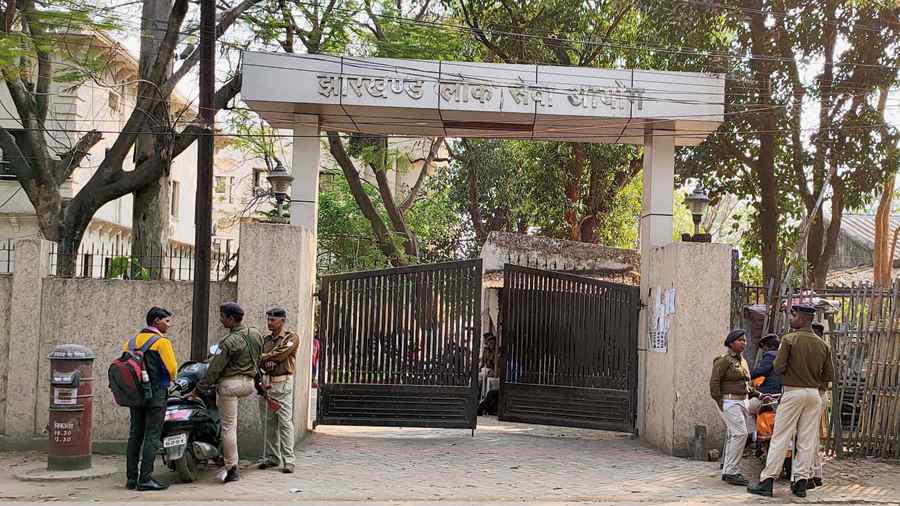 JPSC main building, Ranchi
File Picture
---
Ranchi
|
Published 16.11.21, 08:13 PM
|
---
Several Jharkhand Public Service Commission (JPSC) aspirants have demanded cancelation of the merit list of the recently held seventh to 10th JPSC Preliminary Tests (PT) citing anomalies in the results.
Hundreds of aspirants gathered at Morhabadi in Ranchi on Tuesday alleging that several aspirants whose roll numbers fell in sequence cleared the tests, while no aspirant under the specially-abled category made it to the list of successful candidates.
The students had earlier gathered outside the JPSC main building to stage a protest, but security personnel did not allow them to hold a demonstration there. Raising slogans against alleged favouritism and nepotism in civil services, the aspirants marched around Morhabadi Ground.
"Many aspirants who appeared for the tests at the same centre and were seated in sequence have cleared the test, raising questions on how fairly the exams were conducted," said one of the protesting aspirants. "The question papers were tough, yet the cut off was very high," he added.
More than 3.5 lakh aspirants appeared for the prelims  of JPSC, which was held in two sittings, on September 19 for shortlisting candidates for the JPSC Main exam to fill as many as 252 vacancies in Jharkhand. The sixth JPSC exam, which is still in dispute, was held in 2016. So, the prelims tests held in September were for JPSC seven, eight, nine and 10 with candidates who meet the eligibility criteria from the year 2017 to 2021.
Several agitated aspirants staged a peaceful protest against alleged anomalies in the preliminary test  results at Morhabadi on Monday. The protestors demanded scrutiny of the prelims tests and a re-examination.
"They even asked out of syllabus questions this time, but still the cut off for this year was the highest ever. How is this possible?" asked Safi Imam, an aspirant.
The students have also demanded a probe into the prelims tests by a special team under a High Court judge, and examination of call records of the aspirants who sat chronologically in an examination centre and passed.
JPSC exams have been riddled with controversies since 2016. The prelims test for JPSC 6 was conducted way back on December 18, 2016 and its result was declared in February 2017. On June 7, 2021, Jharkhand High Court cancelled the merit list of the 6th JPSC after years of protests by aspirants. The court also directed the state government to identify the officials responsible for the mistake in the merit list and take action against them.