Steel City to host archery selection trials for Olympics
The Games, scheduled to take place in Tokyo this year, has been postponed for a year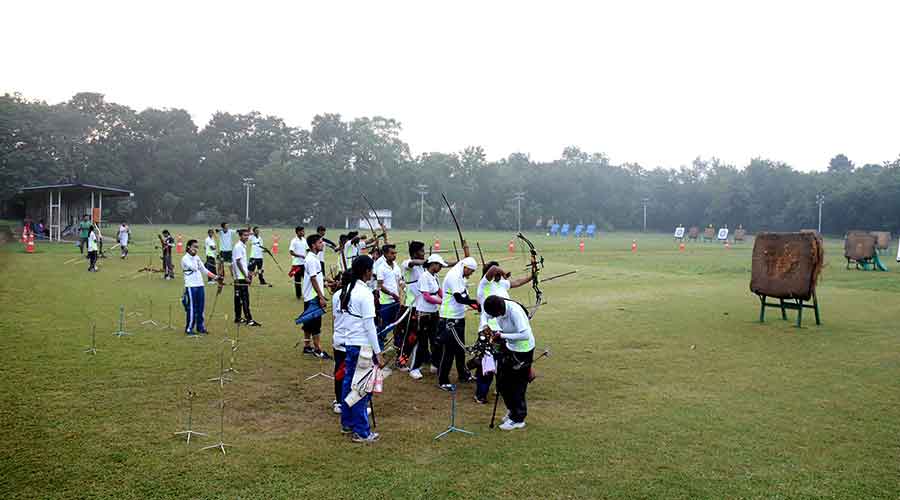 ---
---
A three-day archery selection trial for the Tokyo Olympic Games is set to be held in Jamshedpur. The trials will be organized by the Archery Association of India (AAI) with logistical support from the Jharkhand Archery Association (JAA) and Tata Steel.
Some of the country's top-bracket recurve archers (men and women) will be in the city for the selection trials. The criteria for inviting the archers are yet to be finalized. However, an agreement has been worked out to invite the archers who had scored 650 points (men) and 630 points (women) during the trials held before the pandemic.
It is expected around 40 men and women to attend the selection trials along with senior functionaries from the national archery outfit, scorers and judges supervising the activities.
AAI joint secretary Sumanta Kumar Mohanty confirmed that Jamshedpur will host the selection trials, dates of which will be fixed in due course of time. "Jamshedpur has the required infrastructure for efficiently hosting the trials. The city has played host to such engagement earlier," he added.
The AAI has selected JRD Tata Sports Complex as the venue for the trials.
The trial dates have not been fixed yet but it is expected to be scheduled from November 23 to 27.
Mohanty informed that they were awaiting a go-ahead signal from the Indian Olympic Association for conducting the trials and would have announced the dates subsequently. "But we have already fixed Jamshedpur as the venue for the trials," he added.
Sports Authority of India (SAI) was supposed to conduct the trials but they backed out as the trial was scheduled in the open category. As an open trial would have gathered several archers, the authorities were against taking any risk during this pandemic.
Later, the AAI took the responsibility of conducting the trials with due permission from the Indian Olympic Association (IOA) and the Sports Ministry.
Keeping in mind the pandemic, required social distancing will be maintained during the trials and the participating archers will be accommodated at city hotels.
The Indian men's team has already qualified for the Olympics while ace archer Deepika Kumari is the lone woman to have made it to the big event.
The steel city had played host to the selection trials in the run-up to the 2016 Olympic Games in Rio de Janeiro. Deepika Kumari, L Bombayala Devi, Laxmi Rani Majhi, Rimil Biruily, veteran Dola Banerjee, Reenan Kumari, Jayanta Talukdar, Rahul Banerjee and Mangal Singh Champia were among the top archers who had tried their luck at the trials.