Steel city stadium crumbling, athletes fear injuries
Mohan Ahuja arena in Bistupur has never seen major repairs since it was set up in the 1960s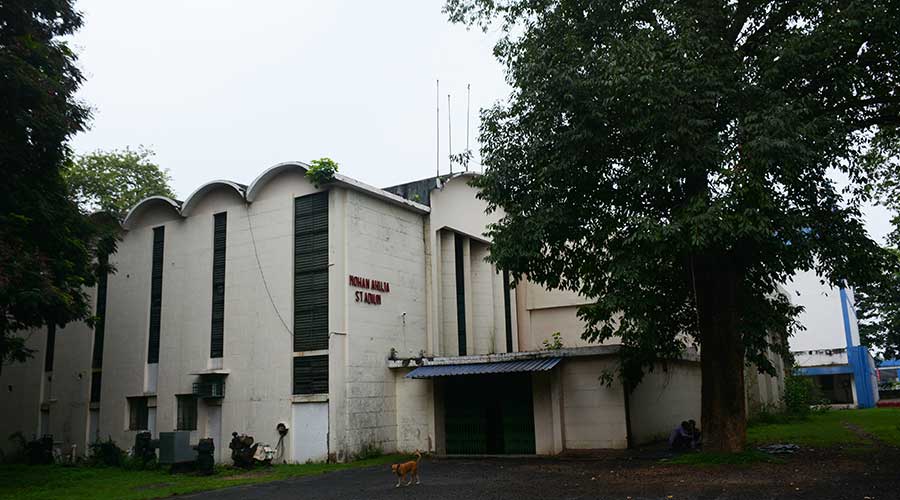 ---
---
The Mohan Ahuja Stadium's condition in Bistupur has worsened due to the row between Tata Steel and Jharkhand Badminton Association over the lease of the venue.
The stadium, located near Keenan Stadium in Bistupur, has never witnessed any major repairs since it was set up in the 1960s.
Though the whole interior portion of the stadium is in a poor shape, the ceiling over the three main wooden courts is posing a serious threat. The ceiling is leaking and water seepage could further weaken the already weakened roof.
The JBA had ensured patchwork on the damaged portions of the ceiling three years back, but that too had started peeling, putting a serious question mark over the health of the stadium which has hosted some top-bracket shuttlers, including Prakash Padukone and Saina Nehwal.
JBA secretary K.Prabhakar Rao said they were aware about the condition of the ceiling. "The condition of the ceiling is in very poor shape. It needs immediate repair otherwise it would pose a big risk. We are very worried," he admitted.
Prabhakar, joint secretary of Badminton Association of India, said condition of the entire stadium was bad and immediate repair was the need of the hour.
It is blessing in disguise since the stadium is shut owing to Covid-19 pandemic otherwise lives of aspiring shuttlers and those playing for fitness purpose would have been under threat.
The JBA is facing a cash crunch and it would not be possible for it to spend Rs 20-25lakh for the repair of the ceiling as well as other portions of the stadium that also need immediate attention.
The tin roof over the practice courts has gaping holes and water gets accumulated on courts when it rains heavily. The plasters on side walls are also peeling, painting a poor picture of the stadium.
The origin of the whole problem is the legal tussle between Tata Steel and JBA, which is still sub-judice.
Tata Steel, which owns the stadium, had in September 2014 asked JBA to vacate it. But the JBA filed a title suit against Tata Steel at the local court with the plea that the venue had been leased out to it till December 2017.
In 2018, Tata Steel Utilities and Infrastructure Services Ltd (erstwhile Jusco) disconnected electricity supply to the stadium for pending dues amounting to over Rs 50 lakh. The JBA filed a case against the company for illegally disconnecting power supply.