State sees change in mood, to double vaccination sites
Friday turnout emboldens health department to increase centres to 100 from 48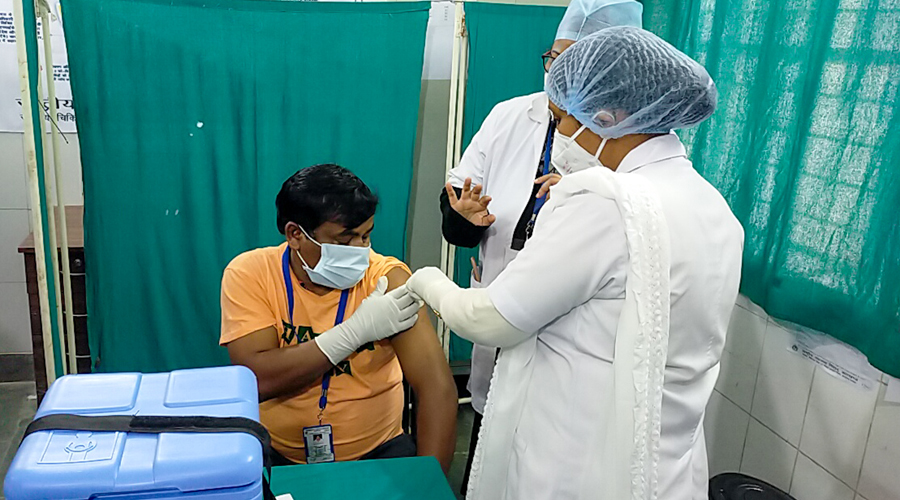 A frontline worker receives his Covishield shot at Sadar Hospital in Ranchi on the first day of the vaccination drive on January 16.
Telegraph picture
---
Ranchi
|
Published 24.01.21, 06:46 PM
|
---
Jharkhand will double Covid vaccination sites when the drive resumes on Monday in an effort to expand coverage and speed up the process as authorities are optimistic of better turnouts after Friday logged beneficiary attendance at 68 per cent.
While the state's overall vaccine coverage now stands at 61 per cent, Friday's inoculation drive alone touched 68 per cent, increasing the state's overall average marginally - one per cent - in the last week since the rollout of the vaccine on January 16.
State director of National Health Mission (NHM) Ravi Shankar Shukla said while the total number of centres would be finalised by Sunday night, he emphasized that the count would be doubled. "We began with 48 sites. From Monday we are planning to make it 100 so that coverage can be increased," he said.
Friday's vaccination drive was encouraging. According to the state health department, Ranchi recorded 100 per cent vaccination for the first time. Several other districts touched over 70 per cent. Palamau, one of the remotest districts, tops with 76 per cent overall coverage followed by Bokaro (74 per cent), Giridih (71 per cent). Eight other districts are above the 60 per cent mark.
Shukla said it was too early to specify a clear trend among the best and worst-performing districts. But he guessed that the Palamau district administration probably mobilised resources better than others.
In terms of numbers, of the 24,091 targeted beneficiaries, 14,794 have taken the jabs since January 16. A total of 42 adverse affect (AFI) cases were also reported across Jharkhand. But the authorities maintained that these were anxiety-driven and lasted for a brief period during pre and post-vaccination, a common feature during any immunisation drive. No AFI case required medication or hospitalisation.
Jharkhand is administering the Covishield vaccine four days a week — Mondays, Tuesdays, Wednesdays and Fridays.
Riding high on aggressive awareness drives, coupled with no major AFI cases, NHM officials foresee that hesitancy and apprehensions about the vaccine would gradually subside in the coming days.
Shukla explained that the Union health ministry's decision to alter SOPs and offer more flexibility to registered beneficiaries was another reason why the state was expecting a better turnout.
"Earlier, only those who are slotted to get vaccines on a particular day were entitled to take the shots. However, the health ministry has now made certain modifications in the Co-win app, a real-time software for the vaccination drive, under which a registered beneficiary can walk in at his/her earmarked vaccine centre on any day to get the shot," he said.
Shukla said there was a possibility that a beneficiary may be out of town on the day he/she is supposed to take the vaccine. "Or he/she may have missed the auto-generated SMS due to network congestion, change of phone etc. So, pre-registered beneficiaries can choose to take the vaccine out of turn," he added.