Covid: Staff retrenchment affects vaccination drive in Dhanbad
Around 3.50 lakh eligible persons in the district have not taken a single dose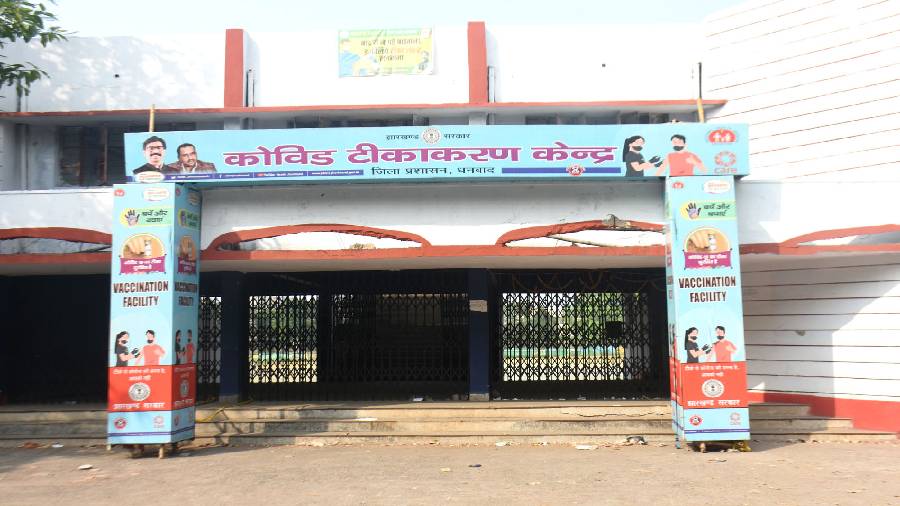 A closed vaccination centre at Golf Ground in Dhanbad on Sunday
Gautam Dey
---
Dhanbad
|
Published 03.04.22, 07:05 PM
|
---
The retrenchment of 101 para medical engaged for a wide range for services including vaccination, sample testing and covid screening has greatly affected the vaccination drive as well as covid screening in Dhanbad. Worst affected are the  adolescents of 12-14 years of age group  and 15 to 17 years of age group as vaccination camps in schools are suspended for over a fortnight
The gravity of the situation can be assumed from the fact that around 150-160 vaccination centres which used to operate till a couple of months ago have decreased to 30-40 across the district since April 1.  This comes at a time when the around 3.50 lakh eligible persons for vaccination in the district have not taken  a single dose of Covid vaccine.
Talking to The Telegraph Online on Sunday, Dr Vikas Rana Covid Vaccination incharge of district said, "As the covid vaccination for the adolescents of 12-14 years and 15 to 17 years of age group was primarily carried out in the schools their vaccination  has been slightly affected due to schools closure after the completion of examination but since new session has started from  April 1 in majority of schools we have decided to launch the vaccination in schools from April 7."
He however admitted that vaccination has been greatly affected due to shortage of manpower. 
"We are somehow managing the drive with our own regular staff of the health department but we are hopeful that some arrangement will be made to accelerate the pace of vaccination," said Rana and added the highest number of 190 centers have also been operated in the district during peak covid season which reduced to  around 30 at present.
Notably, the  retrenchment of the contractual para medical staff engaged during the pandemic has been carried out between March 27 to March 31 as per the state  Health, Medical Education and Family Welfare department direction to Civil Surgeons of different districts of Jharkhand.
Sanjay Kumar, a cyber face operator of Barmasia area of  Dhanbad while expressing disgust for the decrease in number of vaccination centres in the district said "my 13 year old son has taken the first dose of Covaxin in his school 28 days ago but since the camps in schools are lying suspended for more than a fortnight I am getting difficulty in ensuring second dose for him."