Squatter woes return to Sakchi
JNAC officer expresses helplessness, East Singhbhum deputy commissioner promises a crackdown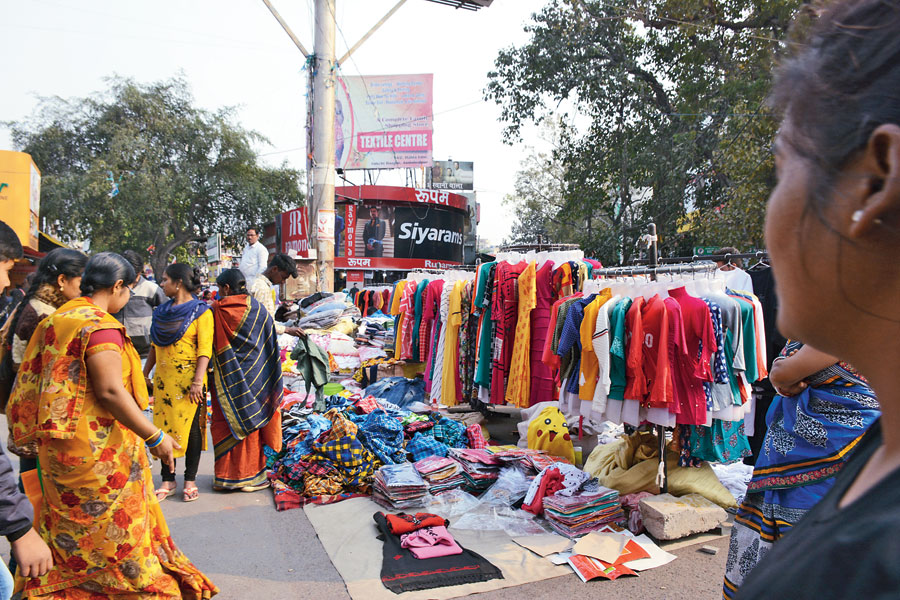 Illegal vendors at Bata Chowk in Sakchi, Jamshedpur, on Thursday.
Picture by Bhola Prasad
---
Jamshedpur
|
Published 06.02.20, 06:52 PM
|
---
Squatters and illegal vendors have made even walking in the commercial hub of Sakchi a problem.
More than 300 vendors mostly selling their wares squatting on the roads can be found on almost all the important lanes of the Sakchi market.
"The vendors put up their push-carts in a haphazard manner while those sitting on the roads almost block the road creating problems for even walking to the shops. Yesterday (Wednesday), I was walking with my daughter to a footwear shop near Bata Chowk and could hear some vendors whistling and passing nasty comments. I immediately shouted at them," said Rajesh Ojha, 50, a Sitaramdera-based insurance agent.
"I was told by the shopkeeper later that it is a common thing. Surprisingly, the administration is a mute spectator as the cops prefer to spend their time at the Sakchi roundabout or at other locations gossiping or watching their mobile phones," Ojha added.
Shopkeepers are also troubled by the return of the squatters.
"Last year in July and August the vendors and squatters were removed in a sustained drive by the Jamshedpur Notified Area Committee (JNAC)," said Anand Moonka, vice-president, Singhbhum Chamber of Commerce and Industry. "But gradually the squatters started returning obviously by greasing palms of the local police. Now they have come back in even larger numbers. We have to hear complaints from customers almost daily about snatching, eve-teasing etc. Many customers prefer to visit other commercial hubs like Bistupur instead."
Jamshedpur Notified Area Committee (JNAC) special officer Krishna Kumar expressed helplessness.
"We had cleared the roads and commercial hubs of squatters and illegal vendors. Last year we had even imposed fines. But after a while they once again returned. It is the duty of the local police to monitor that once cleared vendors and squatters do not return on the roads. We are helpless. If we receive directive from senior officials we will again carry out anti-encroachment drive against them. But we would require help from local police to ensure that they do not return after a few months," said Krishna Kumar.
East Singhbhum deputy commissioner Ravi Shankar Shukla promised a crackdown.
"We will start a drive to clear the vendors in a routine way soon and also hold talks with police so that they do not return," said Shukla.