Sindri traders get street lights, but worry about damaged roads
Chamber officials raise host of issues, including waterlogging, with municipal commissioner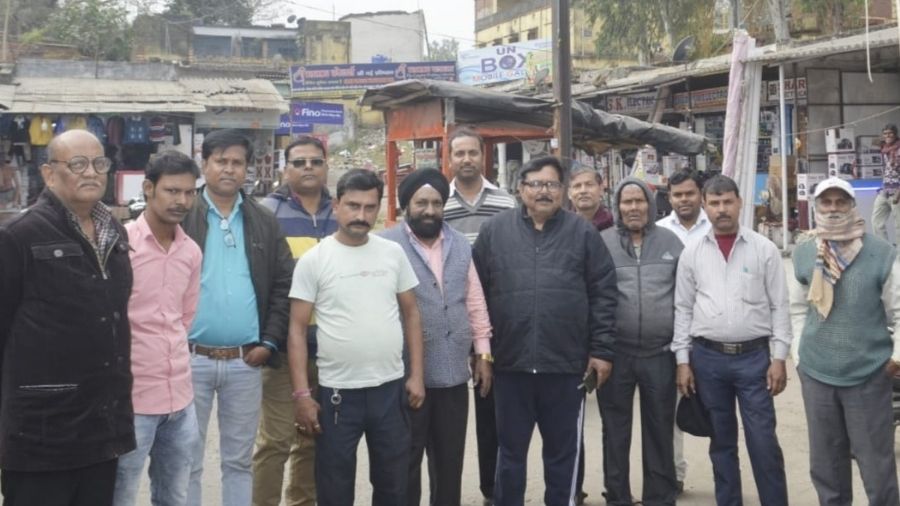 ---
|
Dhanbad
|
Published 13.01.21, 06:12 PM
---
Traders in Sindri, including the shopkeepers of the Saharpura market of the fertiliser town, are happy over the installation of street lights by the Dhanbad Municipal Corporation in the market complex. The traders were, till now, compelled to do business in the dark after sunset due to the lack of light.
However, they are still concerned about the dangerous conditions of the roads, particularly the main road from Mayur Gate to Rodha Bandh in Sindri. The stretch from Mayur Gate to Sindri Police Station has developed a number of potholes, leading to chances of accidents there.
Talking to The Telegraph Online on Wednesday, Sindri Chamber of Commerce secretary Deepak Kumar Dipu said, "We had a meeting with the Dhanbad Municipal Commissioner, Satyendra Kumar on January 8 during his visit to Sindri, during which we raised the issue of darkness in the market. We are happy at the quick response as the installation work of streetlights began in the market from Tuesday itself."
"We are happy that the entire Saharpura market, which used to plunge into darkness, will now glow with the floodlights," he said.
The streetlights that were installed by the Chamber of Commerce years ago had become non-functional, he said.
Dipu, who is also the president of the citizens' organisation Sindri Bachao Morcha, said they expect that Sindri will glow with the streetlights as the commissioner had assured of their installation in the entire town.
He said that previously, the streetlights were put up in haphazard areas and at non-strategic points.
Regarding the conditions of the roads, the general secretary said, "The dangerous state of the main road has compelled several people to take a detour from Rodhaband to Sindri station, to avoid it."
"I have tweeted to the Dhanbad Deputy Commissioner, Uma Shankar Singh and Chief Minister Hemant Soren over the issue earlier. I plan to raise it again with the Dhanbad Municipal Corporation," Dipu said.
"The poor quality of the materials used to construct the road had led to its damage in the initial period itself. It got further damaged as heavy vehicles carrying materials of about 40 to 60 tonnes passed continuously through the internal roads of Sindri," he complained.
The official said that they had raised a host of other problems with the Commissioner, including waterlogging in the Saharpura Bazar area, the lack of enough toilets and the higher rent of shops.