School toilet truths less dirty
Four toilets for girls in a co-ed government high school at Bajra in Itki, 12km from capital Ranchi, were found mysteriously locked in 2016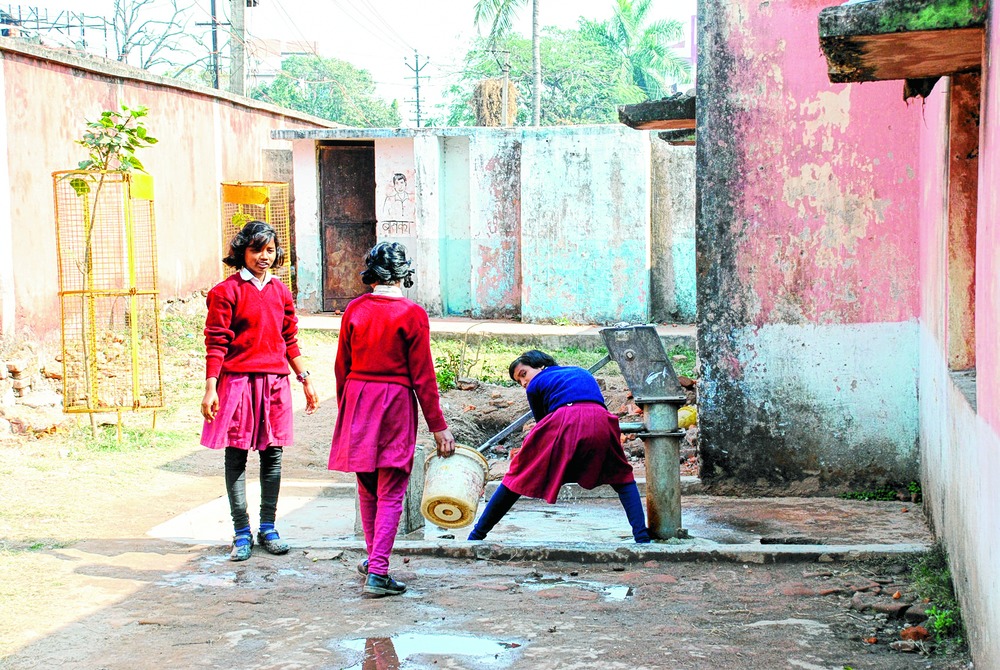 ---
Published 20.01.17, 12:00 AM
|
---
• Four toilets for girls in a co-ed government high school at Bajra in Itki, 12km from capital Ranchi, were found mysteriously locked in 2016
• Five toilets for Kasturba Gandhi residential school in Seraikela-Kharsawan created unrest among 200 girl boarders in 2015 for being too few in number for their needs
• No toilet at home forced a 17-year-old Dumka girl, who studied in Class XII, to kill herself in 2016
Ranchi, Jan. 19: Toilet truths can be terrifying for adolescent schoolgirls, leading to frequent instances of dropouts, feelings of shame and fear.
But, the Annual Status of Education Report 2016, a nationwide survey compiled by NGO Pratham Education Foundation released yesterday, showed the picture for Jharkhand was less dismal compared to previous years.
Coinciding with the launch of the nationwide Swachh Bharat Abhiyan on October 2, 2014, there has been a marked improvement in toilet provisions for schoolgirls in rural areas, including Jharkhand, ASER 2016 findings reveal.
According to the study, 61.4 per cent of all-girls and co-ed schools surveyed in Jharkhand had separate, usable and unlocked girls toilets, a fraction less than the national average of 61.9 per cent. Of the 500 rural schools in Jharkhand's 24 districts that Pratham volunteers surveyed, over 200 included all-girls and co-educational schools.
In Gujarat, Rajasthan, Himachal Pradesh and Haryana, 80 per cent or more schools that Pratham visited had usable girls' toilets.
Though Jharkhand has some serious catching up to do with these four states, it has significantly bettered its own performance. In the 2014 report, only 48 per cent of Jharkhand schools surveyed, meaning less than half, had usable girls' toilets, suggesting a 13.4 per cent improvement in this vital area in the two years.
In Jharkhand, only 3.3 per cent of the schools surveyed did not have exclusive toilets for girls. In 2014, 17.4 per cent of schools had no provision for a girls' toilet.
Divya Singh, principal of co-ed state-run Balkrishna High School in Ranchi with 500 girl students, said earlier they had only one girls toilet on campus for years.
"Last year, two new toilets, funded by state urban development minister C.P. Singh, were set up in our school," she said. "We did have absenteeism before as a single toilet was not enough for 500 girl students and female staff. But after the new toilets, I can vouch that daily attendance of girls has improved drastically," she said.
The principal of government middle school at Karamtoli, R.S. Pandey, thanked the state government for making girls' toilets mandatory. "In 2014, we had one toilet for girls and boys. We have over 300 students, of which 200 are girls. In 2015, we built five toilets, three for girls and two for boys, which solved our problem."