Satyendra Dubey lives on, thanks to his friend
A village in Dhanbad a gets cyber centre, courtesy Vikram Kaul, who aims to honour principles of honesty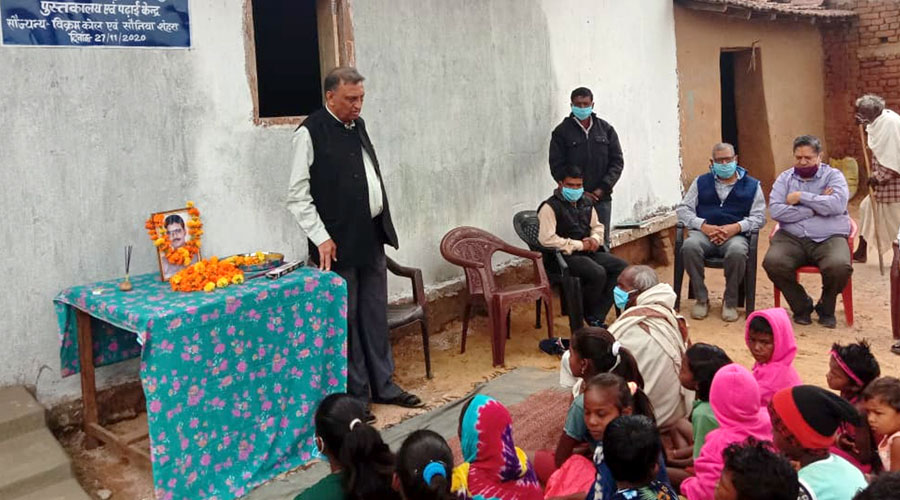 Distinguished guests paying tribute to Late Satyendra Dubey at the Late Satyendra Dubey Memorial Library cum Computer Center at Kolahir in Tundi, Dhanbad after its inauguration on November 27.
Picture by Gautam Dey
---
Dhanbad
|
Published 30.11.20, 06:35 PM
|
---
A real friend is one who walks in when the rest of the world walks out. This has been proved by Vikram Kaul, a US-based technocrat friend of Satyendra Dubey, an engineer of National Highway Authority of India who sacrificed his life in 2003 for the sake of honesty.
To commemorate the values of Dubey, Kaul has funded the establishment of a library-cum-computer training centre for school students at a remote village Kohair in the naxal-affected Tundi block of Dhanbad. Kaul wants to inspire the next generation to follow the ideals of the honesty of Dubey, who was killed by a nexus of corrupt politicians, contractors and bureaucrats
The Centre is established with the coordination of Rameshwar Prasad, a retired officer of Associated Cement Company, Sindri, who is presently a full-time social worker. The Centre, which is a single-storey building equipped with a bench, desk and a computer, will be operational every day for four hours.
Talking to The Telegraph Online Prasad said, "The building was earlier being used by us for operating a single teacher school to educate children. Since the establishment of a government school in a nearby locality, the school has lost its utility. So now we have converted it into a library-cum-computer training centre with the help of Kaul. He is engaged in a lot of philanthropic activity and particularly funding the education of students of the economically backward section of the society, through different organisations like Foundation for Excellence with his friends."
"Though the fund for furniture, etc. has been provided by Kaul, a roommate of Dubey at IIT Kanpur but the local villagers have donated their labour to construct the building, etc.," said Prasad.
"Satyendra Dubey was a very honest and sincere officer employed in the National Highway Authority of India (NHAI). He was posted at Koderma," said Prasad. "A native of Siwan district of Bihar, Dubey was very good in studies since his early days and topped in 10th and 12th examinations. He did his B.Tech from IIT Kanpur and M.Tech from Banaras Hindu University. Satyendra Dubey didn't go abroad like his other friends for a job. He wanted to stay in India and serve the country honestly," further elaborated Prasad.
During his posting at NHAI in Koderma, he tried to expose a corruption nexus in NHAI right from the contractors to the officers, politicians, ministers, etc. He suspended some corrupt contractors and officers working in NHAI as well.
He also sent a confidential letter to PMO to apprise about the widespread corruption. He was however assassinated by miscreants at Gaya on November 27, 2003, on his birthday.
"We lost a great person who wanted to see India corruption free and established a library-cum-study centre in his memory at Kolhahir Tundi which is a very small tribute for his honesty," said Rameshwar Prasad. "I am sure it will inspire the people and students to follow his ideals and never compromise with honesty," added Prasad.