Saryu DeMo punch at Das
Saryu Roy accused Khemraj Sahu of giving a loan of Rs 15 lakh in cash to a youth 6 days after demonetisation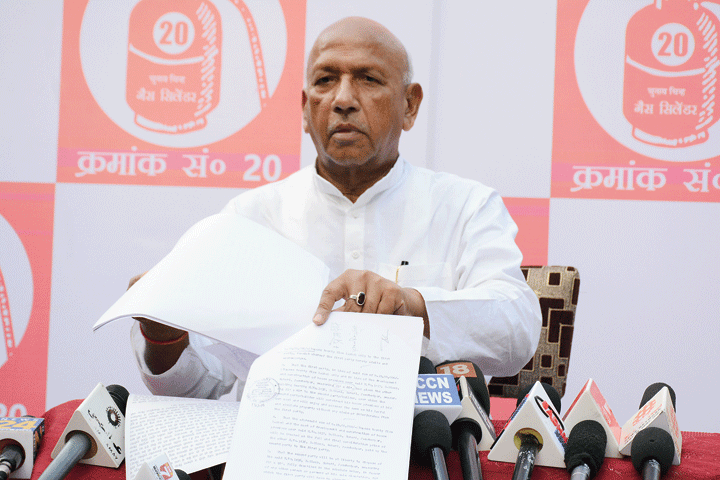 Saryu Roy shows the complaint letter of Manish Das in Jamshedpur on Thursday.
(Bhola Prasad)
---
Jamshedpur
|
Published 28.11.19, 07:54 PM
|
---
Independent candidate from Jamshedpur East Saryu Roy on Thursday unveiled the second instalment of his promised series of exposés against chief minister Raghubar Das.
Addressing reporters at his Bistupur residence, the former BJP leader and sitting MLA from Jamshedpur West flaunted documents that he said showed the Sonari-based brother-in-law of Das, Khemraj Sahu, giving a "friendly loan" of Rs 15 lakh in cash to a youth, Manish Das, also from Sonari, on November 14, 2016, just six days after Prime Minister Narendra Modi announced the demonetisation.
"The brother-in-law of our chief minister, in return for the Rs 15 lakh given to Manish Das, who was in need of money, pressured him to get development agreement of the assets (property) of his uncle Prem Das for Rs 26 lakh on the assurance that when they would return the money the agreement would be returned. However, after a year, whenever Manish tried to return the money, the CM's relative was evasive and instead threatened him to hand over the property or face dire consequences," alleged Roy, showing what he said was a copy of the complaint lodged by Manish with the East Singhbhum deputy commissioner in March 2019.
Copies of the complaints were also submitted to the district senior superintendent of police, Dhalbhum sub-divisional officer , and Sonari police station officer-in-charge, Roy said.
He also questioned Sahu's stay at the Tata Steel quarters in Kadma: "Though not an employee of Tata Steel, Sahu managed to get company quarters in Kadma despite having a house in Sonari. I would like to know in which capacity Tata Steel has allotted its quarters to Sahu."
He went on to say that Manish had accused Sahu of assaulting him earlier this year at his Kadma residence.
"The complainant has mentioned that he was called by Sahu to his house in Kadma, threatened and assaulted. How can a non-Tata Steel employee enjoy a company accommodation? The complainant has also alleged that he was called by the Kadma police station in-charge and confined for a night and threatened to do as directed by Sahu. Frightened, Manish lodged a complaint petition at the court of the chief judicial magistrate. As he did not get any reprieve, he filed a public interest litigation with Jharkhand High Court in August 2019," said Roy.
"I would like to know the reason behind the police, district administration or the chief minister not probing the source of income of Sahu, who indulged in such a huge transaction barely a few days after demonetisation. Ideally, a matter related to such a huge transaction should have been brought to the notice of the income-tax department. Why did the administration prefer to stay silent on the pleas of the victim who claimed that he was being threatened to vacate his house by a relative of the CM?," asked Roy, who islocked in direct contest with Das in Jamshedpur East that votes on December 7.
Contacted, East Singhbhum BJP president Dinesh Kumar Sahu said: "I would not like to comment on the issue."
On Monday, Roy had fired his first salvo against CM Das accusing him of irregularities in appointment of Singapore-based company Meinhardt for the drainage and sewerage project in Ranchi in 2005.