Saathi Foundation provides free education to 45 children in Wasseypur
Communication skills and hygienic way of living are also taught by the centre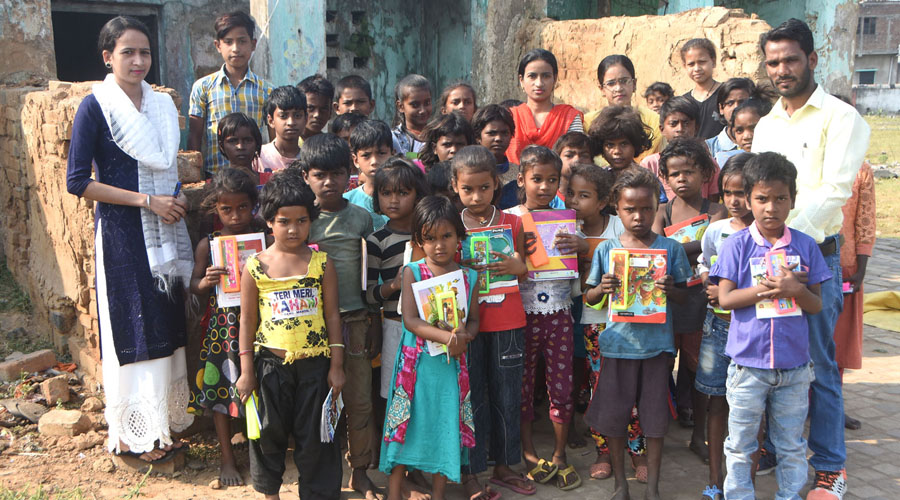 ---
|
Dhanbad
|
Published 15.11.20, 08:37 PM
---
A group of self-motivated youths is providing free of cost education to around 45 children in Wasseypur and the adjoining localities.
Sabauddin Nishat (45), a foreign returned teacher of Wasseypur locality of Dhanbad, who along with an event manager of his locality, Irfan Alam (25), are working to shape the future of the children of Wasseypur locality by providing free of cost evening tuitions to them for the last five years.
Talking to The Telegraph Online on Sunday, Sabauddin who earlier worked in Qatar and returned to his hometown said, "We have two centres of our organization, Saathi Foundation, including one at my house near Ara More in Wasseypur and another one near Bhatta locality of Wasseypur, where free of cost educational classes to children of 6 years to 20 years is provided."
These children are from the economically weaker section of the society. Echoing sentiments, Irfan Alam said, "Majority of our students are wards of daily wage-earners, auto drivers or rickshaw pullers of the nearby locality. Besides imparting education to them, we also teach communication skills and hygienic way of living."
"We have completed all preparations for imparting free of cost spoken English tutorials for the girl students of our locality which will be launched next week. We have invested our own money in the initiative. We also get some occasional contribution to our philanthropism from some people of Wasseypur locality," said Alam.
Razia Parween, coordinator of Saathi Foundation who also imparts education to the children at Saathi foundation Centre said, "We carry out education of children of the junior section from 3 pm to 4.30 pm and the senior students of 15 to 20 years of age are taught from 7 pm."
"We also contribute to the free of cost services at the centre," added Parween.
Sadhni Devi, a resident of Kharkabad locality, said, "My husband Rajesh Bauri works as a construction site laborer and could hardly earn enough to manage the tuition expense of my daughter Neha (10). I am thankful from the core of my heart to Saathi Foundation who helped her with the free of cost education."
Rehan (9), another student of Azadnagar locality, said, "My father Maqsood Alam is an auto driver and could not afford to pay for private tuitions but I clarified my doubts in Maths and Science by attending the regular tuition classes at Saathi Foundation Centre."