Roundabout repair spurs jam session
Morning traffic stuck for two hours on Mango bridge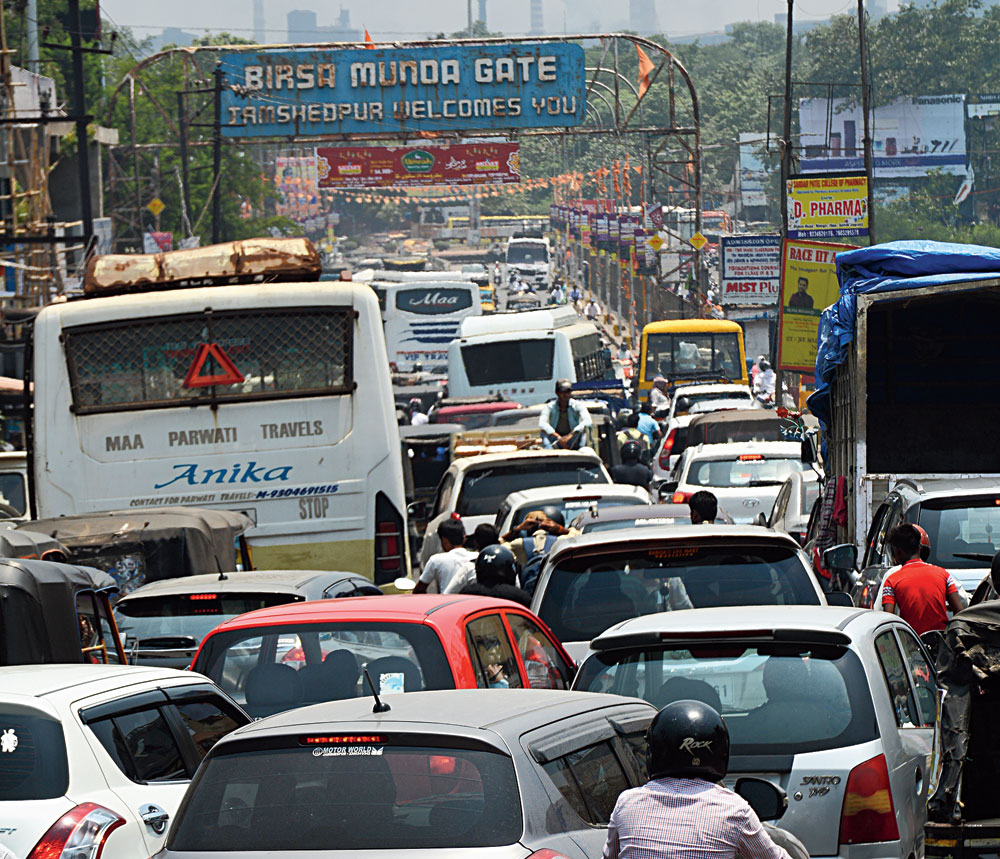 Traffic mayhem on Mango bridge on Tuesday
(Bhola Prasad)
---
Jamshedpur
|
Published 11.06.19, 07:01 PM
|
---
Repair work at Mango roundabout on Tuesday morning led to massive snarls on Mango bridge, one of the steel city's most important gateways, for two peak hours from 10.30am, inconveniencing thousands.
Ankit Kumar, a sales representative, on his way to his Sakchi office from his Dimna Road residence in Mango, said the normal "five-to-seven-minute ride on Mango bridge" took nearly 45 minutes on Tuesday. "It was just frustrating to be stuck in traffic for so long when there are deadlines to meet," he said. "But I was not alone, I could see long queues of vehicles stretching on both flanks of the bridge."
Another regular commuter from Ulidih in Mango to his Sakchi transport office, Satish Mandal, said the jams were a regular affair since one week, ever since pavers blocks started to be put in the roundabout. "It means being late to work on a regular basis, no matter how early you leave."
On Tuesday, cars, auto-rickshaws and two-wheelers moved at a snail's pace on the bridge and also on the connecting Subernarekha Link Road that leads to Sakchi and other parts of the steel city.
Two separate delegations met the deputy commissioner of East Singhbhum, Amit Kumar, on Monday and Tuesday, to inform him about commuter sufferings on Mango bridge.
Mohan Lal Agarwal, president of Jamshedpur Chamber of Commerce, who handed over a memorandum to the deputy commissioner on Tuesday, said not only commuters but tradespersons were also suffering.
"We requested the deputy commissioner to look into the issue and take immediate steps to streamline traffic on the bridge and the connecting roads. Numerous traders who stay in Mango and own godowns and showrooms there come to us with regular complaints of traffic snarls on the bridge. The long jams on the bridge hamper their business," Agarwal said.
On Monday, a delegation led by BJP Mango unit president Vikas Singh met the DC on the same issue.
The DC assured both the delgations of taking up steps to overcome the problem. However, even without any roundabout repairs, jams are common on Mango bridge. Traffic is stuck for hours if trailers and trucks break down.