Restrictions on bhog, height of idols impractical, says Puja body in Daltonganj
Sri Kendriya Durga Puja Mahasamiti raised legitimate points for Covid rules and relaxations at pandals this year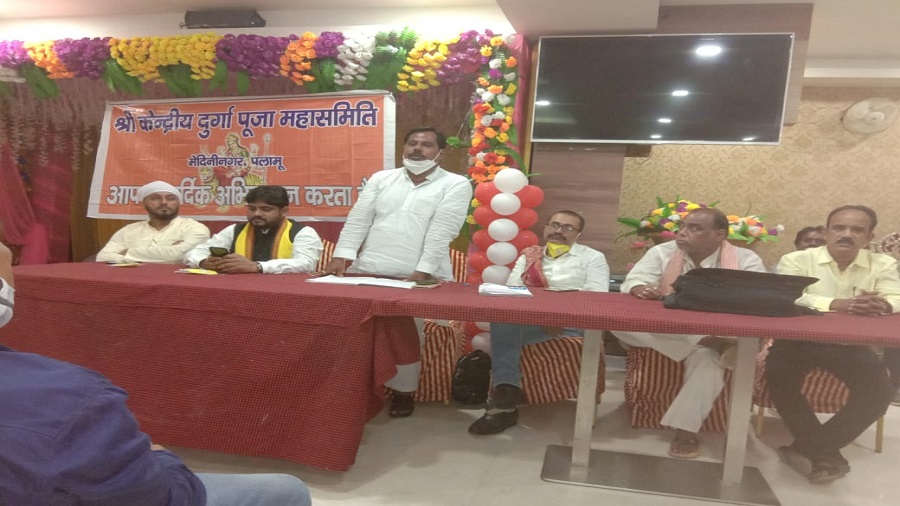 Meeting of the Sri Kendriya Durga Puja Mahasamiti in Daltonganj held recently
Telegraph picture
---
Daltonganj
|
Published 14.10.20, 05:33 PM
|
---
The government's guidelines to have only four-feet high idols in Durga Puja pandals have evoked sharp criticism from the faithful said sources.
Durga Johri, President of the Sri Kendriya Durga Puja Mahasamiti, the highest body for the Durga Puja here told The Telegraph Online on Wednesday, "This height rule is impractical. Idol makers here in Palamau begin to build their idols a month or so before the arrival of the goddess here."
"I have reports that over 100 idols made earlier are around 5 feet in height for the simple reason that its artisans made it a month or so before the arrival of the guidelines for the pujas," said Johri, who is also a senior BJP leader.
"These five-feet-high idols cannot be shortened. It is inauspicious to do so. The faithful will do the 'pran partishta' (sacred setting up) of these 5 feet high idols in the pandals."
"I wonder how the height of an idol poses danger to health?" said Johri, adding that devotees do not touch the idol with their hands, and usually pray from afar with folded hands.
"After havan the germinated and grown up 'jaiy' is plucked and the priest offers each of its blades to the devotee who holds it between his ears on the day of Dussehra. This will be done this time too," he said.
On the restriction of bhog, Johri said, "This is another impractical decision. During the lockdown thousands of food packets were distributed among the poor and the migrant labourers when Covid-19 was at its peak. Today there is a restriction on bhog distribution which sounds quite contradictory."
"A devotee feels empty if he or she returns from puja pandal without the bhog or the prasadam and so for spiritual regeneration, distribution of bhog must be allowed as otherwise the 10 day long Durga Puja will look dry."     
He urged the administration to take a liberal and practical stand with regard to these issues and let pujas be done in all sanctity and purity with stress on maintenance of health protocols and Covid cleanliness and social distancing guidelines.
He said idol makers who are now readying idols after the guideline of four feet are strictly adhering to the protocol, stressing on the fact that the administration must allow five feet and four feet idols to be put up in the pandals for the pujas.  
Johri said more than 200 puja pandals will be set up in the district this time.
A devout Hindu requesting anonymity said, "In the past, we used to build a huge Rakshas and install it in our pandal. This time it will be a small figure."
"Dussehra is the celebration of victory of good forces over evil forces and hence not much attention is being given to our pandal demon this time. The worst demon now is the microscopic Covid-19 virus," they said.