Residents demand Purushottam Express halt in Bokaro
It is a convenient and economical option for travelling to Delhi, they say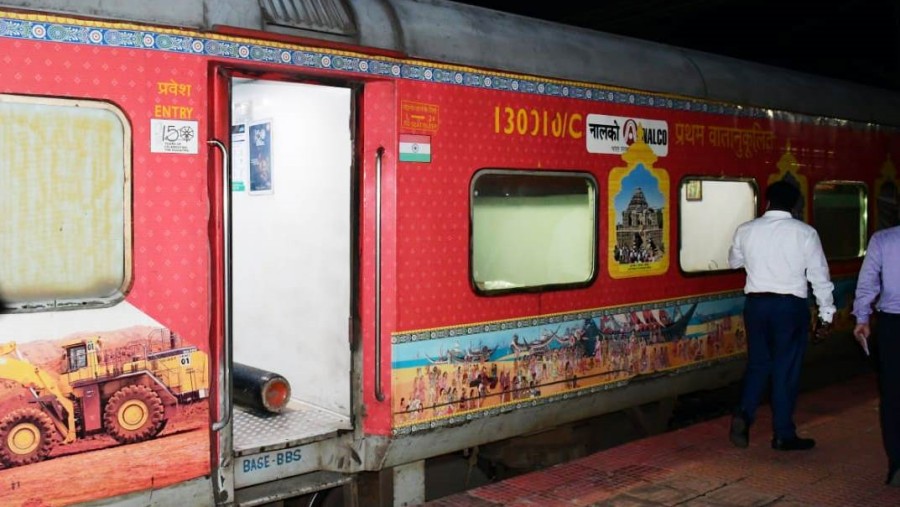 Rajdhani Express at Bokaro railway station. It is the only train to New Delhi.
Telegraph picture
---
Bokaro
|
Published 17.09.20, 10:44 PM
|
---
Bokaro residents have demanded that the New Delhi-Bhubaneswar Purushottam Express make a halt at the local railway station. 
Purushottam Express has two stops in Jharkhand -- Jamshedpur and Koderma. Bokaro residents say that the train has not been halting at the local railway station since the Covid-19 pandemic began and this is causing them hardship. 
Bokaro is the only major station in the state under the Adra division of South Eastern Railway (SER). Usually, the Bokaro station records a daily footfall of about 6,000 passengers and earns big from freight.  
Bokaro residents consider Purushottam Express a convenient and economical option for travelling to and from Delhi. 
Before Covid-19 hit, as many as 32 pairs of trains passed through Bokaro railway station every day. Now, only two trains stop at the station: the New-Delhi Bhubaneswar Rajdhani (02801) and the Darbhanga-Secunderabad Express (07007). Many residents travel to Purulia in Bengal, 48km away, to catch the Purushottam Express. Between 110 and 120 passengers board the Rajdhani at Bokaro every day.
Rajesh Kumar, a shopkeeper, said he has to go to Delhi for his younger brother's treatment but cannot afford the Rajdhani's fares. So, he will buy a ticket in Purushottam Express. 
Similarly, people going to Gaya, Sasaram, Mughalsarai and Kanpur also go to Purulia and board the Purushottam Express.
Dhanbad MP P.N. Singh demanded that the state government ensure that Purushottam Express makes a halt. He said: "I have requested the state government and asked the railway board to ensure Purushottam Express has a stoppage here. It is affordable for all classes of passengers." 
The senior divisional commercial manager of Adra railway division, O.P. Charan, said: "Only after the railway board's direction can Purushottam Express stop in Bokaro."
Railway officials said that proper sanitation and thermal checking of passengers are being conducted at Bokaro railway station. 
One other train, Patna-Ranchi Janshatabdi, used to stop at Bokaro, but the railway department had suspended its services in Jharkhand in August, as the state government asked the railway board to stop trains coming from Bihar. Currently, the Janshatabdi is making rounds between Patna and Ranchi.