Ranchi: Initiative to promote women's leadership in economy
Meet aims at facilitating stakeholder dialogue on developing a network to augment career choices for girls and young women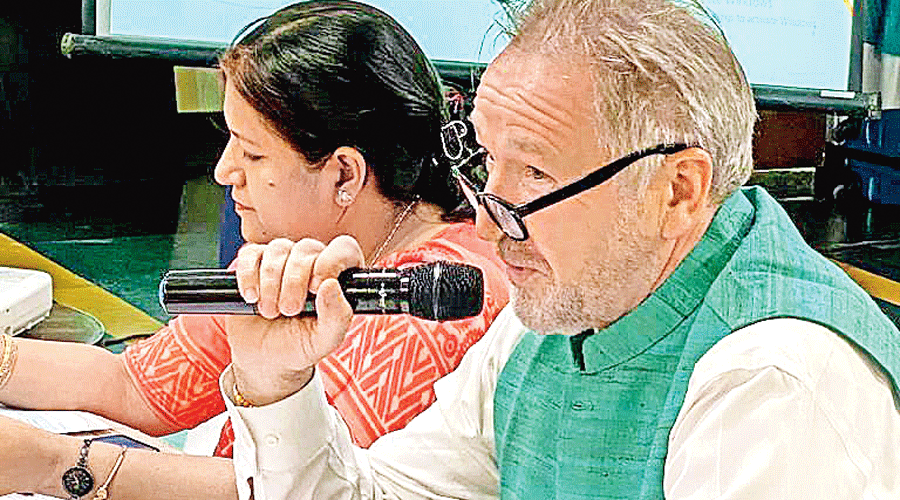 Public affairs officer of the US Consulate General in Calcutta, Adrian Pratt, at the meeting in Ranchi on Thursday.
Manob Chowdhury
---
Jamshedpur
|
Published 24.07.22, 02:47 AM
|
---
US Consulate and Calcutta-based NGO Contact Base held a roundtable meet in Ranchi on Thursday to promote women's leadership in economy.
The meet was aimed at facilitating stakeholder dialogue on developing a network to address low numbers of women in business leadership positions and augment career choices for girls and young women.
"One of the initiatives aims to build a regional support framework for women in the workforce in eastern and north-eastern India, Nepal, and Bangladesh to continue to advocate for women's access to active participation in the workforce and policy changes," said a spokesperson of the consulate.
Public affairs officer, US Consulate General Calcutta, Adrian Pratt, chaired the meet while, director, department of labour, employment, training and skill development, Jharkhand, Neha Arora graced the occasion and shared her perspectives.
Incubators and stakeholders in entrepreneurship ecosystem, employable skill development, funders, investors from organisations like International Centre for Research on Women (ICRW), iLeadHR, Center for Change (C3), Breakthrough, Jharkhand Angels, BIT Mesra, Xavier Institute of Social Service, Gokhale Institute of Politics and Economics, ConnexDoor, TEDx Kanke, 366Pi and others participated.
"The interaction aimed at identifying ways in which stakeholders can come together to create awareness on emerging career opportunities and strengthen access to finance and mentoring for women-led business," said the spokesperson.
A Mentoring Network Platform (www.women4economy.net) has been launched to support women-led start-ups in eastern and north-eastern India for offering seamless access to mentors. Some of the benefits will be access to sector specific mentors, support to test proto-type, information on funding sources etc.
"South Asia has the widest gender gap on economic participation and opportunity as per the Global Gender Gap 2022 Report by the World Economic Forum. India too has seen decline in women labour force participation in recent years. Our objective is to address this problem," added the spokesperson.