Jharkhand's fearless snake trapper loves the thrill of the job
Rajni Lahel, who has so far caught a rock python, cobra, and two Russell's vipers, caters to distress calls from residents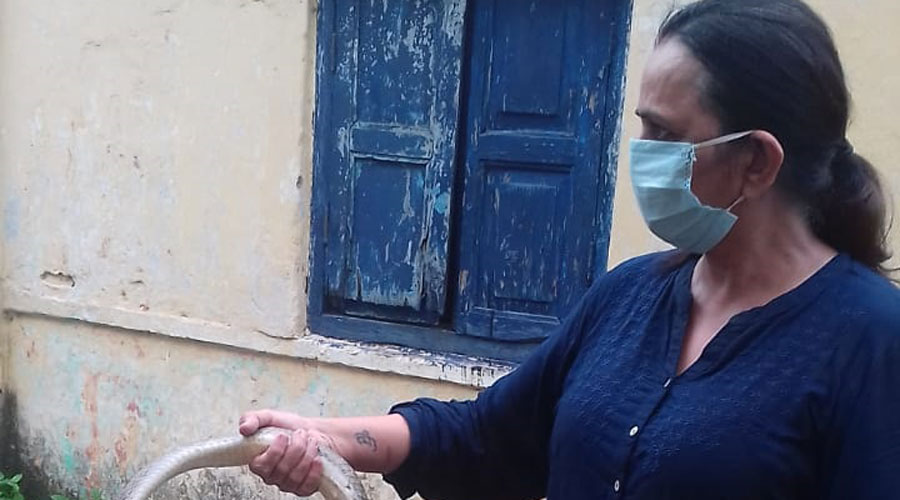 ---
---
Trapping serpents comes easy to Rajni Lahel, a 52-year-old whose desire to do something different led her to foray into a risky job.
"Duniya se hat kar kuch karna chahti hu (I wanted to do something different). It is easy to do common things. And I love catching snakes," said Rajni, a resident of Vijaya Green Earth along Dimna Road in Mango.
Speaking to The Telegraph Online, Rajni said she has been trapping snakes for the past two years.
"In childhood I used to bring out snakes from the boxes of snake charmers. I developed a fascination for snakes and started trapping them. However, it discontinued for some reasons before I got into the trade again for the last couple of years," she said.
The gutsy woman is active in pockets of the Mango locality, including Daiguttu, Chepa Pul and Hill View Colony.
Rajni has so far tamed a rock python, cobra, rat snake and Russell's viper.
"I trapped an aggressive rock python some months back and took it back home. The heavy and lengthy snake was fully soiled so I gave it a bath in the night before releasing the reptile in a jungle the next morning. The python was in my house the whole night," she said.
Rajni has caught a venomous cobra and two Russell's vipers.
"I think I am fully adapted to my job. Fear takes a back seat whenever I go to catch snakes on call. I move in my four wheeler but use a two-wheeler while heading to congested areas," she said, adding that gloves, tongs, a hook and long boots were essentials for the job.
"Fitness and quick reflexes are a must," she said.
Rajni lives with her husband Devender Singh Lahel, who runs a TV repairing shop in Parsudih.
Her only daughter Jasmeet works in Vancouver, Canada.
"My husband is very supportive and never opposes me. However, he insists on safety measures. My mother-in-law is conservative and does oppose," she said.
Rajni does not ask for money from people who call her to catch snakes.
"But I also don't refuse when they pay willingly," she said, adding that snakes are more active in the monsoon.
Rajni said she takes tips from Mithilesh Srivastava alias Chotu, a professional snake catcher from the city.
"Mithilesh gets regular distress calls from terrified people. He routes the job to me. I gladly accept the challenge," she said.