Rain kills traffic lights in 'smart city'
A traffic department officer said there were traffic signals at 17 locations in Ranchi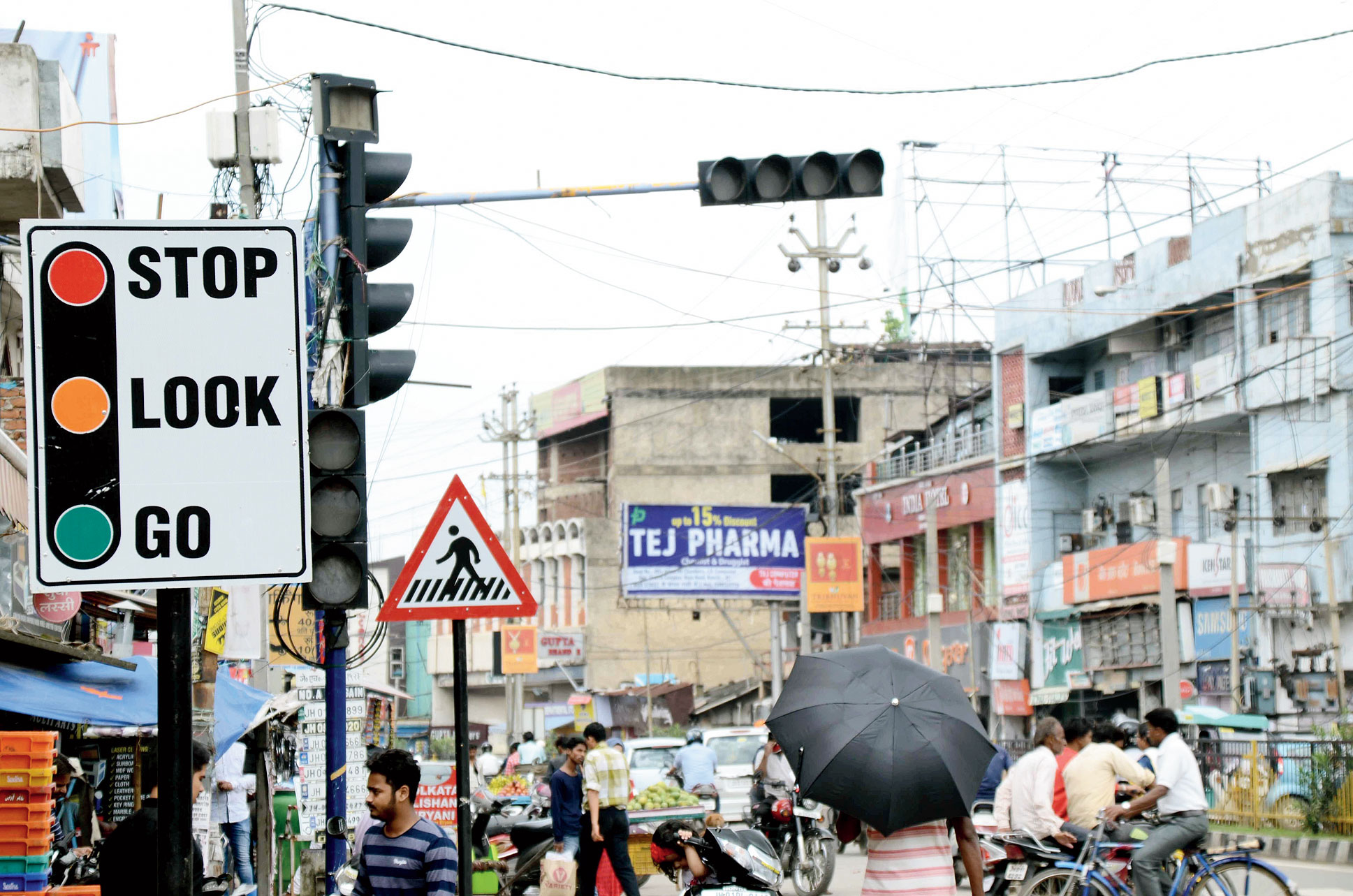 Defunct traffic lights near Ratan Talkies in Ranchi on Sunday.
Picture by Manob Chowdhary
---
Ranchi
|
Published 28.07.19, 06:49 PM
|
---
When it rains, traffic lights go kaput.
If intermittent showers have come as a boon for the sweltering capital, they are a bane for traffic cops and commuters. Reason: only a little rain is enough for traffic lights to develop snags in the so-called smart city.
On Saturday, traffic signals at AG More, Sahajanand Chowk, Harmu road, Sarjana Chowk and Ratan Talkies (both on Main Road) stopped working from 10am to 4pm.
Ranchi traffic DSP (II) Mahesh Prajapati said the technical snags were "repaired within a few hours", but admitted that the problem at Ratan Talkies and Hinoo Chowk was still not addressed.
Also, on Sunday morning, The Telegraph found traffic lights were still defunct at East Jail Road near the crowded Nucleus Mall.
Prajapati said they were fully aware of these problems.
"We are looking at the defunct traffic signals near Ratan Talkies and Hinoo Chowk and we hope to get them working very soon. About the one on East Jail Road, we have not really understood what the problem is," he said candidly.
He added: "When lights don't work, we try to depute extra traffic policemen at those points and simultaneously try to fix the system. We are always in the loop because we get real-time information of traffic signals at our control room. We do try to rectify snags immediately. The police department has also hired an agency for the maintenance of traffic signals."
Often traffic lights at a location may be switched off for syncing them or changing their timing, but commuters feel that lights are defunct, he said.
"Also, during heavy traffic, we prefer manual operations for better discipline," he said.
A traffic department officer said there were traffic signals at 17 locations in the capital. "True, during monsoon, traffic lights get defunct more frequently than in other times of the year due to water entering the cable, short-circuits and the like, but the East Jail Road one has not worked for long. At Birsa Chowk, we are managing traffic manually as the lights were removed to replace them," he said.
An ASI-ranked traffic cop said managing traffic was physically exhausting. "We work 13 hours a day, running around and breathing fumes. We have 276 traffic cops and 78 ASI-ranked officers. Many are now stationed at Deoghar for the ongoing Shravani Mela. Some have been deployed at Haj House. We are really understaffed. Our work gets easier if the automatic system (read traffic signal) works," he said.
Commuters get puzzled when traffic signals stop working. "If you're caught by surprise on a busy road, you run the risk of an accident," said Shweta Pandey of Kanke Road, who commutes to work on her scooter. "I didn't realise the traffic lights at Hinoo Chowk were defunct, I waited for them to turn green, holding up traffic till a policewoman asked me to move forward," she added. "In hindsight, it was scary because my two-wheeler could have been hit from behind."