Rahul: Don't want 'Mercedes India'
Rahul accuses Modi of cheating people and not taking any step to boost up economy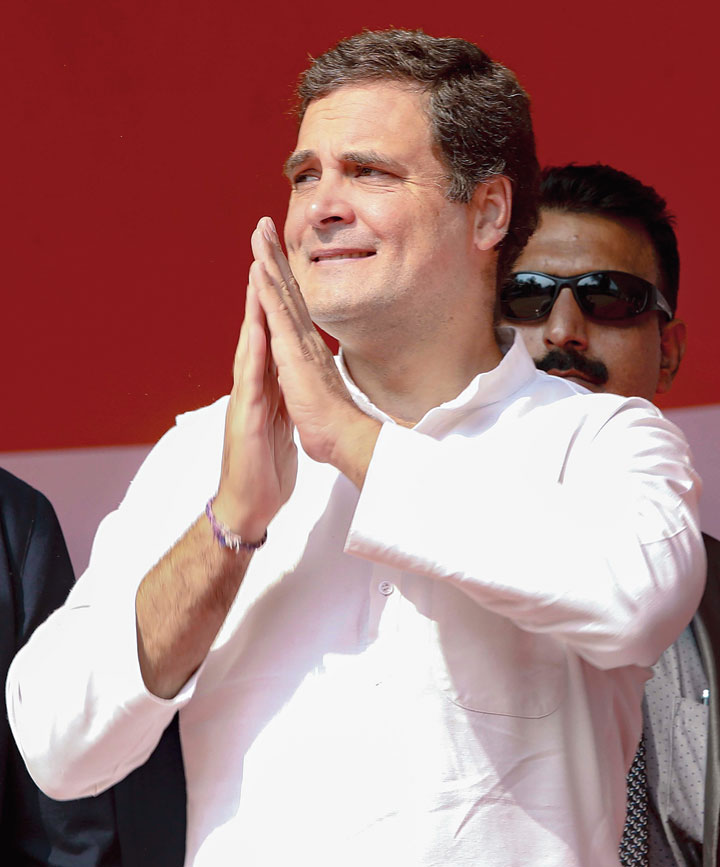 Rahul Gandhi at the rally in Barkagaon on Monday
(PTI)
---
Hazaribagh
|
Published 09.12.19, 09:32 PM
|
---
Congress leader Rahul Gandhi on Monday sought to strike a chord with voters in Barkagaon, where people have been killed during protests against coal mining, by painting the BJP governments at the Centre and in the state as anti-poor and pro-rich.
Addressing a gathering of over 50,000 people at Barkagaon High School Maidan, Rahul said Modi keeps telling the country that he is taking care of the farmers, then why is the Prime Minister silent when land of farmers is forcibly taken and protesters are killed.
On October 1, 2016, police had opened fire on a protest against mining in Chirudih and four persons including three students were killed.
He said Modi claimed to protect farmers, but police are killing farmers who are against giving their lands for any project. "Pata nahi kaisi raksha ho rahi hai kisanon ki (Wonder what kind of protection is happening for farmers," he said amid huge applause.
"When we were in government at the Centre, we brought a land acquisition bill which stops companies taking land forcibly. The bill said no one can take land without taking permission from the local panchayat. We have proposed a rate four times more for acquired land. But when Modiji came to power, he changed this bill and now killings taking place during land acquisition. Have your ever seen any industrialist or affluent person killed for refusing to give land for any project?" Rahul asked.
The audience replied in the negative.
He said Modi was handing out certificates to Raghubar Das but people knew well how honest the chief minister is.
He promised action against those behind the killing of farmers in police firing if the Congress was voted to power in Jharkhand. "We will also not take land without the permission of the local panchayat."
"I will not promise 2-crore jobs as Modiji is doing," he said. "The bitter fact is that the BJP failed to fulfil this promise. I assure you that whatever vacancies are there in the state, they will be filled at the earliest if Congress comes to power."
In his 25-minute speech, Rahul accused Modi of favouring "15 to 20 industrialists" and waiving off their loans "worth Rs 3,50,000 crore".
"If they can do this with industrialists then why not with farmers?" he asked. "We want an India where all have equal rights but we don't want Mercedes India which is run by Modi's team of industrialists."
He said that during Congress rule at the Centre India's economy was an example for other countries but now "everyone knows what happened to our economy".
Now the country is known as the rape capital, he added.
"Neither farmers are happy nor are women and Modiji is silent," he said. "This is the reality of India now."