Race to fill up holes
Firms told to demarcate dug-up stretches before Durga Puja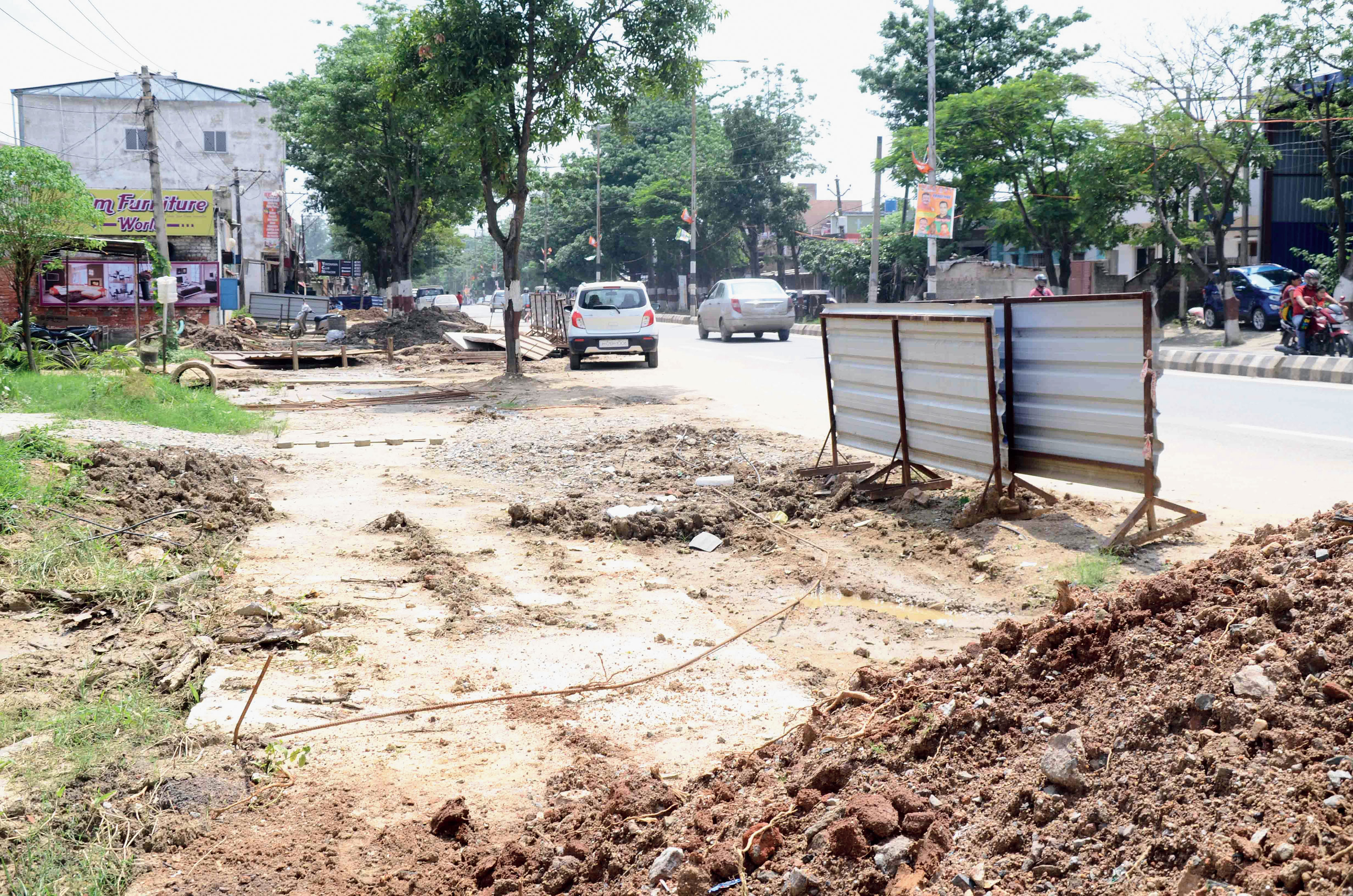 The area dug up along the smart road at Harmu in Ranchi.
Picture by Manob Chowdhary
---
Ranchi/Jamshedpur
|
Published 21.09.19, 07:29 PM
|
---
Trenches dug along four smart roads that are being constructed in Ranchi will have to be either filled up or covered before the beginning of the festive season in early October.
State urban development secretary Ajoy Kumar Singh, who is also chairman of Jharkhand Urban Infrastructure Development Company Limited (Juidco) that is supervising the smart road project, said that a directive had been issued to officials to ensure that private firms working on the smart roads filled up the trenches before Durga Puja.
"We don't want pandal hoppers to be inconvenienced during the festive season. Firms working on the projects will have to either cover utility ducts or fill them temporarily," said Singh.
Sources in Juidco associated with supervision of the smart roads construction said that following the orders they have asked the private firms to cover the utility ducts completed along the Hinoo Road stretch and near Birsa Chowk while those near the Argora, Harmu Bypass where the work is progressing a tad slow will have to be filled up before festive season.
"Where construction of utility ducts have been completed, firms have been asked to cover trenches with slabs. At places near Argora and Harmu bypass, where work is slow because of land acquisition issues, firms have been asked to ensure that the dug-up trenches are filled up or barricaded," a senior Juidco official explained.
Urban development secretary Singh said that white lines should be drawn to mark out trenches and patch-work repairs done of rain-induced potholes. "All this work on smart roads should be completed before the festive season," he iterated.
State urban minister C.P. Singh had inspected the smart road projects in July and asked authorities to complete them within the 2021 deadline. He also called for periodic monitoring of the quality of work done and materials used. Earlier in June, the minister had asked Juidco to ensure that at least one kilometre-long stretches of two roads, the Airport-Birsa Chowk and Raj Bhawan-Birsa Chowk, were ready before the pujas.
Work has already commenced on three smart road projects, namely, the 2.55km stretch between Birsa Chowk and Birsa Munda Airport via Hinoo, the 8.85km stretch between Raj Bhavan and Birsa Chowk (via Main Road) and the 2.7km stretch between Raj Bhavan and Kantatoli Chowk (via Circular Road, Lalpur).
Work on the fourth road, the 7.40 km stretch between Raj Bhavan and Booty More, is yet to gain momentum.
The Birsa Chowk-airport stretch, costing Rs 42.52 crore, is being constructed by Mini Axle from Ranchi. The Raj Bhavan-Birsa Chowk stretch, costing Rs 162.7 crore, and the Raj Bhavan-Kantatoli Chowk stretch, costing Rs 92.99 crore, are being built by Chattisgarh-based Amar Infrastructure. The Raj Bhavan-Booty More stretch is being built by R. K. S Construction for Rs 188-crore.
All smart roads will have pre-fabricated toilets, drinking water kiosks, police booths, planter boxes, steel benches and smart traffic light systems. The roads would all have common underground ducts for drains and electrical wiring, optical fibre cables and gas pipelines.
Each flank of the road would vary between 7 meter and 9 meter, while the width of pavements and cycling tracks would be between 2.5 meter and 4 meter. The utility ducts will be under pavements and cycling tracks. The common ducts will negate the need for the roads to be dug up frequently for laying utility cables and pipes, something that leads to traffic congestion.