Private tutors lead silent procession on Teachers' Day, ask when centres will open
Getting difficult to pay rent, electricity bills are a shock, says Palamau Coaching Association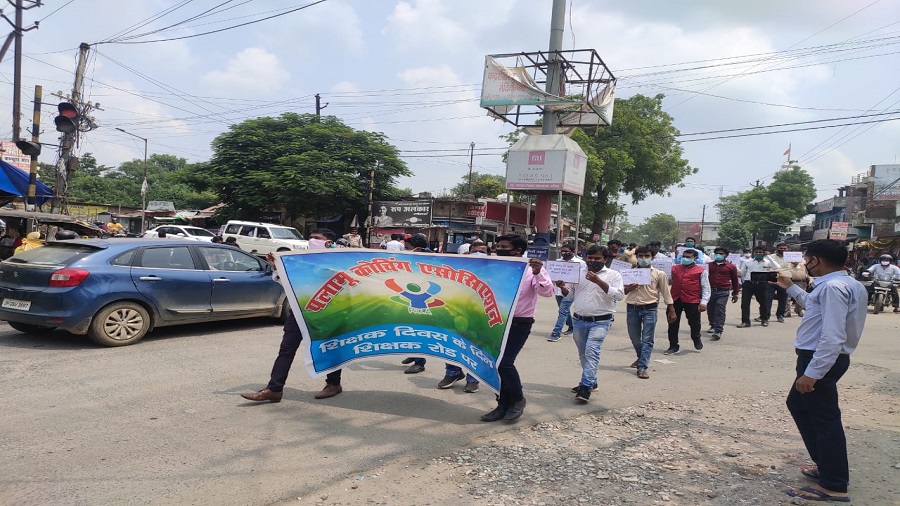 ---
---
As many as 50 private tutors representing over a hundred coaching centres led a silent procession in Daltonganj town on Saturday under the banner of Palamau Coaching Association, to mark Teachers' Day by highlighting the condition arising from the shutdown of the coaching centres since the last week of March due to the coronavirus pandemic.
Every private tutor had a mask on and social distancing was not amiss.
Sources said these teachers have no other means to eke out their living, after families discouraging wards to visit their tutors for classes.
Home tuition was popular in the area but there is hardly any locality across the district that has not been a containment area at some point. Parents want children to avoid visiting these localities if their teachers live there.
"Bars and pubs have opened. Malls have opened. Barbers' shops are opened. Auto rickshaws are carrying passengers like stuffed bags. But the coaching centres are shut," said Ravikant Sharma an office-bearer of the association.
"A majority of coaching centres run on rented premises. The rent hasn't stopped. It is getting difficult for all of us to pay the rent," he said.
Sharma said the electricity bills that are piling up are giving them 'shocks', as they are left to wonder how to pay the bills.
The state government is mooting to reopen school for seniors in classes 9 to 12.
Coaching centres too have demanded to open for senior classes, following all health protocols.
There will be smaller shifts of students, and hand wash, masks and sanitizers will be provided at the centre.
In rural of Palamau district, private tutors are already up in this business, running their centres with heavy curtains at the door.
Locals are happy that their wards are at least engaged for a few hours every morning.
A bookseller near Zila School Chowk in Daltonganj said the shutdown of the coaching centres has affected their business too.
He said the sale of ball pens, answer books, pencils, instrument boxes etc has declined considerably.