'PM, do all chaiwallahs have papers?'
Women of Ranchi's Shaheen Bagh speak out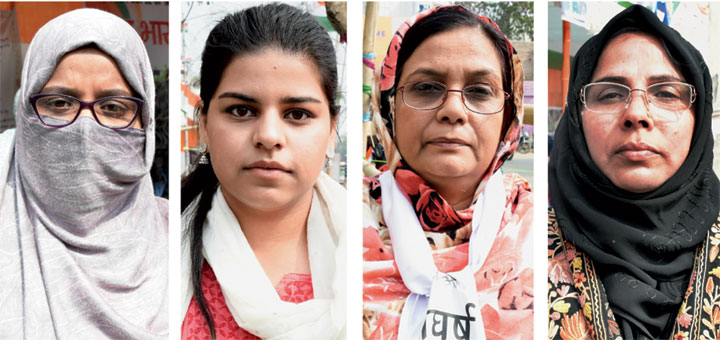 ---
|
Ranchi
|
Published 23.01.20, 06:40 PM
---
The state capital's Shaheen Bagh is growing in size and enthusiasm despite Union home minister Amit Shah's declaration that the Citizenship (Amendment) Act (CAA) will not be scrapped.
When 70 women, mostly from the Muslim community, started a 24/7 protest against the new "discriminatory" citizenship matrix in front of the Haj House at Kadru on January 20, not many had thought the number would swell to thousands of women in a couple of days, all determined, many articulate and confident like never before.
"The number of protesters grew to a few thousand on Wednesday," Shagufta Yasmeen, who runs a school and is one of the first group of protesters, told The Telegraph. "At night, only around 70-80 ladies stay at the site. But during the day and all through the afternoon and evening, women come in large numbers. Some men at another tent close by also stay ready to help if we need anything," she said.
Shagufta added that women had a lot of responsibilities at home. "But the best part is that they are handling those responsibilities and then coming to the protest site whenever free."
Rani Parveen agreed.
"My father-in-law is almost blind and needs help at every step. I have to look after his needs, but I come here whenever I can," Parveen said, adding her family was "very supportive".
But for long will they soldier on? Ghazala Tasmeen, a middle-aged woman, said it was difficult to say, "given the situation". "But we are determined to go on until the CAA is withdrawn and the National Population Register (NPR) and the National Register of Citizens (NRC) are shelved."
She said she was not worried about her family.
"We are very old residents of Ranchi and have all the relevant papers. But what about the poor like my dai (domestic help)? People who lead a hand-to-mouth existence, irrespective of religion and caste, have to shift homes often, go wherever they can for work, carry their belongings in bundles. How can they produce papers?" she asked.
"The onus of proving citizenship should never be on people but on the government," Parveen added. "Modi ji claims he was a chaiwallah. He should know how difficult it is for poor chaiwallahs to produce papers. Earlier, most poor people were born at home. Even today, many children born in poor homes don't have birth certificates. "You talk about adopting others under CAA and at the same time plan to drive out your own people through the NRC?"
Afreen Azad, a teacher, said the CAA was defective as it attacked the constitutional provision of equality to all.
Falaque Khan, a student of Class XI in a local school, said she was there to "protest against black laws against the spirit of our Constitution".
Wasn't she scared? "It is better to sacrifice the comfort of home for sometime and protest than to be marked as dubious citizens or sent to a detection camp," she shot back.
The women insisted that this was not a "Muslim protest".
"Please don't try to give this protest any religious or political colour," Tasmeen said.
Usha Kumari, who was also at the protest, agreed.
"A protester can be from any religion and caste. Dalits are equally anguished. Many landless Dalits don't have proper papers to prove their citizenship," Usha said.
Economist Jean Drèze, tribal activist Dayamani Barla, social worker Renu Prakash and SC/ST government employees' coordination committee member Madhusudan have visited the protesters.
Shagufta said many women bring homemade food, fruits or milk to the protest that everyone shares.
"It is particularly helpful for women who come from far, often with small children," she said.
"Volunteers have set up stalls where they offer tea and snacks for free."