Prepare for two months: Hemant Soren
The government asked buyers to report to officials concerned if any ration shop overcharges them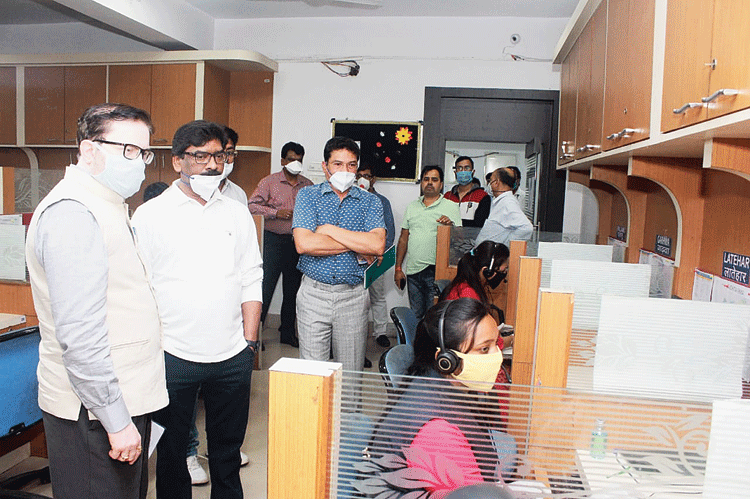 ---
|
Ranchi
|
Published 25.03.20, 07:16 PM
---
Chief minister Hemant Soren asked officials to get ready with supplies for two months and the state government released a rate chart of essential items on Wednesday, the first day of the 21-day countrywide lockdown announced by Prime Minister Narendra Modi.
Hemant's direction came during a meeting to review the threat from the novel coronaviorus. He asked officials to arrange for a small cargo plane to bring food grains and essentials.
The rate chart of essential items followed reports of some ration shops charging higher prices for commodities and some others selling them in the black market taking advantage of the lockdown.
According to the rate chart, pulse has been fixed at Rs 75 a kg, wheat flour between Rs 22 and Rs 25 per kg, mustard oil is priced between Rs 90 and Rs 95 per litre, rice between Rs 20 and Rs 24 per kg, refined oil between Rs 75 and Rs 80 per litre and chana at Rs 60 a kg.
The government asked buyers to report to officials concerned if any ration shop overcharges them.
The step followed concerns expressed by governor Droupadi Murmu and chief minister Hemant over the matter.
Greeting the people on the first day of the Navratri, Hemant urged citizens not to venture out unnecessarily and maintain social distance during the 21-day lockdown.
From Jamshedpur to Palamau, panic gripped residents after Modi's speech on Tuesday evening announcing the lockdown. Many rushing to stock up on supplies blamed the lack of any clear assurance from the Prime Minister on essential commodities being available in adequate quantities through the 21 days.
"The Prime Minister only said that the government is working to arrange the necessities but what if we don't get anything later? It is a long period. I didn't want to take any chance," said Subhadra Devi, 50, buying vegetables at Kadma market.
Senior district and police officials urged people to stay at home during the lockdown period.
The state has not reported any coronavirus positive case so far. According to the state health department, 110 swab samples have been tested at RIMS, Ranchi, and MGM Medical College, Jamshedpur, of which 102 are negative and results of eight are awaited.
In Palamau, a 45-year old man was killed in a village under Parwa police station on Wednesday for objecting to breach of quarantine by some migrant labourers who had returned from other states, sub-divisional police officer Sadar Sandip Kumar Gupta told The Telegraph.
"These labourers were screened by the government doctors who declared them fit but suggested home quarantine as a safety measure," Gupta said.
A scuffle broke out between the labourers and the villagers opposed to their moving around freely. The 45-year-old man who died was hit with a wooden stick.
On 25 people from Deoghar district stranded in Haridwar, Hemant on Wednesday asked his Uttarakhand counterpart Trivendra Singh Rawat to support them and let them remain there for 21 days.