When poverty dwarfs tall dreams
Jamshedpur teen talent Talim Ansari quits sport climbing with TSAF for garage job near Mumbai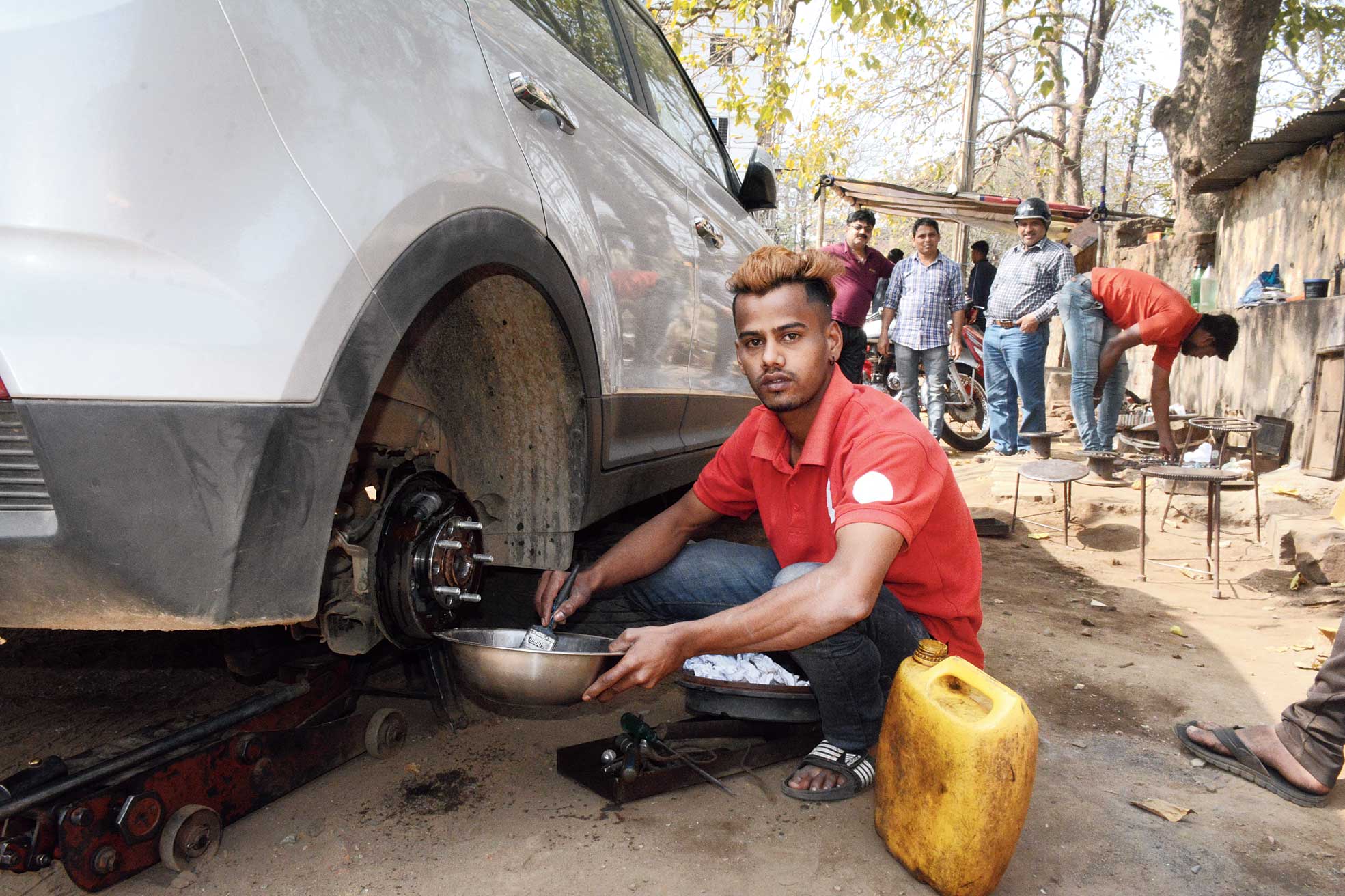 Talim Ansari works at a garage in Dhatkidih, Jamshedpur.
Picture by Bhola Prasad
---
Jamshedpur
|
Published 10.01.19, 07:19 PM
|
---
Sport climbing has come to an abrupt halt for Talim Ansari.
Instead of squirrelling up walls, the promising 16-year-old athlete — the first from Jharkhand to represent India at an international climbing competition — is currently busy tightening nuts and bolts at a motor garage in Dhatkidih. And, if things go according to plan, he will soon be in Mumbai, doing the same only at a garage more upmarket.
Financial crisis has hit Talim hard, forcing him to quit a sport he loved with a heavy heart. His focus now is his family, particularly his ailing mother, Salma, who earlier made ends meet by working as a maid.
"Meri maa ki tabiyat aaj-kal theek nahi rehti. Ghar mein koi kamane wala nahi hai. Ghar chalane ke liye aur kya karta (My mother who was the sole breadwinner has health issues now. What else could I have done)?" Talim told this correspondent as he serviced a car.
Talim stressed that he was "extremely sad" for having to quit climbing, but looking after his mother was of paramount importance than scaling the artificial walls of Tata Steel Adventure Foundation (TSAF).
As poverty drove the teenager, he failed to attend regular training. This didn't go down well with the TSAF authorities who have had a lot of hope riding on Talim, including a possible medal at the 2020 Tokyo Olympics where sport climbing is debuting.
The TSAF has taken "disciplinary action" against Talim. He has been barred from training and also forced to vacate the hostel at JRD Tata Sports Complex, which so long offered Talim square meals and paid for his tuition.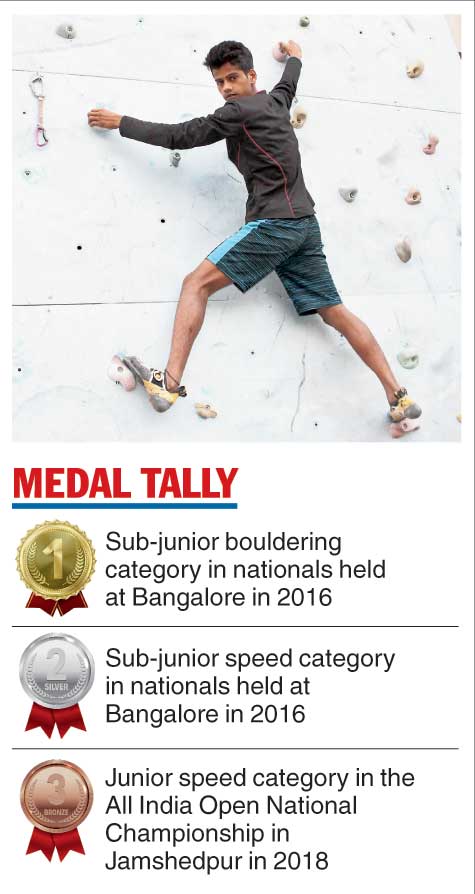 The job at the Dhatkidih garage offers the teen a paltry Rs 1,200 a month. When widowed Salma worked as a maid at the local madarsa, she earned better — Rs 4,000 a month. Acute back pain has left her indisposed and the family has to pay a rent of Rs 3,000. Two of Talim's sisters are married and one is studying at Karim City College.
"An acquaintance has found me another garage job near Mumbai. I will earn around Rs 10,000 a month," said the teenager who finished his school from DBMS Lilliput.
Talim is expected to leave for Mumbai on January 17, two days after his 16th birthday. Salma said she was helpless and was allowing Talim to leave with a heavy heart.
Asked if he would continue sport climbing if given a chance, he said time was the key. "There is a climbing wall near Mumbai. But, my skills will no longer be competitive in the absence of regular training. My career in the sport has ended for sure," he said, sadness writ large on his face.
Talim had represented the country in the Asian Youth Sport Climbing Championship in Tehran, Iran, in 2016 and has also claimed medals in state and national events. The Indian Mountaineering Foundation, which conducts the sport across India, also had plans to train him for the Olympics.
Senior manager of TSAF Hemant Gupta, himself an Everester, said they had no choice but to act against Talim.
"He had lost focus. We had warned him on more than three occasions. We gave him enough time, but his attitude did not change. We are here to produce only serious climbers," Gupta said.
Asked about the financial crisis the climber was grappling with, the TSAF official said they were aware of the situation, but helpless.
"I have personally helped Talim with money in the past. However, he has lost focus in the sport and feels it was not job-oriented. His attitude could have affected other trainees. We had to let him go," Gupta added.